Healdsburg, California's Small-Town Wine Country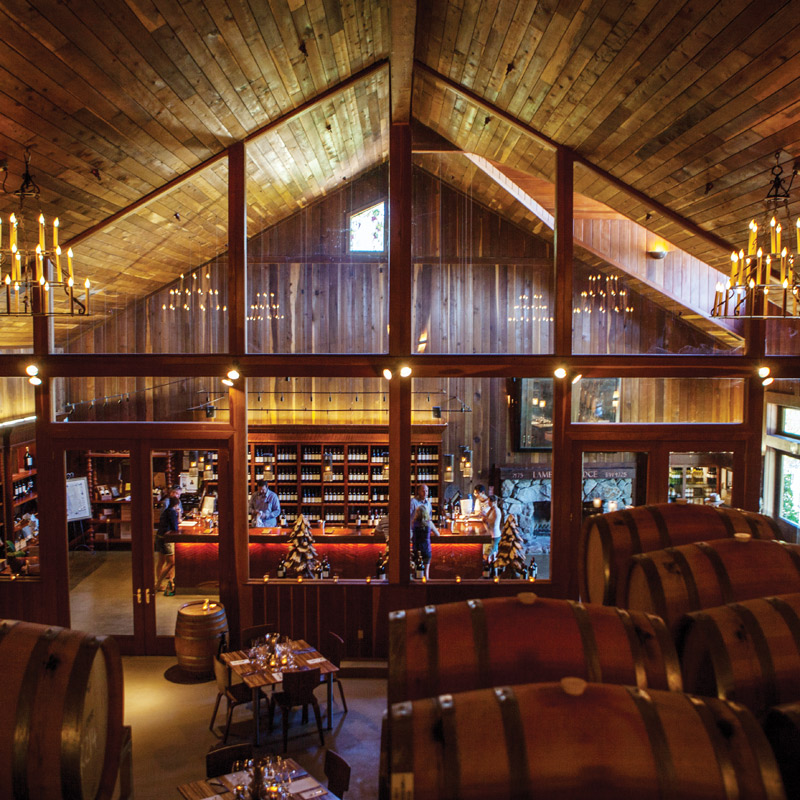 Remember "Sideways," the 2004 movie about two men taking a driving tour through California wine country? And the part where Paul Giamatti's character declares: "If anyone orders Merlot, I'm leaving. I am NOT drinking any (insert bad word here) Merlot!"?
And you were thinking, "But I like Merlot."
For the casual drinker, wine can be intimidating. "Why," you might wonder, "can't I taste the hint of Passion fruit, the citrus notes or the peppery finish?" And the thought of an entire vacation revolving around vineyards and tastings … well, the vision of showing your wine ignorance is downright terrifying.
If you're this person — but are friends with a oenophile or related to a wine snob — I've got the perfect place to visit that will satisfy the sophisticated palate while allowing you to dip your metaphorical toe into the wine barrel. It's Healdsburg (pronounced heeleds-burg), California.
California's wine country isn't limited to the bigger and better-known Napa Valley. You'll find this less flashy and more laid-back winemaking region in Sonoma County — home to no less than 100 vineyards — about an hour north of San Francisco's Golden Gate Bridge.
Don't just take my word for it; earlier this year, Wine Enthusiast magazine named Sonoma County one of the 10 Best Wine Destinations in the world for 2014.
Even if you don't take the first sip of the fruit of the vine, you're sure to enjoy the scenic convergence of the Alexander, Dry Creek and Russian River valleys, delightful inns and guesthouses and the exceptional food culture to be found in and around Healdsburg.
While the grape harvest season is in the fall, Healdsburg offers pleasant weather and interesting things to do and see all year long.
Chances are you've never heard of most of the wineries here or seen their wares on your local liquor store shelf; the vast majority don't produce enough bottles to distribute nationwide. So, it's up to you to spend your day wandering from tasting room to tasting room in an attempt to find your perfect bottle.
Wine Time
You can drive in to the wineries, catch a wine tour bus, ride a bike and even take a guided winery-hopping tour on a Segway.
Most wineries have regular tastings for a nominal fee ($10 to $15) that is usually waived if you buy wine. And, if you find a wine you want to continue drinking after you return home, they offer wine clubs that will send bottles several times a year.
But the attraction for me was discovering the incredible "personalities" of the wineries themselves.
For example, the tiny father/daughter-run Viszlay Vineyards makes all its wines from grapes grown on the 10-acre estate. Its tasting room definitely did double duty as the operation's workshop.
The Lambert Bridge winery had a more sophisticated setup, offering an opportunity to enjoy a wine-paired candlelit meal surrounded by oak barrels. I enjoyed a sumptuous lunch there, but what I found most interesting about the winery was that most of the principals — the winemaker, sommelier and CEO — were all women.
The wine tasting room at Bella Vineyards is actually a cave. Trattore Farms, owned by Tim Bucher, a serial entrepreneur who made his fortune in technology, sits atop a high hill with a spectacular view of Dry Creek Valley — and the wine ain't half bad either. Olive trees were interspersed with the vineyard's grapevines to supply another of Bucher's businesses. The Dry Creek Olive Company has its own tasting room, where patrons can get a look at the giant millstone that crushes the olives within 24 hours after they're picked. Then, you adjourn to the tasting room to dunk bread in a variety of oils produced there, including some delicious versions infused with lime, Meyer lemon and Cara Cara orange.
The family of winemaker Clay Mauritson, owner of Mauritson Wines, has been growing grapes in Northern Sonoma County for six generations. For most of those 140 years, they sold grapes to other wineries, but they are now using some of their bounty to create their own handcrafted wines. He had a wealth of knowledge about the intricacies of grape growing, which, in addition to the vagaries of the weather (over the past year, the area has been suffering from drought conditions) can be affected by myriad factors, including soil type, slope and elevation. One should keep in mind, he said, that wine is 100 percent fruit of the vine. No water, sugar or other ingredients are added. "Great wines," he opined, "are made in the vineyard."
Dine Time
Healdsburg is a foodie's delight, with several top-notch restaurants clustered in its compact downtown. The rich soils of the valleys around the town that make it ideal for growing grapes also yield an abundance of fruits, vegetables and livestock, which chefs creatively fashion into farm-fresh meals. To see an orchard in action, plan a visit to Dry Creek Peach & Produce to pick up some fresh-from-the-tree peaches or the peachy mix for creating a perfect Bellini.
In addition to a standard menu, most of the upscale establishments also offer multi-course tastings with or without accompanying wine pairings. What a delight to be presented with plate after plate of perfectly prepared bites that add up to a memorable meal.
In the casual ambience of Spoon Bar, Chef Louis Maldonado might send out a marble-sized ball of big fin squid seasoned with persimmon vinegar and celery leaf, followed by mustard greens with pomelo and horseradish — followed by 11 other delightfully different tastes of California.
From the Espelette-dusted Hawaiian Ahi Tataki to the Sticky Toffee Pudding, the Dry Creek Kitchen's Chef Dustin Valette creates a tasting menu of six delicious courses, paired with California wines, many of them from within a hour's drive of the restaurant.
In his Mateo's Cocina Latina, Chef Mateo Granados infuses his rigorously sourced Sonoma ingredients with flavors from his homeland in the Yucatan, creating dishes as creative as they are delicious.
Now, if you're the sort that would like to try your own hand at creating a culinary work of art, Relish Culinary Adventures offers classes that might cover canning jam, cooking with mushrooms or a demonstration by a local chef.
Stay and Play
Healdsburg is home to several quaint B&Bs, but for the ultimate in luxury and service, you'll find the Honor Mansion tough to beat. It's got a four-diamond rating from AAA, a Michelin recommendation and is on several of Trip Advisor's "top" lists, including being named the No. 1 Romantic Hotel in the nation.
The four-acre property has just 13 guest rooms and is located a very walkable mile away from the town's center. Amenities also include a lap pool, putting green, tennis and basketball courts and spa services. In addition, there's a gourmet breakfast buffet every morning, wine and appetizers in the afternoon and all-day cookies, candy, fruit, coffee and soda.
The Grape Leaf Inn is a charming restored Victorian manse on a quiet street with 12 unique rooms, each named for a grape varietal. The full breakfasts are locally sourced, delicious and served on delightful, different place settings every day. There's also a secret speakeasy that opens for happy hour — see if you can find it.
Here's another little secret. If you've bought a few — or a dozen — bottles of wine to bring home, but you're leery about packing them in your luggage, services are available that will pick up, pack and send wine to your home. Ask your innkeeper. Rates vary, but sending six bottles to Tallahassee cost about $25.