Head to Toe, He's Got Style
Orthodontist Andrew Clark exudes friendly professionalism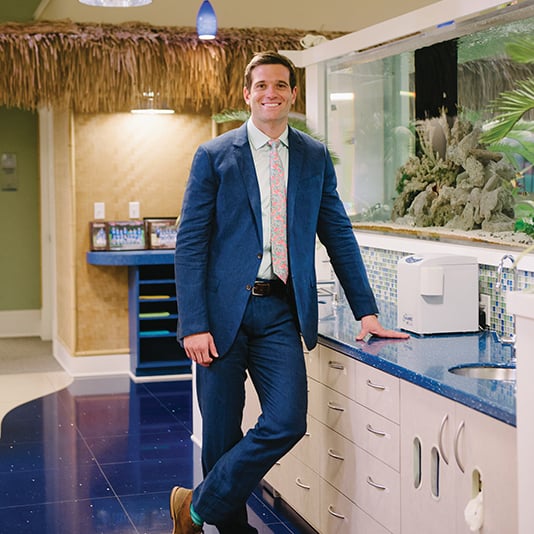 Seven years of wearing scrubs. That's over 2,500 days of cotton-polyester drawstring pants and coordinating V-neck tops — 2,500 days of looking the same as every other dental school student or orthodontics resident in the room. It's enough to make a fashion-conscious man do something drastic.
Like wear crazy socks.
Dr. Andrew Clark, a Tallahassee orthodontist who ended his 2,500 days in scrubs five years ago, lifts one pant leg to reveal a vibrant teal ankle and calf. "It all started in dental school," he says. "I needed something different in my wardrobe, but there was only so much I could change. So I started wearing fun socks."
Clark's sock collection has grown since his school days, as has his purpose for wearing wild socks.
"When I got out of dental school and into the professional world, I decided I wanted to dress up a little — wear a nice shirt and tie every day," he says. "When I take the time to dress well, it helps my patients feel confident in me and feel that I can help them to look their best, too. But I work with kids a lot, so I also need to balance out the professionalism with the fun. Wearing crazy socks is a great way to do that. It helps me to connect with my patients, and it puts them at ease." 
Today, the 30-something orthodontist is a member of a sock-of-the-month club (his mother-in-law signed him up), and he often receives socks as gifts from patients.
But don't make the mistake of thinking that just because Clark's socks give his patients as much cause to grin as the results of his dental expertise, the rest of his attire must be crazy, too. He's actually very fashionable — he just knows how to have fun with his attire.
"I have 60 or 70 ties," he says, "and I let my daughters, Leighton, 5, and Emerson, 3, pick out my tie every day. Then I match my socks to my tie." He's a big fan of Lilly Pulitzer ties, which tend to be bright with tropical patterns — perfect for wearing at his beach-themed office on Thomasville Road.
"If my girls pick out a bright or heavily patterned tie, I'll pair it with a solid-colored dress shirt. If the tie is plain, I'll wear a shirt with a very small pattern, like a gingham check. I also like to go beyond your basic khaki pants and wear something with some color."
Clark's favorite clothing comes from Bonobos, which caters to young professionals who like the dressy-casual look. The brand's characteristic modern, slender cut fits well on Clark's athletic frame.
"I'm 6-4, so it can be hard for me to find pants that fit right," he says. "I love Bonobos clothing, because they have a nice cut and never seem to need tailoring. Well-fitting clothes make a big difference in how you look and how you feel about yourself. If something doesn't fit right, it doesn't matter how expensive it was; it won't look good, and you won't feel good." 
Clark knows that there's more to looking good than simply dressing well. "Smiling is scientifically shown to make you appear more attractive to others," he says. "But smiling also makes you feel great. It brings down barriers between people and makes a person seem more competent. It even raises self-esteem."
If smiling with your teeth makes you feel uncomfortable, keep in mind that it's never too late to do something to improve your smile. "There are a lot of invisible options for straightening teeth out there, and it can be much easier to do than you think," Clark says. "No matter how perfect your teeth are or aren't, smiling is the best feature you can add to your style."
So the next time you get dressed, remember these words from the movie-musical, "Annie," which came out a year before Clark was born: "You're never fully dressed without a smile."   
---
Dr. Clark's Favorite Duds
Faherty flannel shirt (

Available at Nic's Toggery)

Bonobos chinos

Lilly Pulitzer necktie (

Available at Narcissus)

Timberland Boot Company Bardstown Oxfords

Tag Heuer watch (

Available at The Gem Collection)

Burberry Touch or Chanel Bleu cologne