Head to the Coast for a Trip to the Past
A San Francisco Transplant 'Preserves' Midcentury Memories in his Carrabelle Eatery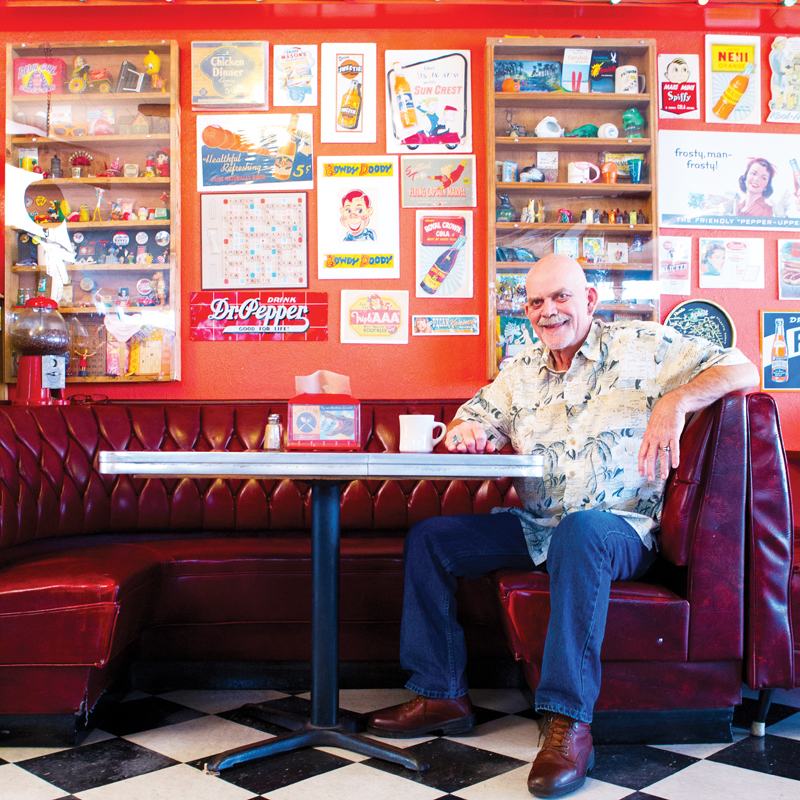 If you're a foodie, coffee connoisseur, memorabilia junkie or simply someone who enjoys sampling local flavors when traveling, the Carrabelle Junction may be just your kind of place.
Located a half block north of coastal U.S. 98 on Tallahassee Street in the heart of historic Carrabelle, the Junction — as locals call it — is a combination coffee shop/ice cream parlor/sandwich deli and neighborhood hangout, overlaid with a funky mid-century vintage motif.
Scott Holstein
Ron Gempel opened his eclectic Carrabelle eatery 12 years ago. The atypical menu, which includes sprouts — but not fries — and vintage collectibles, draw customer raves and loyalty.
To say the Junction's fare is atypical of small-town eateries is an understatement. Here you'll find a fry-free menu largely consisting of hot and cold deli sandwiches, garnished with the likes of basil mayonnaise, horseradish, avocados and sprouts. You find also a selection of fresh-baked goods and gourmet coffees, not to mention old-timey treats like soda floats, milk shakes, glass-bottled soda pop and egg cream. The last is an East Coast concoction originally made with egg whites, but today made with milk, chocolate syrup and seltzer.
"It's like carbonated chocolate milk," explains Junction proprietor Ron Gempel, adding that anyone familiar with the drink will respond with joy to its availability.
Stepping into the Junction is like entering a time warp, with its black/white checkerboard floor, its eclectic assortment of castoff, if authentic, furnishings (including two church pews and a high-top table with a fake palm tree rising almost to the ceiling from its center), and its hodgepodge of bric-a-brac, collectibles and other popular culture detritus from the '40s, '50s and '60s, including classic pop icons, vintage bottles, signature souvenirs and relic equipment.
Look around and you see an ancient Coke machine in a corner, a pay telephone against the wall, a genuine traffic light hanging from the ceiling, a hand-turned coffee grinder on a shelf and a juke box in front of the counter sporting a selection of songs straight from the Hit Parade. Don't be surprised either to hear playing over the restaurant's sound system the likes of Ella Fitzgerald, Louie Armstrong, Elvis Presley or the Beatles.
A lifetime collector who considers himself more a preservationist, Gempel derives pleasure from customers' reaction to his treasures.
"I enjoy when people go, 'My gosh! I haven't seen that in years,' " Gempel says. "That's a big part of it. People like it because it reminds them of a time when there were just as many problems in the world, but we didn't know it."