Haute Cuisine and Haute Couture
Food Glorious Food's Susan Turner revels in both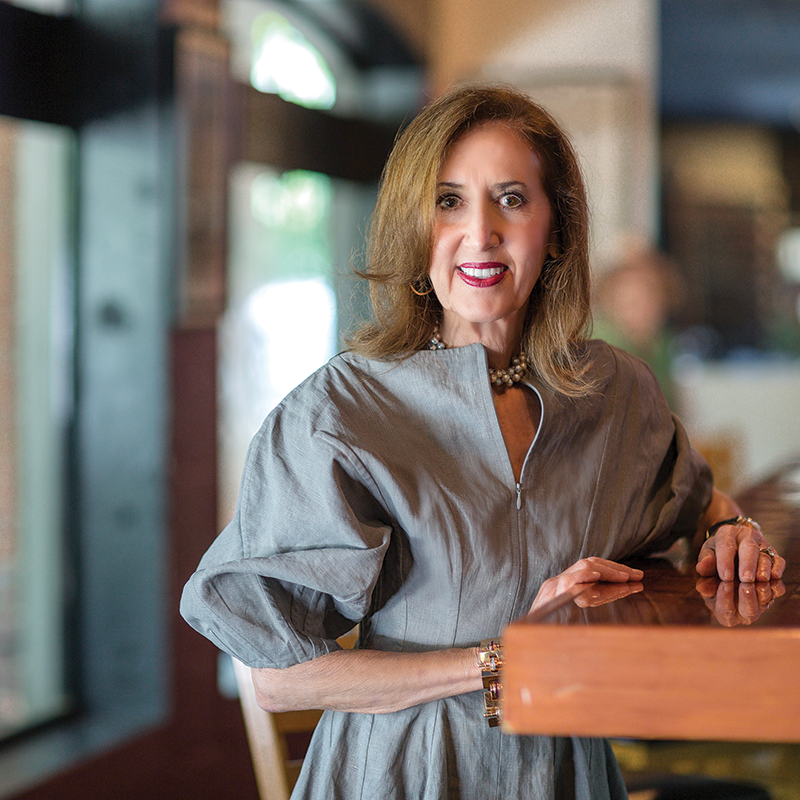 It's 11 a.m. on a dreary Thursday and Susan Turner, co-owner of Food Glorious Food, one of Tallahassee's most iconic upscale eateries, looks like, well, a million bucks.
Petite, her auburn hair severely pulled back into a bun and wearing a black waist-hugging leather jacket, twisted pearls and a soft pink scarf, she also sports red suede ballerina flats and her signature tights, this time in fishnet. Oh, and she's also just completed her daily—yes daily—TEN MILE walk!
That walking regimen, along with thrice-weekly Pilates, may explain a lot. Turner still wears a size "0" even though food has been her business since she began professionally catering to Tallahasseans in 1980.
"My husband (attorney Stephen Turner) loved to eat and I loved to cook. Over time it just seemed natural to open a restaurant," says Turner, who for years planned the menus, created recipes and was the original cook at FGF. "I think that's why I still enjoy wearing flats," she says. "And also why now I love clothes, feminine clothes. In the kitchen, you're pretty stuck."
Turner describes her own style as "eclectic/classic with an edge." When she visits her grandchildren in New York City she shops but also picks out items online at Moda Operandi where she can preorder fashions straight off the runway or at Net-a-Porter headquartered in London. And yet, fun for Turner is a visit to Target where she occasionally picks and chooses pieces that together say haute couture.
Turner laughs that both her parents and her husband's parents were originally in the clothing store business. "And some of the best advice I ever got was from my mother-in-law who told me, 'One piece of quality clothing is worth five that are not.'"
So it is that her closet holds pieces that are 30 years old and still stunning.
Even though Turner's delicate form may be the envy of many, the dynamo who sits on at least six boards, chairs galas and puts in hours overseeing operations at Food Glorious Food, says that dressing stylishly is the provenance of everyone.
"It's a question of attitude," she says. "I believe in looking your age, but doing it with confidence. Posture, being healthy, feeling comfortable in what you have on project that confidence — and that means more than a great dress."