Hats off to Kim Reimer
A 'maker of things,' he never rests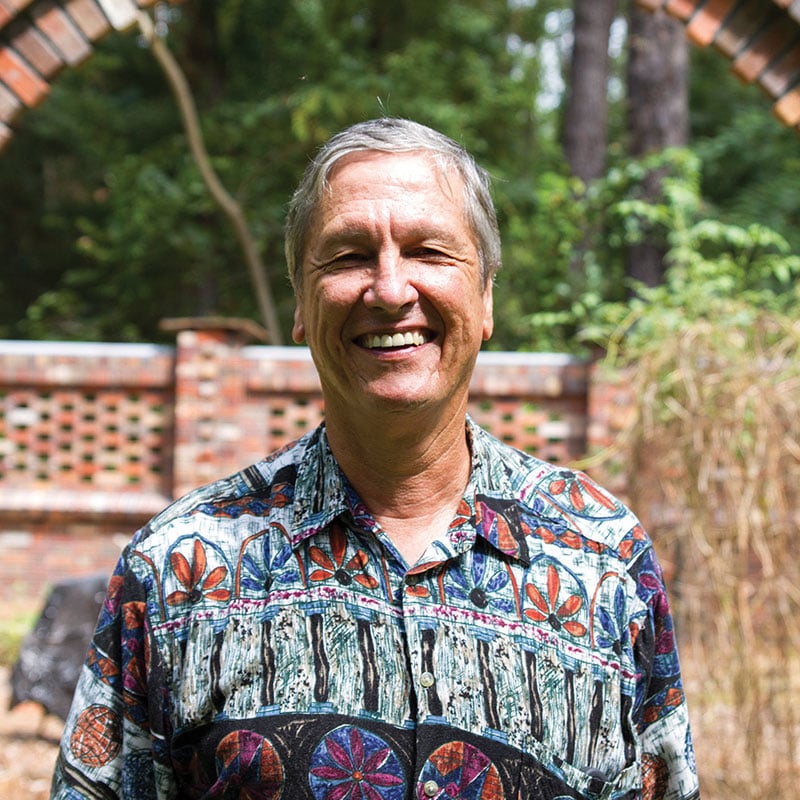 Let's say you enjoy vegging out, folded into a sofa, your mind flat-lining on a 1970s cartoon. Or that the hanging gutter, the overstuffed garage and the used wooden pallets in your front yard don't bother you. Let's just say that wasting a few hours of your life doing absolutely nothing is your cup of tea. Because if any of these things are true, you do not, REPEAT, DO NOT want to meet Kim Reimer.
Kim Reimer is the man who won't sit still. He is the man who has become an expert in everything he has set his mind to. He is, he admits, driven. A bit compulsive. But he is also a man who has found joy through, he says, "solving problems"— often of his own making. Here are a few.
Problem: Reimer needs a garden wall to keep nibbling critters from his tiny greens.
Solution: He builds a 6-foot brick wall around his 2,600-square-foot garden, with free-standing cathedral arches of elaborately detailed brickwork and hand-cast pagoda-like finials for each of its 28 pillars.
Problem: His first house in the Northwest Kingdom of the Miccosukee Land Co-op burns down.
Solution: Reimer builds a new house, garage and workshop, all two stories, using wood and bricks scavenged from building sites and Archimedes-like, finds a way to lift a 600-pound, 24-foot steel I-beam by himself. Staircases, double-hipped roofs, brick-cladding — all his one-man job.
Problem: No problem. He sees FSU students casting iron into shapes from old iron bathtubs.
Result: Reimer begins casting iron into tools, scrolled brackets and massive artistically carved medallions that are fitted into walkways or walls.
Problem: A few minutes on his hands waiting for water to boil in the kitchen.
Result: He starts carving wooden spoons by the hundreds—swirled handles, serpent-shaped bowls, rounded, flat, each one filled with an artisan's imagination.
But Reimer's most delightful hobby/obsession is his most recent: building minutely detailed replicas of Formula I racecars, each three to four feet in length. The glassy enamel sparkles in the sun; the Styrofoam wheels look ready to take off; tiny logos are hand-painted to perfection, and when Reimer puts it on his head … YES, ON HIS HEAD … race fans go crazy. These are race car HATS.
Reimer has so far made 13 hats — lightweight, since the car bodies are tight-celled foam held together with caulking compound, painted with Elmer's glue and enameled. He has been featured in newspapers and on television from England and Germany to Seattle and Montreal. He clearly loves the attention the hats bring, each the result of nearly 120 hours' work, knowing that adults and kids are fascinated with smaller versions of the real thing — worn as a hat. But he can't exactly tell you why he does it.
Reimer earned a degree in Technical Theatre at FSU, apprenticed at Sarasota's Oslo Theatre and worked with the Boston Opera and Cape Playhouse. He acknowledges that much of his building acumen comes from set construction. But his whimsical side may have a touch of the stage as well.
He'd taught himself to program in the early days of DOS and went on to earn his master's degree in computer science. But after a cluster of sad events: his father's death, the destruction of his house and a divorce, Reimer says he decided to do what made him happy "or what used to." And that was building and creating.
Today, Reimer, 66, who describes himself as, "a maker of things," is content — and busy. "I'll be putting the finials on the wall next week. I'm rigging a block and tackle and an old skate board to lift them … ." He's got the carved-clay template ready for another iron medallion; and of course there's the hat to finish.
But does he ever just sit in a lawn chair and look at the trees on a sunny afternoon? Just doing nothing? Reimer stares incredulously. "Uh, I don't know what that would feel like," he laughs. "Besides I'm in the finals of a ping pong tournament next week and I've got to go practice my serves."