Hanging It Up For Good
Hanging It Up For GoodThe New Generation, and Some of the Old, are Deciding to Ditch the Landline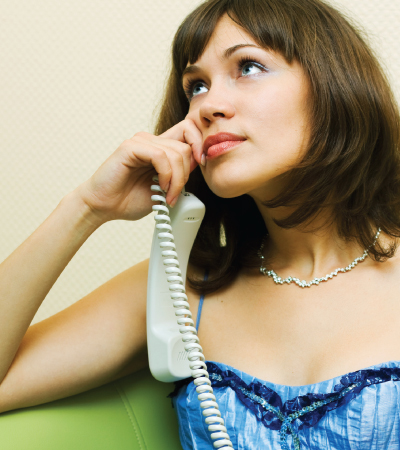 Before there was a ring tone, there was a dial tone.
But the number of homes where the old landline delivers that dial tone is shrinking.
The '80s introduced U.S. markets to the Motorola DynaTac mobile phone that weighed in at a hefty two pounds and had an even heftier price tag — $3,995. Three decades later, anyone across the world can keep up with the Joneses with cell phones that are often given away for free with a service contract.
There are now more than 3 billion cell phone users globally. More than a billion landline users haven't yet cut the cord — but many are thinking about it.
Many Gen Xers and Millenials have segued into their adult lives without ever having a phone installed in their home. It's their parents who are now considering going to a cellular-only lifestyle.
After weighing the pros and cons, one busy 58-year-old Tallahassee woman — let's call her Susie — and her 66-year-old husband took the plunge last year, and the couple has no regrets.
Before cutting off the home phone, "we would forget to check our messages, and the only thing we got off it was robo-calls. We got nine out of 10 calls on our mobiles," she said. She prefers to remain anonymous because there was one thing she didn't consider — when they dropped the landline, it also cut off their security alarm, which required a phone line to function. For now, they're going alarm-less — while saving about $150 a month for the phone and security services.
Susie and her husband are not alone. She recalls a recent conversation between six friends: "Two of us had cut off and four were really thinking about it."
BlackBerrys, Androids and iPhones have introduced a new generation of multifunctional cellular technology that includes computer capabilities you can't find on a traditional phone.
"Cell phones are now everything; you can access the Internet," says 24-year-old Florida A&M University student Mike Jones. "It's information at your hand; it's a computer in your pocket."
The UPS pre-loader from Chicago goes on to say, "The disadvantage of a house phone is people know where you were after talking to them."
Despite all the "oohs!" and "ahhs!" about a cell phone, some members of the older generation would rather stay loyal to their landlines.
"My dad doesn't really like cell phones at all," says Regina Calhoun, a human resource customer service advisor at Northgate Arinso. Although her father, a 49-year-old veteran, has a cell phone, he says he prefers a landline because he doesn't like the idea of people being able to reach him anywhere at anytime.
"My dad is like, 'No, you can call the house and leave a message, and if I feel like calling you back, I will,' " Calhoun says.
Adam Kirkland, a 34-year-old manager at Taco Bell agrees: "A cell phone is a collar that's worn right around the neck." He doesn't think a child younger than 18 should have one.
Coworker Clifford Gainous wasn't willing to go that far, saying, "I wouldn't say that; there are the cases of emergencies."
Which begs the question: In case of an emergency, which is better to use when calling 911?
"A landline is going to be more precise, but the cellular is good," says Jeanine Gauding, Tallahassee Police Department's public safety communications supervisor. "The problem with the cellular is if you're in a moving vehicle, it's always moving."
Currently, 75 to 80 percent of emergency calls made to TPD are cellular.
"A small percentage of that is what they call a voice over IP (Internet protocol) which is through a computer line," says Gauding, who personally has both a landline and cell phone. "It looks like a hard-line phone at your house, but Comcast is going through a wireless carrier."
Cell phones may be more convenient, but the Human Factors and Ergonomics Society website says they annually cause about 2,600 deaths and 330,000 injuries in driving accidents.
While Florida may not have a law that prohibits talking on a cell phone while you're driving, you can get pulled over in 34 other states.
"We don't recommend any activity that takes your attention away from the roadway," says David Northway, TPD public information officer. "It's certainly not recommended by the police department in any way, shape or form."
Unlike beepers and payphones, there are advantages to landlines that keep them from becoming obsolete.
For example, homes and offices with fax machines and alarm systems usually require a landline connection to work. Also, Internet and cable packages are offered with landline connectivity, and oftentimes, those bundled services are more affordable to consumers. And for those who want to keep a high profile, landline phone numbers are listed in directories to allow people and operators to locate you and your company.
"The standard landline is very reliable, and you don't have to worry about minutes left on your cell phone plan or what to do when the cell phone battery dies," says Carmen Butler, North Florida/Alabama regional spokeswoman for CenturyLink, which provides landline phone service. "There are many areas where wireless phones simply do not work due to limited or spotty coverage; landline phones provide clear connections."
For Susie, one of the most compelling reasons for keeping her home phone was sentimental. "You have to decide if you're going to let go of that phone you've known all your life," she says. When asked if she regretted her decision to cut the cord, she replied, "No, not at all. I had my phone number for 25 years. You can give it up in a heartbeat."
Despite the "yays" and "nays" for each type of phone, the future holds new advancements for both communication outlets.
"In the future, you're going to be able to text to 911," Gauding says. "If you witness a robbery and have a picture, you're going to be able to send all that to us, which you certainly couldn't do on a landline."
On the other hand, as customers choose to disconnect their landlines, phone companies are making efforts to provide better and more services.
"CenturyLink recognizes the importance of broadband and is focusing its efforts on providing high-speed Internet services bundled with voice and TV services that can save customers money," Butler says. "In addition, part of our business is providing wireless phone companies with access to our fiber network (and) giving smart phone users the additional bandwidth needed to receive and send data."
In June 2010, the National Center for Health estimated one out of every four Americans has given up their landline phone and is now exclusively using a cellular phone.
"I have one (landline phone)," Gainous says. "Eventually, I guess, I'll just get tired of it."