Hand-Picked and Ready for Game Day
Doug Ramos sells vintage duds that evoke memories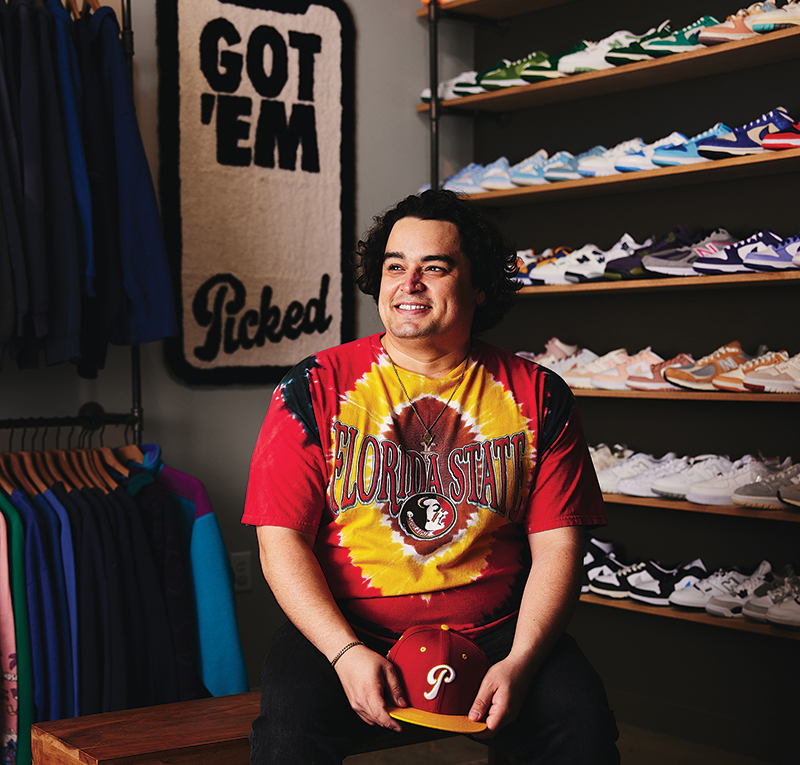 He has an FSU women's basketball warmup suit from the 1980s, a T-shirt commemorating the Seminoles' first football victory over the Florida Gators, a '60s letterman jacket from the FSU track and field team and a V-neck, quarter-sleeve sweater so old that it predates Sammy the Seminole.
Doug Ramos is a memorabilia guy, for sure, but he resists the notion that he might be a citizen of style.
"I would never consider myself a fashion expert or a student of fashion," Ramos said. "I like old things, and I like cool things. Starting a business has definitely changed my view of my personal wardrobe. It changed to fit the business better, but I think I was less inspired by the fashion sense than wearing something that connects you to a time that is gone. I think that's what inspires me — wearing something that no one else has, that maybe your grandma wore or your dad wore."
Ramos is the owner of Picked, a vintage shop that is equal parts boutique, gallery and tailgate party. Unlike some other clothing stores, Picked isn't piled from floor to ceiling with stacks to sort through. Ramos is selective. His weekly merchandise drops are centered on unique and authentically vintage FSU attire.
His preference for hand-picked garb began with his Instagram alter-ego, Junk Man Doug, whose keen eye for vintage duds and antiques earned him a dedicated following. Folks showed up for pop-up shop after pop-up shop until brick and mortar became a reality.
"I love the really obscure, random things," Ramos said. "You almost have to have a little bit of background knowledge on certain things to really appreciate what they are, but that's what I really enjoy."
Despite Ramos' disinclination to call himself fashionable, his sense of style is undeniable. His whole business is built around having an eye for color, composition and quality. Ramos' outfits tend toward the simple. Coordinated neutral tones, handmade jackets and eye-catching kicks round out his go-to look for a day in the shop. Ramos avoids trendy clothing items. His clothes may have been made last year or at any time in the last 50 years.
"I want to buy things that are going to work now and in five years," Ramos said. "I have a really nice handmade denim jacket from a company out in Seattle. I have a waxed canvas jacket from them that I love. The only thing that I buy that is trendy or crazy is that I like wild shoes. I like different colors. If anything is going to pop for me, I like my shoes to pop."
Ramos is rarely without his signature Picked flatbill hat with its large, script "P" on the front. It is marked "001" in that his was the first to be produced.
Ramos said his employees and customers began clamoring for custom Picked brand merchandise even before the shop opened in October 2021, but he was not convinced.
"People were asking for it, which was really humbling for me," Ramos said. "I think people view this business as a successful one. That is great, but I am very critical of myself. I'm very critical of my business. I'm very critical of my employees. So for me, no matter how good we do, there is always a way to do better. We can always improve."
Two months after he began selling house brand merchandise, the inventory was gone and so, too, was Ramos' hesitancy about it. He has a strong connection to Picked's mascot, Lu, a dapper, sweater-clad fox created by local artist Carly Berry. Lu is a nod to Ramos' late father-in-law, who helped get the business off the ground.
Now, Ramos is looking for ways to create his own clothing line while sticking to his love of all things vintage.
"If we are able one day to move into newly produced, vintage-inspired goods, then the same intent that we carry with our vintage stuff is going to carry into that," Ramos said. "Small runs and low quantities of really high-quality, unique items. That's my next thing."
---
Doug's Favorites
He trends toward clothes that were made yesterday and will work tomorrow.
» Simple outfits
» Coordinated neutral tones
» Handmade jackets
» Eye-catching kicks
» His signature Picked flatbill hat with its large script "P"on the front
» Clothes made last year or at any time in the last 50 years
---