Gun Shows are Great Places for Haggling Over Items Old and New
Bargain Hunting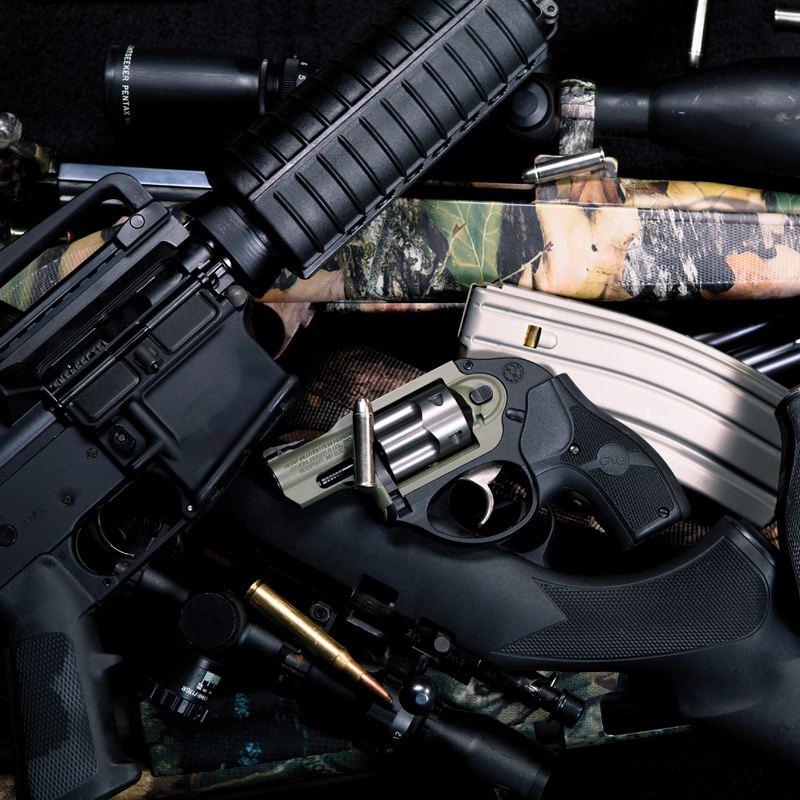 Matt Burke
For the range bag: Just about any firearm commercially available today can be found at a gun show.
Whether you're buying, selling, trading, simply looking or enjoying the day hanging out with good friends, a gun show is a good place to spend part of a lazy weekend.
Every two months or so, the North Florida Fairgrounds plays host to a weekend gun show that attracts dozens of vendors, private collectors and thousands of potential customers interested in the latest guns, gear and accessories. In recent years the number of vendors has grown to the point that an adjoining pavilion had to be put into use to house everybody.
"As far as traffic goes, the turnout at the Tallahassee show is usually very good — unless there is some conflicting event going on," said World War II aficionado Ed Buist, who spent eight years setting up as a private vendor before selling off much of his collection. "I would only be guessing, but I would say a typical weekend show probably draws 3,000 or 4,000 people."
Typically, you can shop at gun shows for handguns, rifles and shotguns to suit a variety of purposes, but you'll also find shooting and cleaning supplies, ammunition, non-lethal self-defense weapons, knives, surplus military guns and much more. There are charity raffles and food vendors. Places to sit, relax and take it all in. Or, if you want to work toward getting your Florida concealed weapon permit, there are usually classes that are geared to help. And if you have questions about anything at all, just ask. You'll probably walk away with tons of information from buyers and sellers alike.
"The shows are very educational, very informative and you're going to get to see just about anything on earth that's commercially available right now," Buist said. "Plus, you'll get to see a lot of older stuff going all the way back to muzzle-loading guns and up to more modern stuff. And it's well worth the trip. It's a cheap day out, actually."
You're liable to see a great many different people at the gun show Buist said. There are a lot of people in their 20s, including college kids, and people in their 70s and 80s.
"Now, usually, when you get up to the higher age group, they are very often are coming in with the purpose of selling things off. Whereas the younger ones are there to buy or trade," Buist said. "When I was still there as a private vendor, I would see some of the same folks over and over again at every show very often wanting to swap out what they bought at the last show for something else. It's a living hobby. Most people have a living collection."
If you've never been to a gun show, here's generally how they work: As soon as you walk in the door, a sheriff's deputy or staff member will ask if you have any weapons or ammunition.
After a gun show, chances are gun buyers will become regular customers at local gun stores.
"They're going to make sure that the weapon is clear and it's tied, so the action cannot be operated," said Mark Foor, a state tax specialist who has had experience on both sides of the table — as a vendor and as an official making sure all vendors (including private dealers) are registered to collect state sales tax (nearly unenforceable, he said, due to a lack of manpower). "(Guns) can't be loaded. If you don't (have weapons or ammo), he says fine, and he directs you to the next person who takes your money or ticket and they stamp your hand so that you can exit and enter as many times as you like while you're there."
After that, it's simply a matter of scoping out the room and finding a place to start browsing. Usually, there are rows and rows of tables and bottlenecks of people trying to do the same thing you are.
"Most people who go into these things have some idea of what they're looking for. Some people are just there to window shop and are just looking to see what's new," Foor said. Other people want to "try on" a gun they might have seen in a magazine. "It looks great in the picture, but you know, you get there it might not fit your hands and not be a practical weapon for whatever you are using it for. And, as a general rule, a good many people will bring something they already own that they're not real attached to, to use as trading material."
All the clutter and noise can, admittedly, be a bit overwhelming at first. The crowds bump at your elbows, and Foor describes the noise as a "constant murmur."
"Just a lot of conversation, a lot of haggling. Everybody is trying to make a deal. They tend to be a little loud. But you get used to it. When somebody walks by and they've got something over their shoulder or something in their hand you'll hear a dealer say, 'What do you have there? What do you want to do – do you want to trade, sell, what's your intention?' They're trying to drum up business."
Trading up for something newer and better is a big, big part of gun shows. You might have an old pistol from World War II that you'd like to trade, with a little extra cash, for a more modern gun. And if you don't like that newer gun, you can come back to the next show and trade for something else.
"It's like trading up in cars," Foor said. "You know, you have a Pinto and you drive to the local lot and next thing you know, you've got a Dodge Dart. You're stepping up in the world. And the same is true with guns. You might start out with some cheap pocket semiautomatic, but you wheel and deal a little bit, put in a little extra money and you might actually come out with something fairly decent, and later on you trade up or sell and use the money for something else. I've done that myself many times."
Whether you trade or buy outright, the price is always negotiable, and haggling is part of the fun.
The venerable M1 Garand rifle of World War II fame is a sought-after piece of firearms history. Savvy buyers can find them at gun shows, along with other "obsolete" surplus weapons.
"Anybody who's got a little bit of experience at a show — and I don't care if it's a gun show, a boat show, whatever kind of show — everybody knows there's the price that's on it, but that's not necessarily what you have to pay," Buist said. "What you'll hear a lot of is somebody — especially if it's an older gun they're looking at — will attempt to point out every slightest flaw it may have in order to get the price down. For the first-timer, it may seem a little strange. But you know, it's just like coin collectors or stamp collectors. The slightest flaw, they're going to point it out. Trying to get that price adjusted. I enjoy that. There is a tremendous amount of fun to be had there."
Saturdays are usually busy days, but Sundays can be a little bit more laid-back, because the show closes early and the vendors have to pack up and go home. That may be the best time to find a bargain, Foor said, when sellers don't want to tote something home or are in need of some gas money.
"You can get some good deals on a Sunday," he said. "The best deal, I've always been told, is one where both people walk away happy. But in truth, basically what most people do is they try to get as close to an even trade as they can get. Especially today … people don't have a lot of excess income to invest. So they're trying to get as much bang for their buck."
In other words, it pays to shop around. Buist said that just like shopping for a car, home appliance or whatever — you should take the time to talk with several vendors.
"Above all, I think you need to know what it is you're looking for before you go in that door," he said. But don't overlook the private vendors. They might have just the thing you're looking for. More often than not it might be slightly used, so the price might just beat the price of the same item on a licensed dealer's table. You can also find used guns with the regular licensed dealers. "It all depends on what you're looking for.
The behind-the-scenes look at the gun photo shoot:
---
Want to Go?
The next Florida Gun Shows event is scheduled for Sept. 13–14 at the North Florida Fairgrounds. Check floridagunshows.com/future-events/ for more information. Admission is $7 and free for children 12 and younger and law enforcement officers in uniform.