Shark Tank star ​Daymond John highlights 20th Gulf Power Economic Symposium
Regional gathering attracted large crowd in its 20th year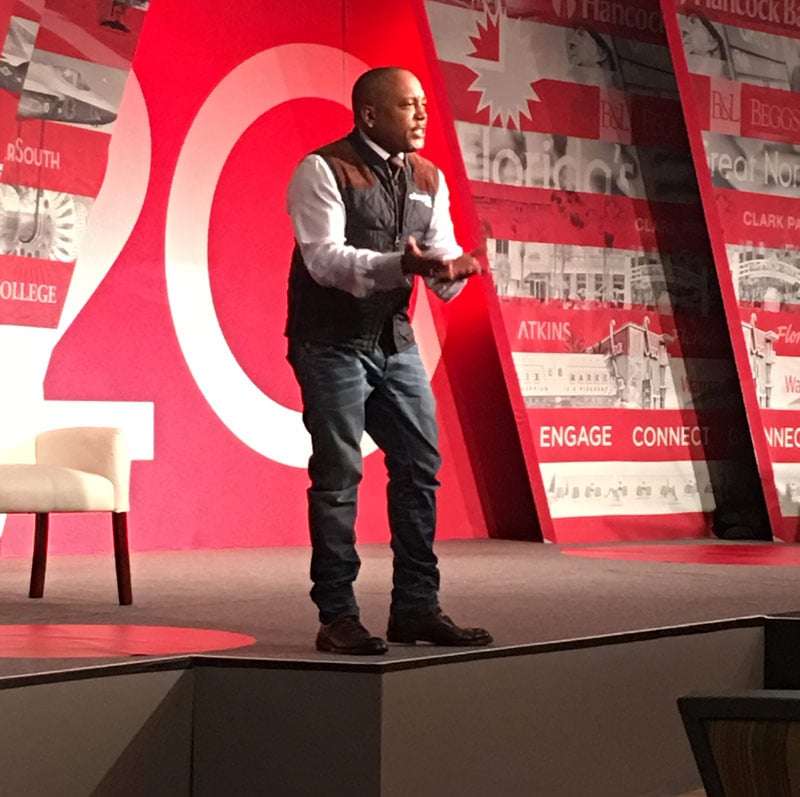 Gulf Power Co. lived up to the watchwords for its 20th economic symposium, connecting representatives of various economic sectors, economic development officials and community leaders in engaging ways designed to promote the growth of Northwest Florida.
A total of 525 people participated in the event including two former Florida House speakers, the mayor of Panama City, the president/CEO of Florida's Great Northwest, the governor of Florida and the technical director of the Naval Surface Warfare Center in Panama City, to name a few.
The newly refurbished and reopened Bay Point Resort, now operating beneath the Sheraton flag, hosted the proceedings.
​Daymond John got the big picture in the program. The founder and CEO of the FUBU clothing line and a star on television's Shark Tank, John was easily the most entertaining speaker over the symposium's day and a half. With a multi-media presentation, John told the story of his improbable rise to prominence in the men's fashion world and provided insights into his fellow sharks. About himself, he said, "You know why I am on the show; I'm the token smart guy."
Like a lot of motivational-type speakers, John has life reduced to an acronym – S.H.A.R.K., as one might expect, in his case. (Set a goal; do your Homework; Amor, that is, love what you do; Remember that you are the brand; and Keep swimming.
At various stages in his life, John said, he has summoned the "Power of Broke," desperation of a sort that unleashes creative energy and leads people to "take a shot versus playing it safe."
The symposium's most endearing speaker was almost certainly Barbara Mitchell, the 70-year-old vice president of corporate development for American Elite Molding, a manufacturer of plastic cable ties located in Crestview. Mitchell attested to the continuing viability of U.S.-sited manufacturing operations and the value of older employees. She was 61 when she was hired by American Elite.
Gov. Rick Scott, given a break in the weather between hurricanes Hermine and Matthew, dished out some impressive job growth numbers, but cautioned that the progress made during his administration could be fleeting.
"We must continue to compete" with neighboring states and to remain relevant in the global economy, he said.
The event, noted Gulf Power chairman, president and CEO Stan Connally, was made possible by the support of businesses including 850 Magazine.