Grown Locally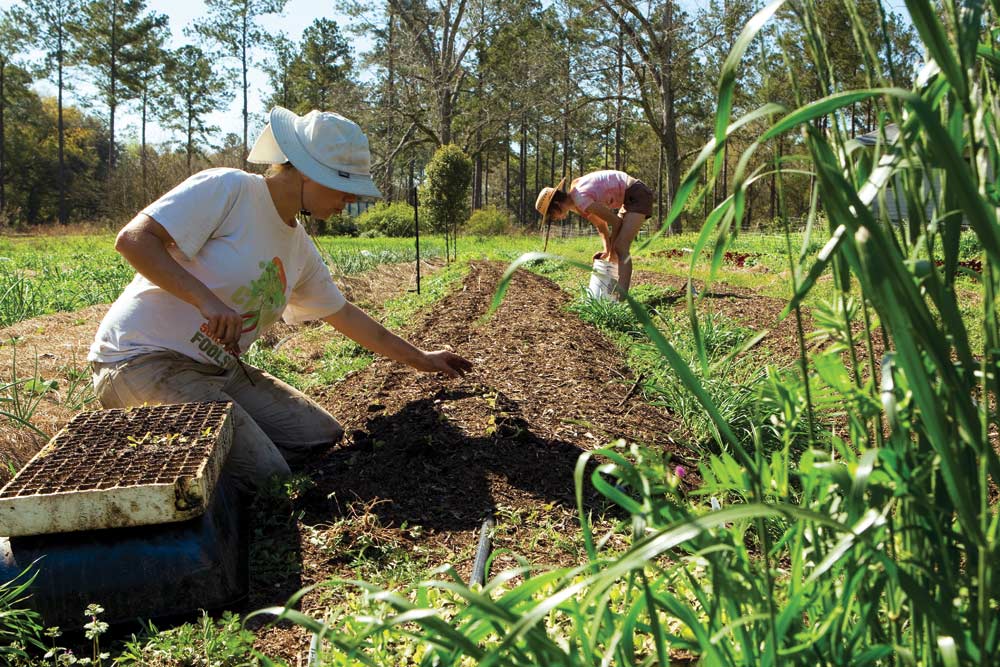 Whether from the store, the stand or your own backyard, eating locally makes senseDo You Know Where Your Food Comes From? Do You Care?More People Are Looking for Locally Grown Products, and Some Are Finding Them in Their Own Backyard
By Rosanne DunkelbergerClick to enlarge
Some people have decided to travel down the path of healthy eating. Others think it's crazy to buy a bell pepper that's been trucked in from Mexico when they can get one grown in Monticello or, better yet, pick it off a plant in the backyard.
Then there are the folks who like the idea of buying lettuce that has been harvested that morning, and putting their money into the hands of the person who picked it. Some, alarmed by climbing obesity rates, are hoping to redirect their kids from the Little Debbie cake to an orange.
Whatever their reasons, all roads seem to lead to the same place — as people become more conscious about what they eat, they're looking for seasonal food that's locally grown.
"There's been a convergence of movements. They all seem to come together and be about food," says Cristin Burns, marketing and project manager for New Leaf Market. "There's definitely been an increase in the awareness of where food comes from."
And as interest in local food grows, so do the methods for acquiring them. New Leaf has been selling local and organic foods for more than 35 years, and recently expanded to a supermarket-sized 9,000 square feet.
A new Earth Fare "health supermarket" has opened right down the street on Apalachee Parkway, while Publix and other grocery stores are expanding their organic offerings. It's possible to find a farmer's market in town — at Lake Ella, the Downtown Market, Killearn, Market Square, SouthWood and Lafayette Street — every day of the week.
There's been a boom in small, local farms over the past five years, says Burns. "It's really big. For years, Tallahassee felt kind of like this no mans' land where there wasn't really much going on in terms of production. We definitely had to rely on outside sources," she says. To shine the spotlight on local farms, for the past three years, New Leaf has pulled together an Annual Farm Tour, allowing individuals to travel throughout the region to see farms — many not usually open to the public — in operation. More than 6,000 people took the self-guided tour last year, which featured 36 farms. Burns says a similar number of farms are expected to sign up for the 2011 event, set for Oct. 15–16.
Nathan Ballentine is riding the locally produced wave by helping individuals, schools, churches and communities plant their own food gardens. Calling himself (and his business) "Man in Overalls," he serves as a consultant to those who want to grow their own, including people who have never gardened before.
"A fair number of folks, they're real interested, but they don't know where to start," Ballentine says. "They don't know how to get from grass to garden." He favors raised-bed gardens and can either offer instruction or build and plant a garden for you.
For those just starting out, Ballentine counsels them to keep it small.
"When folks start sometimes, they want to plant everything that they've ever heard of … and then they very easily get overwhelmed," he says. "Start with a 4-by-4 raised bed and plant two to five different things in that bed so that you can really wrap your head around it."
And don't let fear of (crop) failure stop you, Ballentine says. "The best gardeners in the world kill things on a regular basis," he says. "When something dies, it's not an indication of your ability or potential as a food gardener. It's just part of the process."
The concept of Community Supported Agriculture (CSA) is gaining traction locally. Basically, farmers partner with people who buy for "shares," at the beginning of the growing season to pay upfront costs such as seeds and labor. When the crops come in, the farmers divvy up the harvest, usually handing out weekly shares from a central location. It's a bit of a gamble. Shareholders never know exactly what's going to be in their basket on any given week and if some sort of natural or pest disaster occurs on the farm, there could be nothing.
Louise Divine, who farms with Herman Holley at Turkey Hill Farm, has been operating a CSA for the past two years. They now have 30 shareholders (sorry, they've reached their limit and aren't taking any more) and pass out the harvest at the Tallahassee Farmer's Market in Market Square. On a Tuesday in early April, the last of the winter crops were part of the share, including bunches of purple, green and variegated lettuces, broccoli, Swiss chard, salad turnips, arugula, and multicolored baby carrots.
"My favorite are the lettuces," says Amy Crumpler, who was picking up her weekly bounty. "You can't get 'em anywhere that are this pretty." She says she has been challenged to cook with some of the choices unfamiliar to her, including ginger and turmeric roots and a milder green garlic. Recently she tried out Swiss chard. "It was just olive oil and garlic and I did lemon juice and white wine and served it with a little parmesan cheese grated over it," she says. "It was the bomb."
Also on hand was Terry White, owner of the nearby Sage, who was picking up a boxful of arugula for the restaurant's next day's meals. He's soft spoken, but an ardent advocate for using local foods in his cooking, not only for the quality, but also to keep dollars circulating locally. "I could get on my little soapbox and go on, but that's the way food should be treated," White says. "We should stick with what grows here; we should keep it local."
Another resource is Red Hills Online (localfoodmarketplace.com/redhills). Many of the growers who participate in CSAs and sell at farmer's markets are now offering their products online. Customers have until Tuesday evening to pick from a listing of the week's offerings, which include fruits, vegetables, baked goods, plants and more — pay, and then pick up their order from the Bread & Roses Food Coop in Railroad Square on Thursdays. Plans are in the works for home delivery, too.
For all the upsides of eating locally, there is one downside; You to eat what grows here when it's available.
"We have all grown up with the ability to walk into a store and find whatever we want," says New Leaf's Burns. "Eating seasonally means you're not going to have citrus … and your favorite foods year round. And that's a big challenge for a lot of people to rethink how they eat, and rethink how they cook, and wait for that crop to come in before they go to buy something that came from across the country."
For More Information
Here are some helpful websites about food from in and around Tallahassee:
localharvest.org
newleafmarket.coop
maninoveralls.blogspot.com
Eat Local, Tallahassee!
During the month of June, New Leaf Market challenges Tallahasseeans to add more locally produced foods to their diet.
"If you're already aware and trying to eat locally, it challenges you to eat 80 percent of your meals using local ingredients for the month of June," says Cristin Burns, New Leaf's marketing and project manager. "If you're new to the concept, then it asks you to incorporate local foods as much as you're comfortable. Maybe three meals a week."
They've created a brochure that offers suggestions for breakfast, lunch and dinner menus and will have signs in the store highlighting foods farmed in our area as well as sample recipes. To learn more, visit newleafmarket.coop. New Leaf also offers a month-by-month list of foods produced within a 200-mile radius of Tallahassee.
Here's what you should be able to find in June:
Bell pepper
Blueberry
Broccoli
Cabbage
Cantaloupe
Carrot
Cauliflower
Celery
Cucumber
Eggplant
Grapefruit
Guava
Lettuce
Lime
Mango
Mushroom
Onion
Orange
Papaya
Peanut
Potato
Radish
Snap bean
Squash
Strawberry
Sweet corn
Tangerine
Tomato
Watermelon
Farmers are selling their bounty just about every day of the week somewhere in Tallahassee. Here's a sampling:

Downtown Farmers' and Produce Market
Monroe Street at Park Avenue in the Ponce de Leon Park
March through November
Saturdays, 8 a.m.–2 p.m.
Lafayette Street Organic Growers' Market
1105 E. Lafayette St. (in front of The Moon)
Year-round
Thursdays, 3–7 p.m.
Sunshine Growers' Market
Between 4025 and 4055 Esplanade Way, SouthWood
Open-air market
Year-round Mondays, except holidays,
11 a.m.–2 p.m.
The Grower's Market
229 Lake Ella Drive
Open all year (rain or shine) Wednesdays, 3 p.m.–dusk

Tallahassee Farmers' Market
1415 Timberlane Road at Market Square; 1/4 mile north of Interstate Highway 10 off Thomasville Road (U.S. Highway 319)
Year-round Tuesdays, Thursdays and Saturdays,
8 a.m.–5:30 p.m.