Greg Oyer Masters the Art of Dog Training
Some call him the East Coast Dog Whisperer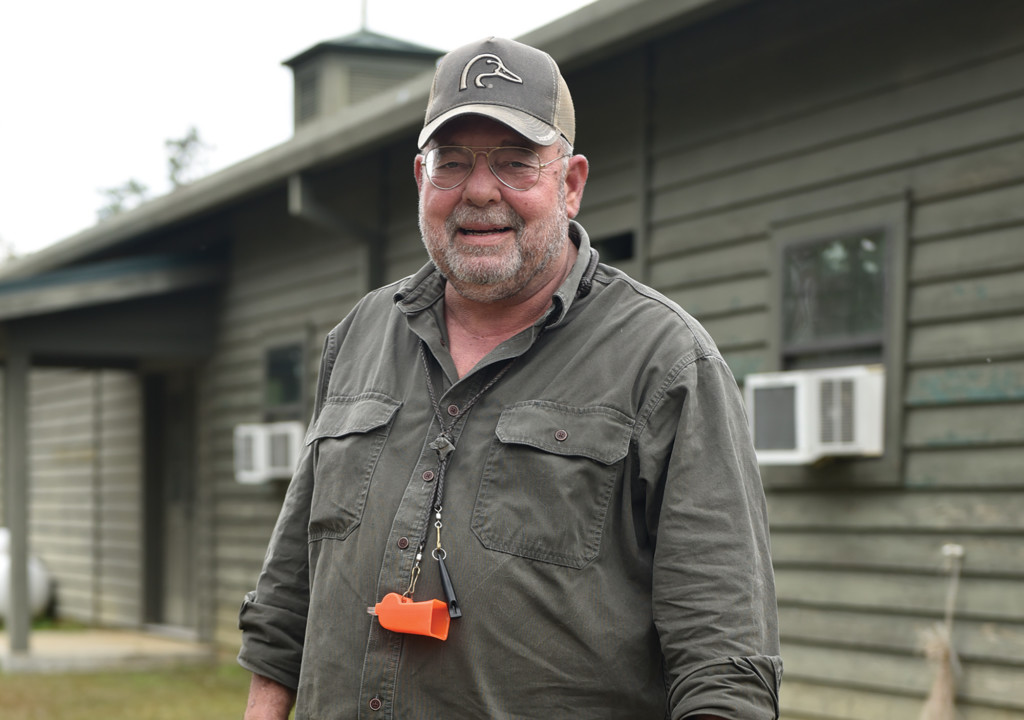 In his spacious southern Georgia classroom just a whisker north of Leon County, the teacher introduces you to his exuberant students and tells you something about them.
Take the one with the big droopy ears.
"That's Ripple," Greg Oyer says. "And Ripple is a naughty little English springer spaniel."
Upon hearing "naughty," you perk your ears and tilt your head inquisitively. You figure you're in the right place to do that.
"Oh, yeah — she's naughty," Oyer says. "That's part of the reason she's here."
She's there because he's there. When it comes to making naughty dogs obedient, Greg Oyer secures a spot in the front of his class. Around these parts, he's the master of mutt, the faculty of Fido and the Ph.D. of pooch.
And that's not all.
"You've seen the 'Dog Whisperer'?" asks longtime customer Richard Gardner, referring to the television series that featured California-based dog trainer Cesar Millan. "He's the East Coast Dog Whisperer."
Oyer has been training dogs 46 years. He has done it for Florida and Georgia politicians, dignitaries and chief executives. He has done it with hunting dogs, household dogs and hospital dogs.
He has done it so often and for so long that it's a wonder he doesn't bark the answers to your questions.
"I think I was probably born with it," he says of his love for dogs.
Those who've sent their dogs to him say he sports a canine connection that they can't explain. He can get inside a dog's head as easily as your dog can get into a nap, the way they explain it. And he can get them to respond.
He does it through calmness, in a tone in which you might talk to your 7-year-old or 14-year-old, they say.
"He's very, very thorough but never raises his voice," says Tallahassee resident Benson Green, president of Benson's Heating & Air Conditioning. "And he never has to hit a dog or even get upset with a dog — always calm, always in control, and the dogs know that. So when he turns on his 'parent voice,' you might say he gets their attention."
During a recent training demonstration with a few dogs that lasted about an hour, Oyer dished out a generous share of pup praise, from "nice job!" to "good boy!" A few students weren't measuring up, which meant they were "being a little naughty."
One dog apparently got cocky and guessed incorrectly on a task. Oyer's response wasn't to punish him but to call him "Mr. Smartypants." Another dog he called "Miss Naughtypants."
"You don't get upset," he says. "Dogs learn from their mistakes. If we start punishing them for making mistakes, they feel pretty hopeless."
Yet he emphasizes that he's not a "positive-only" dog trainer. He disagrees with those who believe you should never correct a dog.
"That's not part of life," he says. "Dogs correct each other all the time. I think it just has to be fair."
Oyer says he uses a remote training collar, through which a dog trainer or owner can send an electric current that produces a sensation from mild tickling to a painful shock, according to the Humane Society of the United States. That organization expresses caution on use of the devices because of the potential for abuse or misuse.
"Everybody goes, 'Oh, you use a remote trainer? That's so cruel.' No, it's not," Oyer says. "It's just as good as the person using it."
As he talked, about 20 dogs barked for attention in his kennel at this wooded former plantation south of Metcalf, Georgia, a healthy hound's run from the Florida line.
Just beyond the kennel, you see a lake and a "dog beach," to where four-legged students hightail it when they get the OK. They take a dip, shake themselves off and spend the next 10 minutes chasing each other in circles. You swear they're giggling.
"They get recess here," Oyer says. "They need these recesses to be healthy and happy."
On this day, two of his clients joined him so that they could learn to train their dogs and to help train other dogs. He insists that dog owners participate at least once every two weeks.
"What's the use of owning a Ferrari if you can't drive it?" Oyer says. "It's a waste of money."
Oyer works the dogs five days a week with help from longtime associate Jody Carter, who's embarking on his own dog-training business. On Saturdays, Oyer works with customers to address, as he calls them, "problem children."
He says he typically trains a dog for four to six months. He likes to get them when they're around six months old but accepts older dogs.
In Oyer's classroom, you'll meet all kinds of dogs. And if he has time, he'll introduce you to all of them.
"You want to meet a famous dog?" he asks.
Oyer walks you over to the pickup truck of Gardner, the customer who called him "the East Coast Dog Whisperer."
Bogey sticks her head out the driver's side window. So does Wink, another Boykin spaniel that Oyer trains.
"Bogey's famous all over Tallahassee," Oyer says.
Bogey doesn't show it. She just pants in the heat, squints in the sunlight and lets you pet her on the head.
She's a former star of competitive events for hunting dogs, called field trials. And she remains a therapy dog who has made about 1,000 visits to facilities including Tallahassee
Memorial HealthCare's rehabilitation center.
TMH touts Bogey as the first dog to incorporate physical, occupational and speech therapy with its rehabilitation-center patients.
"If she feels like a person is in pain, she'll put her head on their lap or leg," Gardner says.
Gardner says Oyer has worked for about 13 years with Bogey and for almost two years with Wink, Bogey's protégé.
Of Oyer, Gardner says: "Hands down, the best trainer I've ever seen."
Oyer trains dogs mostly for companionship and for hunting. In the case of therapy dogs, he says, he builds a foundation that prepares them for training programs such as the one at TMH.
He says he bases training on three actions — go, stop or come. He tells you this in a self-deprecating manner that suggests he takes his dogs more seriously than himself.
"This doesn't take a brain surgeon to accomplish," he says. "Otherwise, I wouldn't be able to do it."
It all starts with obedience, he says.
Oyer introduces you to Paula Joiner, a customer who's helping to train her dog and other people's dogs.
Joiner has Ripple — you remember naughty Ripple — on a leash, and they're walking around together. Ripple wears an open-mouth smile and curiously keeps her face turned upward, as though she expects a pork chop to come falling down.
Her eyes stay locked on Joiner's because she's looking for cues.
"And notice that she's not pulling on that lead?" Oyer says of Joiner. "If we pull, they pull back. If I pull on your arm, you have to pull back just to keep your balance. So we use little corrections that I tell everyone are similar to sitting next to your grandmother in church (and you hear), 'Cut that out!' And it's touch and go and touch and go."
Oyer looks warmly at Ripple, who will grow to weigh about 40 pounds.
"Now she's getting good eye contact. She's sitting nice," Oyer says. "And, let me tell you, this dog is a whirlwind. Nine months old. She's going to be a nice little dog. She thinks she weighs 82 pounds, you know. There's a big heart in that little body."
She's among thousands he has trained. Some he finds easier to remember. Among them: a Brittany spaniel who belonged to Gov. Lawton Chiles.
Oyer recalls that Chiles, who died in 1998, loved to hunt quail. That meant he needed a dependable bird dog.
"Every so often, I'd be summoned to the Governor's Mansion to straighten out a problem," Oyer says.
Upon greeting him at the back entrance, the mansion staff would kid him about why he was there.
"They'd say, the dog's been naughty again, hasn't it?"