Greetings from Vintage Tallahassee
Postcard art from Florida's capital city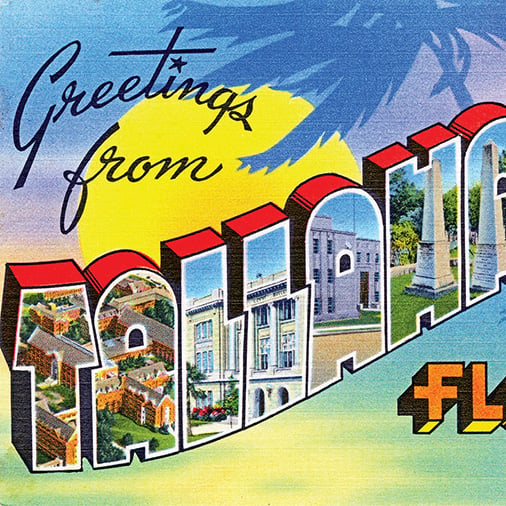 Postcards have been in use for almost as long as the postal system, with the first post card making its appearance in England in 1840. The first American-made postcard was copyrighted in 1861, and the first postcard in the U.S. that was printed for souvenir purposes was created in 1893 and advertised the Chicago World's Fair.
"Linen" postcards, which were not actually made from linen, were very popular in the U.S. during the 1920s, and they remained popular until about 1940. Linen postcards are easily recognizable, due to their super-bright colors and embossed, linen-like paper. The "chrome" postcard, which looks like a glossy photograph, has been in use since 1939, and it remains the most popular postcard style today.
Deltiology is the study and the collection of postcards, but you don't need to be a deltiologist to appreciate the vibrant colors, funky fonts and quaint scenes on these vintage Tallahassee postcards!
Tichnor Brothers Incorporated, in Boston, made this postcard and several others that depict famous locales in Tallahassee. The local landmarks that are shown inside each of the bubble letters in "Tallahassee" are also found on other postcards made by Tichnor Bros. Do you recognize any of the sites?
(T-A: an aerial view of the Florida State College for Women — now FSU; L-L: the Supreme Court Building; A: the Knott building; H-A: the tombs of Prince and Princess Murat; S-S: the beach at Wakulla Springs; E-E: the old U.S. Post Office and Government Building)
| | | | |
| --- | --- | --- | --- |
| | | Check out that skyline! The postmark on this card reads, "1943." The new capitol building was built in the 1970s, and the original plans for the new building included demolishing the old capitol. | |
The Spanish-style cottages at Lake Ella that are now the homes of numerous boutique stores were built by Gilbert S. Chandler in the late 1920s or early '30s as part of his Tallahassee Motor Hotel, which catered to travelers who made their way along the "Old Spanish Trail" from San Diego to St. Augustine. A handwritten date on the back of this postcard reads, "October 12, 1947." (FYI: The word "motel" comes from combining the words "motor" and "hotel."
This postcard, dated June 1909, is part of a calendar postcard series from Capital City Bank. The text is entitled, "A Leaking Purse," and reads, "The bank is the best place for money. The purse invites its spending. It is not what you earn that counts, but what you save. The healthy bank account is a friend of great possibilities. It gives and commands confidence when your dollars are working earning more. The first steps on the road to success have been taken. Money is insurance against the time of need. Insure yourself with a healthy growing account in our bank." The note is signed, "G.W. (George Washington) Saxon, President," and "T.E. Perkins, Cashier."
| | | | |
| --- | --- | --- | --- |
| | A general note in the State of Florida Archives, from which this image was borrowed, says, "In 1940, this oak (The May Oak) was estimated to be 1,000 years old. Many May parties were held yearly under its branches. It collapsed in August of 1986." | | |
| | | | |
| --- | --- | --- | --- |
| | | On the left side of this postcard is Woolworth's, where, in the early 1960s, many Tallahassee students engaged in lunch counter protests against segregation. This card was probably printed in the '40s, however; the car that is parked in front of the store is a 1940 Plymouth Deluxe two-door touring sedan. | |
| | | | |
| --- | --- | --- | --- |
| | Tallahassee is a city that is rich with history, which can be enjoyed through a perusal of postcards from bygone years. What will people say, 50 years from now, about the Tallahassee of our day? Only time — and today's postcards — will tell! | | |