Green Houses
Sustainable options can save you money while going easy on the planet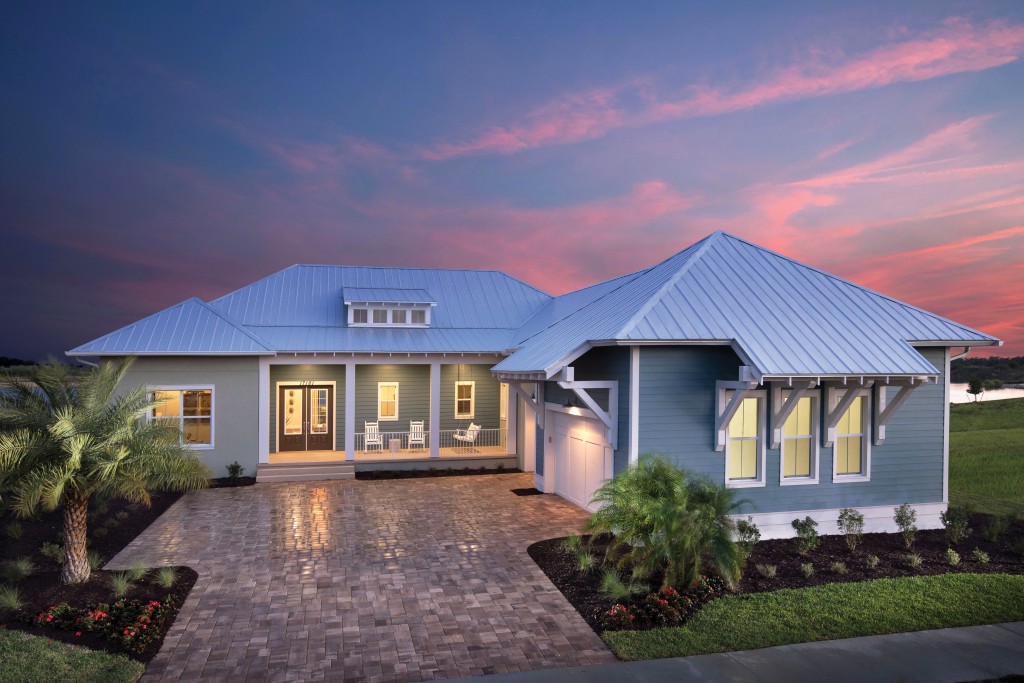 Selecting eco-friendly and sustainable options for your home will not only benefit you and your family's well-being, but also that of the planet. There are many benefits to pursuing a green-centric home.
"Green certified homes may have substantially lower utility bills and may qualify for advantageous financing, lower insurance rates and government incentives," said C.J. Davila, executive director of the Florida Green Building Coalition.
By simply changing a few lifestyle choices, switching out products and making informed decisions, you can make an impact. Below are 10 tips for achieving an eco-friendly home.
Sustainable Materials
Whether it's flooring, furniture, tile, bedding or any other household furnishing, seek materials that are sustainable or recycled. Options include reclaimed wood, stone, marble, wool, cork, glass tiles, bamboo and recycled cotton. Avoid plastic and particleboard.
Non-Toxic Paints
Be particular with your paints. Many paints contain volatile organic chemicals known as VOCs, which are hazardous carcinogens released primarily when you paint but can still be present years later. "We educate our customers on the best available products for their home's longevity and safety," said Gerard LaMothe Jr., president of Superior Painting of Tallahassee, Inc. Superior Painting offers an array of green options, including Sherwin Williams Harmony, Cashmere and Emerald paint, because all are low or zero VOC.
Energy-Efficient Appliances
Mays-Munroe specializes in energy-efficient appliances. "Environmentally friendly appliances, specifically those designed to use less energy or use alternatives to harsh detergents and chemicals, reduce the stress placed on our already overtaxed energy and waste infrastructure," said Ian Murphy, sales associate with Mays-Munroe. "Moreover, their reduced energy consumption can translate to hundreds of dollars of annual savings for consumers." To achieve optimal energy efficiency in your home, consider Water Sense faucets and toilets, Smart thermostats, a PureWash washing machine, Wi-Fi enabled Smart products, tankless water heaters and appliances with LED lighting.
Shop Vintage and Local
New pieces for your home don't necessarily need to be new. Vintage furnishings are often one-of-a-kind treasures that add character to your home. Feel good about reusing pieces versus adding to resource demand by buying new.
Build Green
If you are building a home, remodeling or adding on, consider hiring a certified Green Building Professional. As a Green Professional Builder, Mark Worley, owner of Worley Construction, Inc., selects materials and equipment that will lower energy consumption and maintenance costs.
"I work with clients from a holistic approach and try to incorporate multiple building disciplines to help clients reach their goals," Worley said. "They may have not thought of possibilities that will help them stay in their homes longer, while having a home that cost less to operate and maintain." According to the Florida Green Building Coalition, certified green builders take into consideration several factors — including energy performance, water conservation, site conservation and disaster mitigation. "Most of what might be sustainable options in a 'code' home are simply best practices by Premier Fine Homes because we incorporate them into every home we build," said Thomas Ashbury, director
of operations at Premier Fine Homes.
Natural Fibers
If you're in the market for linens, try wool, organic cotton, soy silk, ramie, hemp, organic feather, bamboo and jute. Eco-friendly fabrics are made from fibers that are not grown using pesticides or chemical fertilizers.
Plants
Indoor plants purify the air by acting as sponges to trap and break down toxins, releasing them as a harmless by-product. They supply oxygen, further purifying your home.
Lighting
Compact fluorescent lights or any bulb labeled energy-efficient will greatly lower your electricity bill. During the day, opt for natural light when you can.
Window Treatments
Window treatments have a big impact on heating and cooling bills. Invest in the right blinds, shades or window tinting. Windows should be properly lined with coatings that provide insulation.
Household Products
Get away from cleaning products that rely on harsh chemicals, and go to plant-based alternatives or make your own. Try organic, natural or eco-friendly bath products. Look for USDA certified organic, Natural Products Association or BDIH labels on the packaging. Invest in glass or ceramic containers. When shopping, use reusable bags instead of plastic or paper. Don't use paper towels; instead repurpose old towels or clothing into cleaning cloths.