Great Change is Possible When You Stick to Your New Year's Promises
A Year of Resolution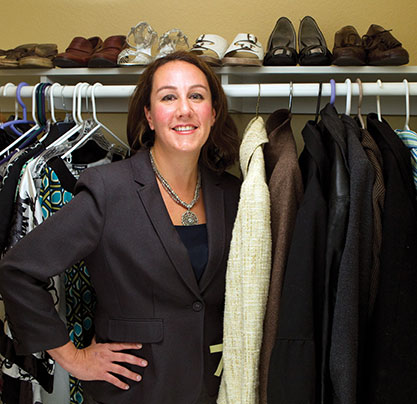 On Dec. 31, 2009, I sat on my outdoor rocking chair, drinking a glass of wine and thinking about what I wanted from 2010.
I was overweight, I was miserable taking the medication I needed, and I was thinking: Is this life? I contemplated as I sipped: What did I want to do with 2010?
Every year, we're all guilty of making New Year's resolutions and not following through. How many times have you said to yourself: "This is going to be the year I change?" That was me. I called my mom, and made a pact with her that this would be my year. I told her, "Things are going to shake up a bit, are you ready?"
At the time, I was in my mid-30's and had never been married, nor had kids. I am your modern-day Bridget Jones of the eight-five-oh. I did what I wanted when I wanted, and went where I wanted. At that time, I wanted a career in government and had progressed to a position of responsibility and authority. My life was driven by two mottos: "Set the bar as high as you can and achieve it," and "Work hard, play even harder."
You could find me at any party, bar or social event the area had to offer. I was always networking, always on the go, always thinking about how to take things to the next level. Whether it was out and about or at home, I was going to the extreme. Was I happy? I'm not sure. But I was having fun.
So there I was New Year's Eve trying to plan out my attack for 2010. What was I going to do? How was I going to achieve this? I went to Atlanta to see my friends and get their advice, and my best friend told me something that really got me thinking: "You live once. How do you want to be remembered?"
Ouch. Did I want to be remembered for being the girl who sang bad karaoke and drank way too much wine at parties? Did I want to be remembered by every taxi driver in town? Who would show up at my funeral? Bartenders and bar backs? I asked a 5-year-old how she would want to remember me, and she said: "Auntie Jamie, I want you to be remembered as a gem." Well, that's what Auntie Jamie wanted too.
I returned to Tallahassee, reached out to people and asked them how I could change. The first quest was physical, what I needed to do to get back in shape. Wii yoga is great, but it's not a workout. A girlfriend invited me to her class, saying it would get me off the nicotine addiction, and I would learn how to mediate my problems. I went, stretched and almost passed out. I came home and tried to smoke a cigarette afterwards, but my body rejected it. Amazing. Maybe there was something to this yoga thing after all. I began to go once a week, truly cherishing my time there. I would turn off both cell phones, and take three hours out for myself and relax.
Two weeks into this yoga thing, I was hit with a major medical blow. I had gone to the doctor's office for chest pains, and he told me my blood pressure was sky high. He asked if I was under stress, and I laughed. I reminded him what I did for a living, and he offered a prescription for more pills. I told him to save the paper; I wouldn't take any more meds. But after being seen by every pulmonary doctor my parents and I could find, the results were the same: I was 33 and looking at my first heart attack. I informed them I was doing yoga. They replied, "Do more."
I found a yoga retreat program called "Women's Quest," offering women a chance to recuperate from life. The earliest I could go was for their trip to Tulum, Mexico. It was not tourist-friendly Cancun-type Mexico. This was back-of-beyond Mexico. When I got there, I was completely stripped of cell phones and anything connecting me to the outside world. I was taken to a remote island that had one store, one restaurant and it cost me $40 to get anywhere. For a week, I lived in a tent with mosquito netting, toilet paper went into a trashcan and food was made with the freshest ingredients available. It was primitive — at its finest.
I returned to the states a new person. My blood pressure had dropped 25 points. My face looked younger. I was refreshed. I had a new attitude.
I also did some jaw-dropping things after I returned.
Due to funding cuts, my program was losing two positions, so I decided to resign last summer. My executive director couldn't understand why I was giving up a position I had worked so hard to achieve. I loved what I did, but I needed to do this for me. I had made a promise to myself that 2010 was going to be different and this promise was one I needed to keep.
Since leaving my job, I've been able to do things I would never do. For the first time in six years, I was able to dream BIG. I began to think about changes that needed to be made within our society. How could we be better? How could we inspire the new generation? How could we inspire ourselves?
Recently, I took the LSAT to see if law was something I wanted to pursue. I believe if more legal aid was offered to those who desperately needed it, maybe some things could be solved. All it takes is a little imagination to change the world.
I also became more attuned with my body. To date, I've dropped five sizes, and 31 pounds.
I've also done more with the community. I am giving back to what has given to me. I also began a nonprofit charity called My Best Friend's Closet. I collect clothes donated by friends, families, and neighbors to give to young adults who have aged out of foster care. This program enables them to dress for success, learn how to write a winning resume and receive free makeover services from partner salons — letting them be the gem they should be.
Now, I know we all can't do what I did in 2010, but you can make one important promise to yourself — and then do it. Don't worry what your friends or family will think. Are they you? What's the one thing that is making you want to change? Is it health? Is it financial? Is it personal relationships? Do it.
Learn to cook an ethnic meal, help a stranger, buy the person behind you lunch, take a stranger out to breakfast, walk 30 minutes longer than you normally would, try out an ethnic restaurant or simply help a friend.
The list is endless on how you can change yourself, and also make your life worth living. Take the New Year's resolution to a whole new level. Don't just make a list and look at it from time to time. All of my changes were gradual, and they didn't happen overnight. Leave room for trial and error. It will come to you when you least expect it.
So, what I am going to do in 2011 that will top 2010? I guess we are all going to have to see.
As you reflect on your own life, remember my eight words of advice:
Be the gem you were born to be.