Great Adventures
It's Easy to Discover a Whole New World That's Close to Home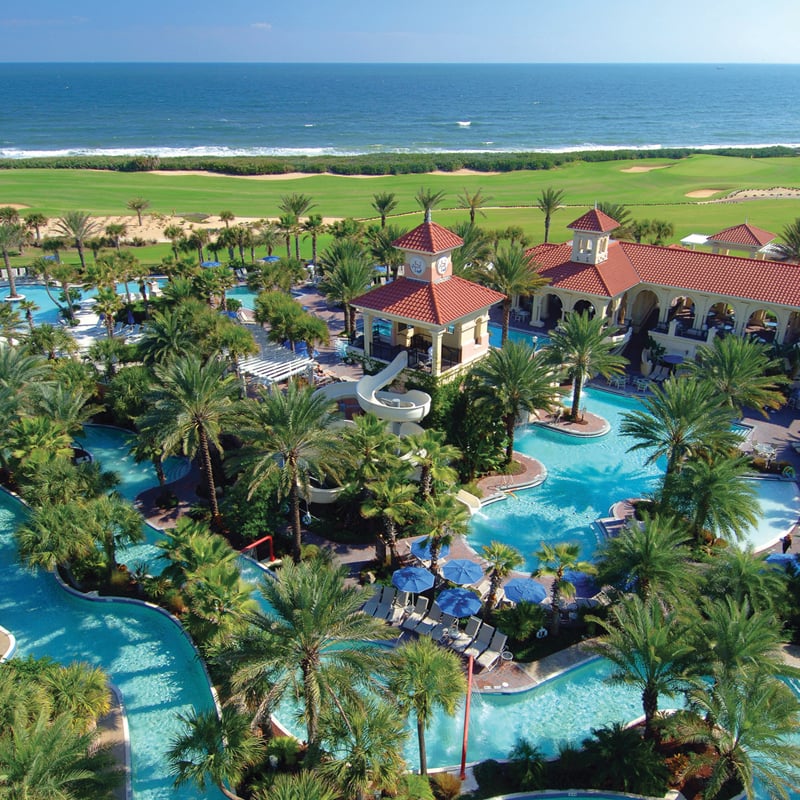 It's wonderful to be adventurous and head out for places unknown. But most of us don't have the spare time of Marco Polo, the royal bankroll of Christopher Columbus or the fortitude of Lewis and Clark.
Instead, we'd rather enjoy a long weekend someplace that's away (but not too far away) and a different experience from the everyday with all the comforts — and maybe even more — of home.
This year, we're striking out toward all four points on the compass — North, to the beauty of Georgia's Callaway Gardens, South to St. Petersburg's luxurious Vinoy Renaissance Resort, East to the family-friendly Hammock Beach Resort in Palm Coast and West to Historic Pensacola — to find the best kind of adventures that are not too far from home.
---
Palm Coast
Kick Back and Relax at Hammock Beach
A Resort Celebrating Florida's Wild Natural Beauty on the Atlantic Coast
By Rosanne Dunkelberger
​
When we think of a visit to "the beach," visions of sun, sand and surf come to mind. But with nearly 1,200 miles of coastline — from Jacksonville to tropical Miami and around the bend from Tampa Bay and across the Panhandle — the reality can be many different things. I've lived in the Sunshine State for more than 40 years, and this year found another different and enjoyable experience at Hammock Beach Resort, located on the Atlantic in Palm Coast, about 30 miles south of St. Augustine.
For starters, those used to visiting Panama City and Destin are going to be pleasantly surprised to find that while driving along the coast on A1A, you are pretty much driving "on the coast." For long stretches, hotels and houses are on the landward side of the street — with nothing but palmettos and sand dunes between you and the Atlantic waves. Because of a little user error while inputting our destination, we ended up overshooting the resort and had to backtrack about 20 miles up A1A to get to Hammock Beach. I've never had such an enjoyable detour.
And the Hammock Beach Resort was definitely worth the extra miles, an oasis of luxury surrounded by Florida's natural beauty. While it might be nice to while away an afternoon napping on a bed slung between two trees, the "hammock" referred to in the resort's name refers to a different kind — an ecological phenomenon particular to Florida, slightly raised areas near water that are home to mini-forests of trees and other vegetation.
There is, of course, the beach. Not the snowy white version found along Northwest Florida, but more of a cinnamon color and full of coquina and other shells, where the eagle-eyed might just find sharks' teeth, too. The beach is very undeveloped as far as the eye can see in both directions, so you can easily enjoy the natural beauty of the coast. With more wave action than you'll find on the Gulf coast, it's great for body surfing and other surf sports.
And then there's the property itself, featuring 329 guest rooms in 11-story towers and the full complement of amenities you'd expect from a AAA Four-Diamond-rated resort. The rooms range from traditional hotel rooms to fully equipped four-bedroom condos, making it the perfect spot for any sized family's vacation. There are oodles of activities going on around the property — everything from fitness classes to yacht cruises — and Hammock Beach Resort prints a comprehensive weekly guide to all the resort has to offer each day. There are also supervised recreational activities for youngsters at the Kids Crew.
The recreational amenities are superb, particularly the Fantasy Pool Complex, with two levels of outdoor fun. On the first is a kid-friendly shallow pool with a water slide and a lazy river. The upper level has a pool geared toward the grownups. As one attendant said, "You don't have to be an adult, you just have to act like one" to enjoy it. Nearby is a whacking big 32-person whirlpool spa. Yet another pool features a "beach" as well as a sand volleyball court. And another full-size pool can be found indoors for cold and rainy days. You'll never have to leave your lounge with poolside food and beverage service from Ocean Bar & Café.
Hammock Beach Resort is home to two golf courses. The Ocean Course, designed by Jack Nicklaus, is the more player-friendly of the two, with six holes offering breathtaking views of the Atlantic Ocean. The Tom Watson-designed Conservatory Course is a British links-style course with challenging water hazards and more than 140 bunkers. Tennis is also available on lighted courts.
For those who seek to take it very slow, The Spa offers a full complement of relaxation and beautification services, including facials, massages, mani/pedis, body therapies, waxing and hair design. Can't decide what service to enjoy? No worries: Sign up for a spa package such as the $479 Relaxation as Far as the Eye Can Sea, which includes a Green Tea and Ginger body wrap, custom facial, Warm Coconut Stone Massage and 75-minute Hammock Beach Pedicure.
The Hammock community prides itself on keeping its hometown, nestled between the ocean and the Intracoastal Waterway, as natural and inviting as possible. There are miles of bike paths and trails, and the immediate area around the resort includes several state parks and nature preserves that can be explored by foot, bike, kayak and boat.
Just a few miles north on A1A is Marineland, which offers dolphin encounters and eco-tours, and a 30-mile drive will take you to all of St. Augustine's history and tourist attractions.
St. Petersburg
The Vibrant Vinoy
1920s Panache Meets Modern-Day Fun in the Sun in Downtown St. Petersburg
By Chay D. Baxley
I can see them all now.
Those wonderfully sassy flappers jiving to the Charleston, sipping on their forbidden libations and making googly-eyes at the dreamy band members. The Lost Generation penning and painting what was left of their souls. Coco Chanel taking names, kicking butt and looking fierce all the while.
Call me a romantic, but the roaring '20s have always possessed a certain level of charisma and intrigue for me. And however misinformed it may be, to me, these flashy faces represent an entire, enthralling decade.
It hasn't been easy, but I finally found something that can satisfy my time-traveling wanderlust. My perfect fix? The Vinoy Renaissance St. Petersburg Resort and Golf Club.
It's the real deal.
In 1925, when the original Vinoy Park Hotel opened its doors, the luxurious retreat boasted attractions such as the Pompeii Dining Room — the discovery of Pompeii was a very recent and exciting news event at the time — and the charming, brick-lined Tea Garden. Then, as now, the resort made its niche offering patrons an ideal blend of Old World charm and modern amenities.
"It was built during the years of the boom era during the 1920s," said Elaine Normile, the resort's resident historian. "It was the first luxury hotel that was built in downtown St. Petersburg. It really is an icon."
Today, the corridors of the Vinoy are as alive as ever. Perfectly positioned at the water's edge on downtown St. Petersburg's desirable 1 Beach Drive, the towering structure was erected under the umbrella of "Mediterranean revival architecture" — a style as palatable in contemporary times as it was on New Year's Eve 1925, the night of the Vinoy's grand debut.
From the very start, the hotel was destined to be a hit. Beyond the grandeur and Spanish-influenced elegance, over the years part of the Vinoy's pull has been its strong ties to the community of St. Petersburg. Veiled by nearly a century of legends, tales and ghost stories, the peach-hued gem has been branded as much by its physical and historical character as it has by the friendly faces of the staff members who populate it.
During our stay, I was endlessly entertained by the darling accounts of guests who came before us. Over the years, everyone from former President Calvin Coolidge to acting legends Marilyn Monroe and Brad Pitt have made a point of visiting the property during their treks to St. Petersburg. My favorite tale, though, was the story of the resort's origin.
It all began with a bet, locals will tell you, between wealthy businessman Aymer Vinoy Laughner and celebrity golfer Walter Hagen.
Legend says that Hagen, having had his fill of the lackluster accommodations in the area, wagered his pal that if he drove a series of golf balls off the face of his host's prized pocket watch without so much as cracking the crystal surface, and they landed squarely across the waterway on the next lot, Laughner would be obliged to commission a resort.
Luckily for us, Hagen won that bet.
Of course, it wasn't always sunny skies for the Vinoy. Prohibition presented a challenge, albeit minor, during the hotel's initial phase. Later, in July 1942, the Vinoy ceased operation as a hotel and was leased to the U.S. military as a housing and training center for military cooks and bakers — the scratches from their metal-toed combat boots permanently scathed the hotel's stairwells. By the early '70s, the Vinoy declined into a low-rent boardinghouse, and in 1974 (and for the 18 years that followed) the hotel ceased to exist. But all was not lost.
In 1992, following a two-year, $93 million reconstruction project, the Vinoy Renaissance St. Petersburg Resort & Golf Club emerged.
I think it's a nice tale, full of fame and fortune, love and loss, with an even nicer ending. Not surprisingly, today the Vinoy is chock-full of amenities: a fantastic pool area, an indulgent spa, multiple restaurants, several watering holes, a garden to wander, workout facilities, a golf course and adjoining clubhouse that would impress any avid player, and views of sapphire waterways.
It's the history, though, that you won't be finding anywhere else.
"Every person I meet with that is somehow involved in local events, they feel they own the Vinoy — or at least a little piece of it," shared Vibeke Sansone, director of sales and marketing at the Vinoy. "Because they have seen it rise from being abandoned to what it is today."
Pine Mountain, Georgia
The Lodge and Spa at Callaway
Prepare to Relax at the Gardens' Mountain Retreat
By Chay D. Baxley
A massive stone fireplace and elegantly vaulted ceilings greet you as you enter the alpine-inspired Lodge and Spa at Callaway Gardens. As you set your bags down, you recognize the clinking sounds of fine dining. Hints of Prunifolia Azalea, the spa's signature scent, linger in the air. Through the lobby's oversized glass doors, you can sneak a glimpse of the bubbling, twinkling courtyard that awaits.
If you believe in the power of first impressions, the Lodge and Spa won't disappoint. It's hard to believe this resort is less than a four-hour drive from Tallahassee, located on the edge of the famed Callaway Gardens' 6,500 acres of environmentally sound, family friendly fun.
The Lodge and Spa could be just the excuse Tallahassee residents need to take a scenic drive through the South Georgia countryside to visit Callaway's prized gardens, the beautiful stained glass chapel and the unique butterfly sanctuary. The newly renovated facility is now a member of Marriot's prestigious Autograph Collection.
"It has a distinct calmness to it," said the property's sales manager, Josh Baker, on the overall personality of the Lodge and Spa. "It's laid back and has a very fluid environment. It's non-stressful. It's a great place for Tallahasseeans to come up and just get away for the weekend."
On the resort's ground floor, adjacent to the 24-hour fitness center, is Spa Prunifolia, a luxurious full-service spa found exclusively at Callaway Gardens.
Specializing in natural treatments and soothing remedies, the spa's highly trained, professional staff is focused on providing relaxation, restoration and inspiration to vacationing clientele. The décor is tastefully rustic, with tranquility infused throughout — and the amenities are next-level divine. With a list of spa services as imaginative as they are extensive (including the classic Pine Mountain Stone Massage, the Botanical Body and the Espresso Mud Body Scrub), visitors are well within their vacationing rights to spend an entire day devoted to pampered bliss.
Guests arriving on Friday evening have an added bonus to their stay — an all-you-can-eat, deliciously fresh seafood buffet at the resort's esteemed Piedmont Grille. For one flat fee, patrons can feast on crab legs, shrimp, mussels, oysters and the most savory grits ever concocted.
It's a seafood lovers dream and just another reason (that, let's be honest, you didn't really need) for taking an extended weekend.
If the resort's heated saltwater pool, outdoor fireplaces, salon and spa, and two upscale dining options aren't enough temptation, perhaps the quaintness of the downtown area will inspire your next weekend trek. For Floridians, Pine Mountain — the town where Callaway is situated — might as well be in the heart of the Appalachian Mountains. Rolling hills, wildlife and pristine vegetation abound, making this spot any outdoor enthusiast's ideal getaway.
While you're there, spend a day exploring antique shops and indulging in the local flavors on Main Street, home to the delectable Bon-Vivant Café, which offers an impressive French-infused cuisine. After lunch, take a drive along the picturesque Pine Mountain Highway, venturing up to take in the vistas at Dowdell Knob, the city's highest point. You can enjoy the panoramic vista there, which includes a monument to Franklin D. Roosevelt at his favorite picnic spot during his final years.
Pensacola
Bringing History Alive
Historic Pensacola Village Brings Visitors Back to 19th-Century Colonial Days
By Zandra Wolfgram
​
Ever fantasized about leaving the trappings of modern day life and slipping back in time to the "olden days and old ways"? Dozens do it every day at Historic Pensacola Village — a quaint collection of historic homes, sites, churches and museums clustered in the town's historic district. The Village unabashedly celebrates the 450-year history and culture of the "City of Five Flags" with exhibits, demonstrations, tours and an interpretive living history experience brought to life by costumed characters re-enacting early 19th-century Colonial life.
After getting involved in advocacy work for nonprofits and the preservation community in Northwest Florida, 35-year-old Ryan Arvay was thrilled to plumb the depths of the local history he "fell in love with" as part of his current job role, overseeing the Living History aspect of the Historic Pensacola Village. A background in media and arts coupled with a passion for history make Arvay a natural for his unique position, which he confesses is "a lot like theater."
When Arvay comes to work each day, he could be dressed as a French Colonist laborer, a Victorian gentleman or an 18th-century Spanish soldier. Instead of going to a desk, he heads to a family garden situated next to the 1890 Lear-Rocheblave House that is filled with corn, sweet potatoes, leeks, collards, okra and other crops likely harvested here during the 1800s. Most days you will find him outside under the Florida sun alongside 10 enthusiastic University of West Florida students — also clothed in period garb — cooking, cleaning, weaving or working in the garden to prepare an authentic meal of the times. The day we visited, a black iron pot placed over a roaring fire in the "kitchen house" waited to be filled with fresh ingredients for a hearty rabbit stew made with vegetables plucked that morning from the garden, which Arvay says "would be essential to a family like the produce aisle in the grocery store is today."
This history buff relishes a center-stage part that allows him to journey into the pages of the past — and bring visitors along with him. "When you have a tangible connection to the past it comes alive a lot more and is more present in your mind and in your life," he says. "There is no better way to experience history than with your five senses — to feel the heat, smell the food, see the steam rising off the boiling water as they do the dishes and get a real sense of what it was like to live back then," he insists. "You can't get that from television or even the best history books."
A guided history tour from Avray or one of his student staffers is an ideal way to immerse yourself in 19th-century life in America's "first city." Or simply enjoy a self-guided stroll by 21 historic houses, buildings and sites all located within about four blocks. Tickets are $6 for adults, $5 for seniors and military and $3 for ages 4 to 16.
Tuesday through Saturday at 11 a.m., 1 p.m. and 2:30 p.m. you can stroll through four historic buildings, beginning with an 1805 Creole cottage called the LaValle House and ending with the Lear-Rocheblave House — a Victorian home built in 1890. Each of the historic spaces is filled with artifacts original to the home and the time period. Or you can explore the Village on your own anytime between 10 a.m. and 4 p.m. If you visit the Village on Friday or Saturday you are most likely to come upon a 19th-century woman knitting, weaving, shelling beans or perhaps a working craftsman carefully carving a flint rifle.
Other must-see stops in the Village are the TT Wentworth Museum, the Museum of Industry, the Museum of Commerce and the recently renovated Pensacola Children's Museum, which includes a fort, trading post and sailing ship circa 1882 to engage curious young minds.