Grazyna Bergman's Shares The Story of Her Family's Escape From the Nazis: Part I
The Wartime Odyssey of Grazyna Bergman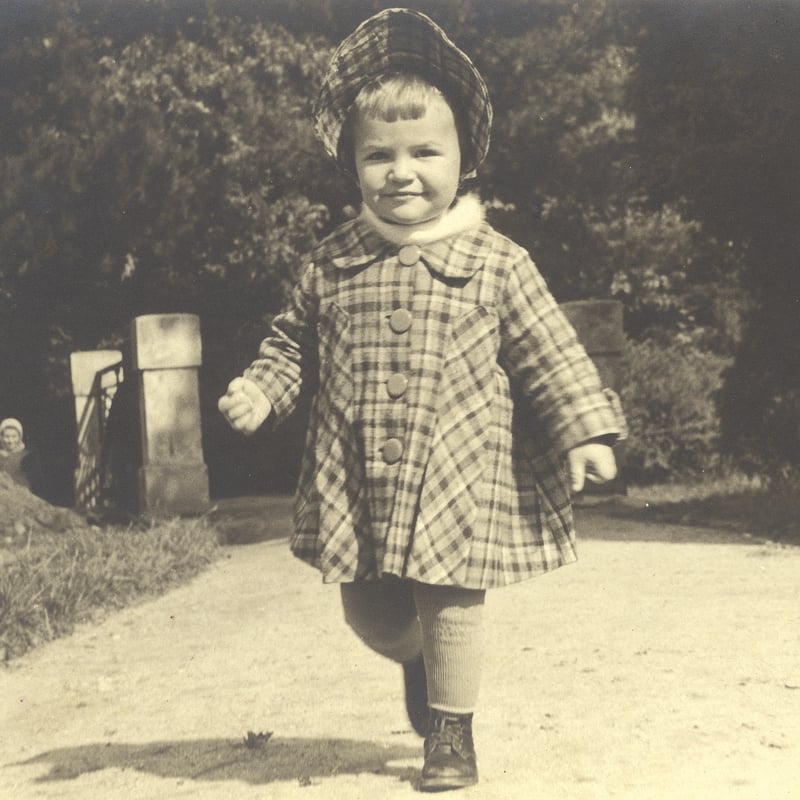 First of two parts
Susan Stripling
Grazyna Bergman
As we sat drinking our coffee and tea, it was hard to imagine that the confident woman sitting before me had spent her childhood trapped in the heart of Nazi-occupied Poland with her Jewish mother. But as Grazyna Bergman will tell you, her life has fluctuated from one extreme to another.
"It was always very high or very low, very grand or very small – in my life, my profession, in my parents' lives and our survival," she says. "I have constantly been presented with new challenges that I've had to overcome. Maybe that says a lot about who I am."
After moving to Tallahassee from Canada in the early 1990s with her husband, Douglas Kiefer, then director of photography and filmmaker in residence at Florida State University's Film School, Grazyna made an enormous contribution to the area's health-care establishment as the first executive director of the Neuroscience Center at Tallahassee Memorial Hospital and then director of community development and planned giving at the TMH Foundation.
Grazyna's educational background and work experience had uniquely equipped her for her role in administration. She studied at Toronto's Ryerson Polytechnic Institute and later graduated from Boston University with a degree in public relations. She also received a degree in piano performance from the Royal Conservatory at the University of Toronto. Grazyna spent the next 20 years in New York City, where she worked in the music and television industries. For eight years, she worked as the personal assistant to the legendary American composer and conductor Leonard Bernstein ("On the Town," "West Side Story"). Later, she became vice president of creative development at a talent-management firm that helped put together David Hartman's "Good Morning America" program on ABC and numerous prime-time specials. Immediately prior to her arrival in Tallahassee, she was the national executive director of the Parkinson Foundation of Canada.
"Born at TMH" is a project that Grazyna remembers fondly. Her eyes soften as she shares how she was moved by the community's response to the project.
"It was so heartwarming that over 6,000 people sent in photographs, stories and letters," she says. "We created a photo mosaic to commemorate the hospital's 50th anniversary. I guess that deep in my heart, I just really like to work with people."
Another project that she is still proud of is the "Everyday Hero" campaign, a joint venture between the TMH Foundation and Comcast, produced by Andrea Ellinor of Software Solutions Now. This well-received, televised series of one-minute profiles featured local individuals and organizations who made a contribution to the well-being of the community.
Grazyna has now left TMH and spends her time in Canada but often travels back to Tallahassee.
"I have always gravitated toward people," she says. "Basically, I am a very happy, optimistic person. My mother is a very optimistic person. But I have always felt a little different. Whether that is because I was an East European, or because of what I went through, I don't know. But I realize I carry some baggage, some moroseness and fear … perhaps because I am an East European and it's in our character." Grazyna says that her eternal optimism and love for people, as well as her deep sense of personal tragedy and foreboding, are rooted in her family's background and the events of her early childhood.
Grazyna's maternal grandfather, Joseph Zylberfenig, was a Jewish merchant from the Russian city of Odessa. Around the turn of the 20th century, Zylberfenig, during one of his business trips to western Poland, met and fell in love with a beautiful Polish girl named Maria Kozlowska, the daughter of a large land-owning family. Maria was a Russian Orthodox and her priest would not allow her to marry a Jew, so Zylberfenig abandoned his Jewish faith and joined the Russian Orthodox Church. By trading his Jewish heritage for the woman he loved, Zylberfenig literally lost everything. As Grazyna explains, "He was excommunicated from his synagogue and family. It was like a burial. They mourned his loss and never spoke to him again."
courtesy of grazyna Bergman
Nina Zylberfenig, Grazyna's mother, in an early 1930s portrait.
Despite his conversion, Zylberfenig and Maria were not welcome in the Christian community either. The periodic violence against Jews in 19th-century Russia eventually convinced Zylberfenig and Maria to move to Bialystok, a city in northeastern Poland that was the home of one of Poland's largest pre-World War II Jewish communities. It was in Bialystok that Grazyna's mother Nina Zylberfenig was born and raised as a Russian Orthodox Christian.
Nina was a remarkable young woman. She was strikingly attractive, naturally confident and very independent-minded. Nina was one of the most progressive women in Bialystok. While most of her friends were preoccupied with becoming good housewives or finding suitors, Grazyna says her mother was the first woman to get a bicycle or go skiing.
"Nina traveled freely throughout the city and tried to learn as much as she could in her own way," she says. "She was very well-educated and even learned how to play the violin."
In the early 1930s, Nina left home to study nursing in the neighboring village of Wilno (now Vilnius, Lithuania). After graduating from nursing school, she became a highly respected community midwife and nurse. It was there, in Wilno, while working at an outpatient clinic, that Nina first met Grazyna's father, Kazimierz Kapitan.
Kapitan was a rising star in the new Polish upper class – a highly educated professional, a member of the intelligentsia. Kazimierz had just graduated from Warsaw's Polytechnical Institute, Poland's leading engineering school, and happened to be working in the Wilno region when he brought an injured co-worker to Nina's clinic. While Kazimierz could hardly take his eyes off Nina, according to Grazyna, her mother was a bit intimidated by the assertive man in her waiting room.
"My mother was terrified of him, because he was so, well, gallant," Grazyna says. "He was a real lady's man who knew what he wanted in life and got it. I think there was even some type of duel that was going to be fought over her that was very illegal. Thank goodness, somebody finally brought some sanity to the whole thing."
Needless to say, Kazimierz ultimately defeated his would-be rivals, and then channeled all his fierce ambition into winning the heart of the woman he loved. In the end, even the independent-minded Nina could not resist Kazimierz's charms. Since Kazimierz was Roman Catholic, Nina ultimately decided to follow her father's example and convert to Roman Catholicism. Although she had to give up her childhood church to marry Kazimierz, Nina, as was the custom, retained her maiden name in marriage. In Poland, a married woman's maiden name becomes her new legal middle name. Sadly, this progressive policy later would be used by the Nazis to track down Jewish women who had married Polish Gentiles, as well as second-generation Jews such as Nina.
With all the obstacles finally out of the way, the happy young couple were married in Bialystok in 1936.
Shortly after they were married, the Kapitans moved to the southern Polish city of Czestochowa. Grazyna explains that in Czestochowa, the famous ancient monastery contains the original icon of the "Black Madonna."
COURTESY OF GRAZYNA BERGMAN
Nina and Kazimierz Kapitan, Grazyna's parents, on their wedding day in 1936.
"She is the 'Queen of Poland,' a symbol of the Catholic faith," Grazyna continues. "Pope John Paul II had her painting in his own private chapel in Rome. I have an icon of the black Madonna in my dining room that my mother bought just before I was born. My mother always kept it with us throughout the entire war. My aunt visited us after the war and brought it to me across the Atlantic."
The first three years of their marriage were like a fairy tale. Kazimierz had a lucrative and promising career as a civil engineer in the new Polish government, and the two were truly living the high life. The Kapitans became the lucky owners of the first modern apartment constructed in Czestochowa, and they had all the best things money could buy. As Grazyna proudly explains: "My parents were very modern. My father gambled, and they went to Monte Carlo. My father had a car, which was unheard of. There were only a handful of cars in all of Poland. Back then you didn't buy things off the rack. You had seamstresses make your clothes, and my mother loved Marlene Dietrich. So whatever she wore, my mother would wear. She had spring, summer, fall and winter outfits, and furs to go with them! She had a maid, and when I was born, a nanny. She lived very well for a time. And then the war came and it all disappeared overnight, and she had to survive."
In February 1939, the Kapitans became the proud new parents of a baby girl named Grazyna. Nina named Grazyna after the valiant heroine of a famous Polish epic poem who donned her husband's armor after he fell in battle and then led the army to victory. When their local parish priest refused to christen Grazyna with a pagan name, the couple compromised and she was christened Grazyna Katherine, in honor of Saint Katherine.
Grazyna was born in an increasingly hostile world. Over the previous three years, Poland's political status had rapidly deteriorated as Hitler gobbled up one European country after another. Hitler was now making territorial demands on Poland.
"My father hated the army and loved his job," Grazyna says. "Poland had compulsory military service, so the week before he was to be conscripted, he drank and smoked very heavily and stayed up several nights in a row. By the day of his exam, he was in such bad shape, the doctors concluded he was too sickly to serve.
"My father's decision proved ultimately to be a blessing, as all his military friends were later executed."
But the war came anyway, and when it did, it destroyed the beautiful world Nina and Kazimierz had created for their family in Czestochowa. When the Nazis unleashed their surprise Blitzkrieg attack on Poland in September 1939, Czestochowa was hardly touched by the fighting. In fact, Grazyna says, "my parents and their friends were far more concerned about the Russians coming in than the Germans. They knew the Russians would take the opportunity and enter Poland from the eastern border."
Kazimierz particularly feared for his parents who still lived in Bialystok, not too far from the Polish-Russian border.
COURTESY OF GRAZYNA BERGMAN
Grazyna's mother took many pictures of her, firmly believing that when Grazyna's father returned to them, he would want to see how his daughter had grown in his absence.
"My father jumped in his car and drove off to Bialystok to pick up his parents, leaving my mother and me in Czestochowa," Grazyna says. "He never came back." Although he couldn't possibly have known it at the time, that was the last time Kazimierz would ever see Nina and Grazyna in Poland.
By the time Kazimierz arrived in Bialystok, the Russian army already was streaming across the frontier. The Russian authorities immediately commandeered his car, and after learning he was a civil engineer, they arrested him and sent him off to a Siberian labor camp to await the day of his execution. Kazimierz and other Polish prisoners were transported by rail to the frozen tundra of Siberia, where they were forced to perform heavy labor in the salt mines.
Like the Nazi concentration camps, the Siberian work camps were designed to gradually eliminate the inmates. Poorly fed and overcrowded, thousands of prisoners died of overexposure, dysentery or were simply worked to death. Grazyna's voice grows more somber as she recalls,
"My father wore rags or anything he could find to keep warm in the Siberian prison camp
– he never talked much about it. Certainly many of them died. Everybody had an execution day."
But as Kazimierz later learned, he was lucky even to be alive. The Russians already had gunned down his close friends who had been drafted into the Polish army, along with 4,000 other Polish officers, at a small Russian village called Katyn outside Smolensk. To try and buy time, Kazimierz tried to use his engineering skills to demonstrate his potential usefulness to prison officials. But with his June 1941 execution date rapidly approaching, there seemed little reason for hope. He later told Grazyna that the only thing that kept him going was his desire to see his family again.
When Kazimierz left for Bialystok, Nina invited her brother-in-law to come stay with her and Grazyna in the apartment until he returned. When Kazimierz did not return after several days, Nina learned he had been captured by the Russians. If Nina ever wondered if her husband was still alive, she never shared her doubts with her daughter.
"My mother never, ever accepted he was dead," Grazyna says. "She always said, 'When we meet your father, you will have such and such, we will do so and so.' Years later, I remember her saying, 'Thank God I met him, or all my dreams would not have come true.'
"My mother didn't just sit there and mourn him. She did all sorts of incredible things to survive. But she always believed, that somehow, her husband was still alive."
Nina soon would need her faith, because over the next few months, the full horrors of the war were brought home to her and her family.
Shortly after the Germans occupied Czestochowa, Nazi soldiers came to Nina's apartment one night and began banging on the door. When Nina finally nervously answered, the Germans told her they wished to see "Herr Kapitan."
"My mother said they were too late, the Russians already had him," Grazyna says. "But when the Germans saw my uncle sitting in the apartment, they assumed he was the man they were looking for and took him instead. My uncle spent the rest of the war in Dachau concentration camp, which is where my father would have ended up if he had been there."
The Nazi wave of terror began a couple days later. The German security forces began hunting down and terrorizing local Jews and members of the Polish intelligentsia. Friends and neighbors were hauled into the street and shot. As was the case for many older Poles, it was all too much for Grazyna's paternal grandparents. The shock of losing both of their sons (one to the Russians and one to the Germans) in a matter of weeks and seeing the Nazis shoot their neighbors in the streets proved too much for them. Kazimierz's mother and father died within the next year, from what Nina said were broken hearts.
COURTESY OF GRAZYNA BERGMAN
Kazimierz Kapitan in uniform in Italy.
During the war, food became extremely scarce in Czestochowa, so Nina began to bake. "Flour was hard to get, but Nina finally managed to get some. The Germans living in the apartment building, however, smelled the rich aroma of her baking bread and soon demanded their own 'fair share' of the rolls she was making," Grazyna says.
For a short time, Nina did a brisk business with the Germans, collecting a few pennies for each roll she delivered to their apartments. Then the flour ran out.
After that, Nina had to leave the relative safety of her Czestochowa apartment and walk several miles into the countryside to trade for food. It was an all-day journey, and the Germans strictly enforced the local curfew. Sometimes they even terrorized local townspeople coming back from the countryside.
"I was always afraid my mother might not come back," Grazyna says. "One of my earliest memories as a little girl was being left alone in the apartment all day, waiting for my mother to come back. Even to this day, when it gets to be dusk, it's my 'hour of the wolf,' and I feel much apprehension and loneliness."
Nina often was stopped and searched by the German soldiers guarding the approaches to the city. "My mother would always have a little extra to bribe the guards with so they would let her through. Smuggling on the black market was the only way to survive and people tried to survive in any way they could," Grazyna says. Nina eventually traded all of her expensive pre-war jewelry and silver for food.
Sadly, many local Polish farmers cruelly exploited the people from the city. "My mother would be desperate, give whatever she had, and would still sometimes come home with nothing. She would walk into farmer huts, and there would be five Singer sewing machines, a grand piano and sterling silver lying everywhere. There was always a price for everything."
Grazyna recalls her mother always talking about her prized emerald brooch: "It was her last piece of jewelry, and she ended up trading it for some milk in the Polish countryside."
Toward the end of the war, food was so scarce that Nina and Grazyna were always hungry. "My mother would give me whatever we had," she says. "Then she would have to leave me eating, because she was afraid that if she stayed, she would have torn the food out of my mouth. She was so hungry, she couldn't stand watching me eat."
Kazimierz was scheduled to be executed in the last week of June 1941. On June 22, Kazimierz got his miracle. The Nazis invaded Russia. Now facing a Nazi blitzkrieg of their own, the Russians needed every soldier they could find. Russian leader Joseph Stalin decreed that any Polish prisoner who agreed to fight the Germans would be immediately pardoned and released for military service in the Red Army.
"My father never talked much about it, but he once told me, 'I was saved by a day,'" Grazyna says.
While Kazimierz was anxious to join the war against the Nazis occupying his homeland, he had no intention of fighting for his former captors. So he and three other Polish prisoners ran away from the camp. The other two prisoners contracted dysentery and died along the way but, determined to see his family again, Kazimierz pressed on.
He later joined a Free Polish unit the British were organizing in Palestine (the Polish II Corps). After enlisting, Kazimierz decided if he had to be in the army, he wanted to be an officer. He enrolled in officer training school. As Grazyna recalls, "He said it was sheer hell. The training took place in the desert, and it was so hot they could fry an egg in the sand. He was now 35 and the oldest guy out there, but he wanted to be an officer, not a regular soldier – that was just my father's style."
After completing its training, the Polish II Corps, under Polish Gen. Anders, was part of Gen. Bernard Montgomery's famous Eighth Army, the so-called "Desert Rats," which later played an important role in the Italian campaign. The Poles played a decisive role in one of the most difficult battles of the war – the battle of Monte Cassino. Monte Cassino was a Benedictine monastery perched on top of a steep hill overlooking the surrounding Italian countryside. Over the course of several weeks of fighting, the Polish II Corps attacked the Monte Cassino twice.
Kazimierz was given the responsibility of supplying the attacking troops with ammunition during the fighting. It was an extremely dangerous mission because all the ammunition had to be carried by dozens of mules up a steep, winding road that was constantly bombarded by German artillery. Casualties in his unit were so high that every night Kazimierz went up the hill, he would take off his watch and wedding ring and leave them with a friend in case he didn't come back alive.
In May 1944, the Polish II Corps finally captured Monte Cassino, but the Germans merely pulled back to the next chain of mountains. For Kazimierz, the war was far from over.
End of Part I
In Part II: An improbable reunion brings Grazyna Bergman's family together once more – but new challenges await.