Gracious, Humble and Together
LeMoyne exhibit will celebrate the beauty that comes with age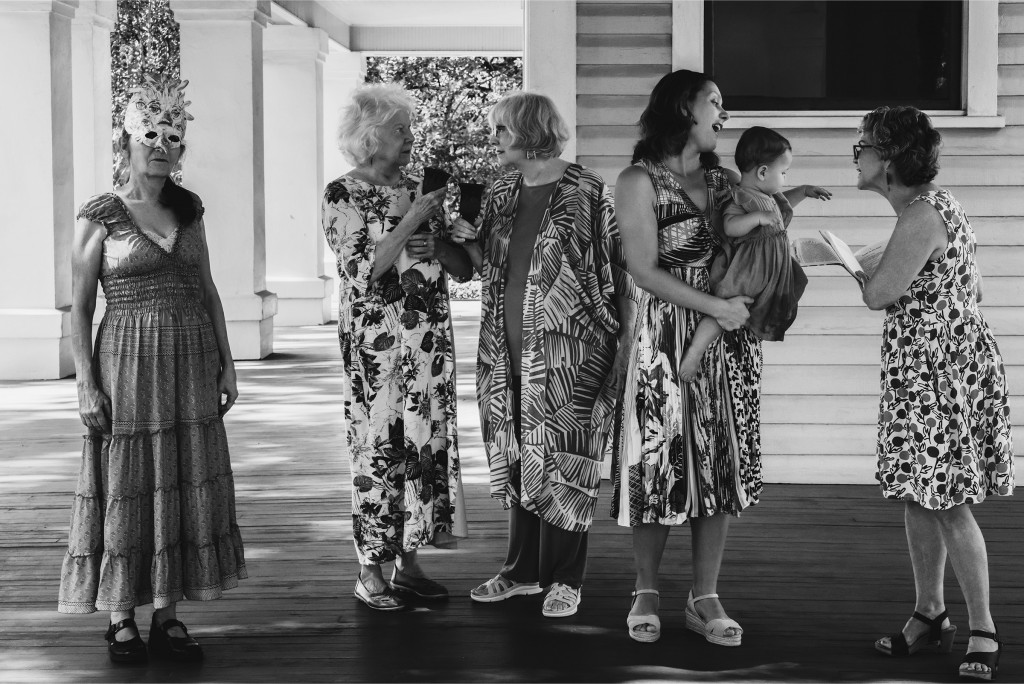 Three years ago, Eleanor Dietrich sat ruminating on her back porch while surveying her sprawling, 10-acre wildflower garden. With her was a longtime friend, Linda Hall. She didn't feel old, but she recognized that age, to borrow from Emily Dickinson, had stopped for her. Soon, she would be 75.
Dietrich confessed to Hall a desire to gather around her women who could offer advice on how to age graciously.
Hall recalls that conversation as the moment when a photo exhibit, Women Among Us: Portraits of Strength, was born. It will debut at LeMoyne Arts on Oct. 14.
The project is the love- and brainchild of five women with a desire to capture untold stories and celebrate full lives lived by women who still have much more to give. 
"You know you're onto something when a project just wants to happen," Hall beamed. "This wanted to happen."
Created by conservationist Dietrich, artist Hall, photographer Becki Rutta, Big Bend Poet Laureate Mary Jane Ryals and editor/videographer and "cat herder" Carol (Lynne) Knight, the exhibit is made up of black-and-white portraits of 17 prominent Tallahassee women over the age of 65. For their photo sessions, each wore an outfit of their choosing and brought an item of significance from their lives. Ryals wrote haikus about the women that will be made part of the display. 
"In the everyday commercial world, I spend a lot of time airbrushing," said Rutta, an FSU graduate and new mom. "Nobody wants bags under their eyes or wrinkles on their skin. You see it in movies, right, we say these women look great because they don't look 80 years old, they look 50. A big part of this project was letting that go and saying, 'We're going to let that white hair shine.' Women have experiences and it shows on them. That's worth celebrating instead of hiding, and at the end of the day knowing what people look like."
One subject holds a book, another gazes through binoculars. A third looks distractedly away from the camera and a fourth throws up their hands as if to say, "This is me; take it or leave it." Rutta has expertly recorded essences. 
In most cases, she took photos of her subjects moments after they were interviewed by Ryals. Those conversations uncovered powerful episodes …
Esther Moring described meeting up with headhunters (not the job-filling kind) as she waded through a jungle swamp to deliver blood samples taken from a pregnant woman who had just died from Ebola.
Cherry Alexander recalled a day from her childhood when she was turned away from the Monticello library because she was black. Years later, she would become the first black woman to work as a librarian at Tallahassee Community College.
Althemese Barnes, a historian and founding director of Riley House Museum, listed with humility her groundbreaking accomplishments.
"It made me think about my own mother and all of the things she did and didn't really get credit for," Ryals said. "These women know who they are, and they seem pretty comfortable there, too. It was reassuring to me to see a bit of their souls and how damn wonderful they are."