Grab your Girlfriends and Enjoy Naples
Boutique hotel + spa + beach + great shopping = Girlfriends' weekend!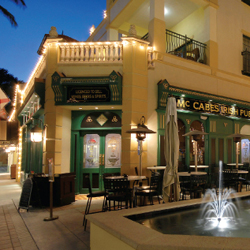 The inn on Fifth
The Inn on Fifth is located in the heart of Naples' historic district, an easy stroll away from great restaurants and nightlife. Or, opt to stay inside and enjoy a treatment at the boutique hotel's Asian-inspired Spa on Fifth.
Now, I'm no mathematician, but here's an equation even I can solve: Boutique hotel + spa + beach + great shopping = what?
Girlfriends' weekend, of course!
And if you're willing to take the crew on a bit of a road trip, you'll find the perfect answer waaaaay down Florida's west coast in Naples. It's about a six-and-a-half hour drive from here (plenty of talk time!), but at the end of the trek you'll find a city that's chic, luxe, historical and easy to take in during a long weekend.
The metro area is about the size of ours, but after spying a Maserati dealership on the way to the hotel, I knew we weren't in Tallahassee anymore. Naples has the highest median household income in the state and many of the manses you'll see there are actually second and third homes. In the peak winter season, the population can jump by 35 percent. It's not flashy money, but if you look around there are signs of wealth and a populace used to the finer things in life.
A great jumping-off point for a few days of enjoying the finer things along with them is the elegant Inn on Fifth, located in the heart of Old Naples, which has garnered four- and four-plus-star rankings from Tripadvisor, Expedia, hotels.com and Yelp. The original building used to be a bank, but it reopened in 1998 as a boutique hotel with luxury amenities, including a spa and rooftop courtyard pool. The Inn has several package deals, including a two-night Ladies' Choice package that includes breakfast for two, dinner for two and a deluxe spa treatment (Pinot Noir Vino Therapy Detoxing Wrap, anyone?) priced at $294 a night through October 31.
There are plenty of opportunities for fabulous food within walking distance of the Inn, but two are actually attached to it. For casual fare, there's McCabe's Irish Pub & Grill. The food is the usual soups, salads, burgers and sandwiches, but the ambiance is one-of-a-kind. The bar itself is about as authentic as it gets — it was handcrafted in Dublin, then shipped to Naples and reassembled at the restaurant. For grins, your group could chose to dine in The Wine Vault, which was the actual vault during the building's incarnation as the First National Bank of Naples.
Just around the corner is a not-to-be-missed fine dining experience at Truluck's Seafood, Steak & Crab House. While the food is first class, the atmosphere is more relaxed. You can get just about any crab you'd like, but the hands-down favorite are the stone crab claws, available during the season that lasts from Oct. 15 through May 14 (Monday nights are all-you-can eat.) The tasty delicacy is actually harvested about 18 miles south of the restaurant from a fishery owned by the restaurant. Truluck's also boasts an expansive wine list, with more than 100 available by the glass.
Naples' Fifth Avenue is a beautiful promenade that ends at the Gulf of Mexico. The wide sandy beach is just a few blocks away from the Inn on Fifth, allowing you to stroll past — or drop into — upscale boutiques, antique shops, gourmet restaurants, sidewalk cafés, art galleries and grand homes along the way. A walk along the beach will take you past waterfront mansions, including the one owned by Florida's Gov. Rick Scott.
By day, you can enjoy the shops and dining, but the avenue comes alive after the sun goes down as people and music spill out of restaurants, most of which have sidewalk dining, and rocking nightspots.
But our favorite activity was the shopping, and we enjoyed many retail experiences you can't find in Tallahassee. A few miles down Tamiami Trail North are the Waterside Shops, a beautiful semi-outdoor mall anchored by Saks Fifth Avenue (where we spotted a tiny dog being carried around in a Louis Vuitton tote) and Nordstrom. In between, we oohed and ahhed over the wares to be found in more than 60 shops, including Anthropologie, St. John, Tiffany & Co., Cartier, Hermés, lululemon and Kate Spade.
But even if your wallet can only take a few hits from the pricier stores, there's great discount shopping to be had in the area. Just north of Naples on Interstate 75 you'll find Miromar Outlets, with more than 140 stores featuring just about any name brand you can think of.
If you're feeling adventurous, there are an excellent variety of secondhand shops where you can find quality merchandise at reasonable prices. (Hint: The Inn's concierge can give you a list of nearby thrift shops.)
Wear in the World, just behind the Inn on Fourth Avenue South, has a posh look and racks of high fashion, but it's all gently used and on sale for consignment. Not cheap, but you could take home an haute couture $7,000 Balenciaga leather jacket for $1,000, or a rainbow of colors of never-worn Tory Burch flats for $35 each — a great deal if your shoe size is 6½. It was lots of fun to get a close-up look at the fashion, from red-soled "Loubie" shoes to a classic Chanel suit we had only seen before on the runway and the red carpet.
Less pricey were a cluster of shops around 10th Street South that call themselves the "Trail of Treasures." Our favorite was a shop called Options, a thrift store supporting the local shelter for abused women, which included tons of brand-name clothes (including a $99 rack of St. John wear) and home furnishings and accessories. There are several Goodwill stores in the area. We'd suggest the one on Pine Ridge Road, which we agree had the best selection of name brands.
Naples was a very remote spot until the late 1920s, when the railroad came to town and the Tamiami Trail connected it with Florida's east coast (before that time, in order to get across the state, one had to drive up to Jacksonville and back down to Miami!) Naples is still within shouting distance of the Everglades — although that's an adventure that will have to wait for our next visit. And, rest assured, we will be back!
University of Michigan (UM) Fun Facts
The Big House, aka University of Michigan Stadium, hosts behind-the-scenes tours led by 78-year-old Bill Austin, who says he has not missed a home game since he began attending at age eight. Needless to say, he brings the place alive with detailed memories of players, coaches and plays. The tour ends with a visit to the locker room and a walk down the runway to emerge on the field, where you can walk or run around and imagine what it would be like to be in front of 111,000 screaming fans on a Saturday afternoon.
As early as 1861, students and alumni began referring to themselves as Wolverines. Though there are many theories on why the ferocious animal became the university mascot, the definitive answer remains a mystery.
Michigan Union is where President John F. Kennedy announced the formation of the Peace Corps.
Each home football game generates about $2.2 million for the local economy.
The university is home to the Kelsey Museum of Archaeology, one of the nation's finest, featuring a collection of nearly 100,000 ancient and medieval objects from the civilizations of the Mediterranean and the Near East.
Graduates of UM include James Earl Jones, President Gerald Ford, playwright Arthur Miller and Olympian Michael Phelps.