Grab a Seat and Unwind With Tallahassee's Old School Bartenders
A Drink. A Friend. A Willing Ear.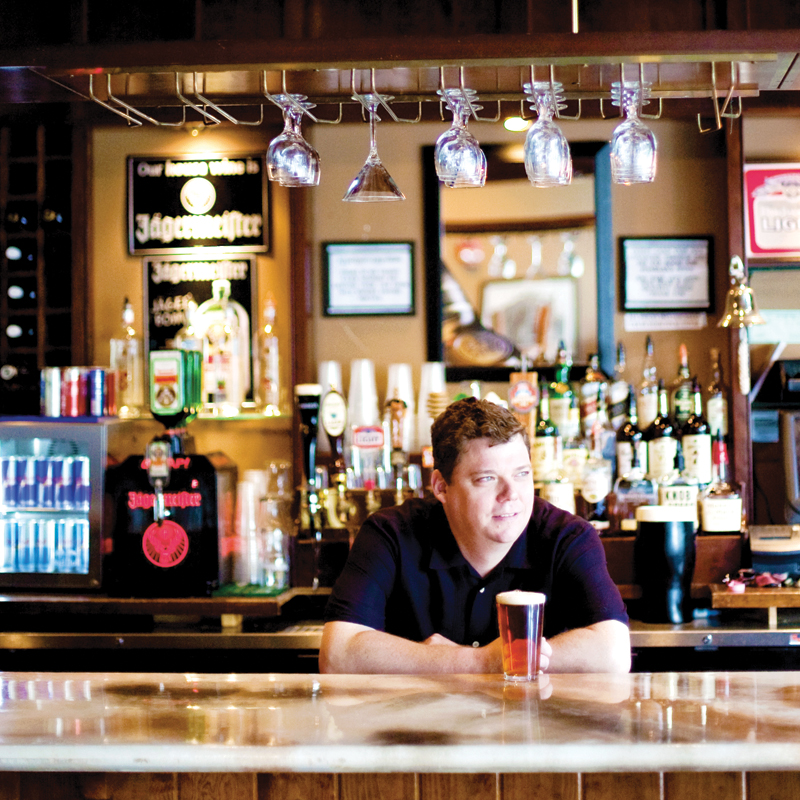 A good bartender has class, moves deliberately and with confidence; existing somewhere between enthusiasm and pseudo-contempt for the job. But always meaning business and always polite. Chiefly, a good bartender is always in charge: in charge of his bar and in charge of his customers' good time. If a bartender times things perfectly, with that old school kind of genuine class, a sense of wisdom will float about the place — reverberating along the bottles behind him like gospels bouncing down a giant xylophone … and then you trust him, and you should; because the Good Word pinging across those shelves is an invitation to friendship and sanctuary — and what more does one need to trust a man? Booze? Well, OK then, booze it is.
Naturally, booze is the most crucial variable in this equation. People in need of friendly sanctuaries tend to also need to let their guards down for an hour … or five, and a good bar tended by a good bartender is a good place to do such. Interesting guards definitely drop in Tallahassee. We're not talking about college students, but about the core of this town — the folks who turn Tallahassee's gears from 9 to 5. For there is much more than college in our college town, and this vital organ demands just as much booze as the keg-guzzling coeds — but for completely different reasons.
When these Tallahassee drinkers drop their guards, they do so in good bars like The Lounge and Andrew's and Finnegan's Wake; in front of good bartenders like David Garber, Brian Jones, Jack Brookshaw and Mike "Doc" Hochstein. These men have been tending Tallahassee's bars for decades and operate within a tight connection that runs from bar to bar.
"It's a good job," says Brian Jones of Midtown's 5th Avenue Tap Room. "If you work at it and learn the business, you can put yourself in the middle class." Mixing drinks is an accessible route to the American Dream and is one that especially caters to the restless spirit, as bartending allows for a particular lifestyle — let's call it Up-and-Go — for which the occupation could not be better suited. And it's also a delightfully scenic trip …
David Garber has been bartending since 1982, when he started at Andrew's Capital Grill & Bar downtown on Adams Street after a two-year stint as a clown with the Ringling Bros. Barnum & Bailey traveling circus. David has experienced all kinds of things from behind the bar: from off-the-clock political discourse, to private parties hosted by drug-addled pop star sex fiends; he even had a gun pulled on him once at Poor Paul's Pourhouse, where he was manager in the 1980s.
"I got into bartending after the circus, and I wanted to go back to those cities; and I figured, if I bartended, I could go back to those cities and actually get a job — if I liked the city I would stay; if I didn't like it, I would leave and go someplace else," he explained. "I can be anywhere; and then I walked into Andrew's, and they hired me on the spot. I never left (Tallahassee) after that one."
David continues to travel as much as possible, his life the very definition of working for the weekend. "I prefer to leave town, and I've always been that way," he says. "I've always just gone anywhere … just to get out of town, and just go."
Jack Brookshaw of Old Town Cafe has a similar relationship with the job, as does Doc Hochstein of Doc's Sports Bar and Finnegan's Wake. Both men agree the job fits the Up-and-Go lifestyle.
"You can make pretty good money bartending
—
you don't get rich, but you can live well with a peace of mind, and you can have a lot of fun
—
and maybe that is being rich."
– Jack Brookshaw, Old Town Cafe
Born and raised in Philadelphia, Jack says, "One day, two of my buddies and I just hopped in our car and moved to Florida." He was 22 years old. Jack went on to manage Barnacle Bill's throughout the '80s and '90s, where he became friends with a regular customer by the name of Jimmy Buffett.
Doc Hochstein took the freewheeling drink-slinging wanderlust even further than David and Jack, all the way to the realm of "halfway there, living on a prayer," in fact; and made out OK. Doc started bartending in 1964, when he got his first gig at Ted's (now Ken's Tavern) on the Tennessee Strip. One night he found a stone drunk Jim Morrison — then a student at FSU — incapacitated outside of the bar and gave the soon-to-be world famous rocker a ride home. In the late '60s Doc opened his first bar, The Keg, where he hired Lynyrd Skynyrd to play one night, before they got famous, for $100. He ran The Keg until the itch to leave Tallahassee took hold in 1970, and he bartended his way out West. Doc says, "I was a hippie in Lake Tahoe for a year and a half; it was fun. You can make pretty good money bartending — you don't get rich, but you can live well with a peace of mind, and you can have a lot of fun — and maybe that is being rich."
At 69 years old, Doc is now retired. In the early 1980s Doc married his longtime girlfriend, a Pan American flight attendant, in Las Vegas and set up shop in Tallahassee, opening Doc's Sports Bar which he ran until retiring for the first time in 1997. Doc came out of retirement when Finnegan's Wake opened in 2005, "to help get things moving," and ended up managing the Irish pub for seven years.
During that time Brian Jones came on board, with Doc's approval. Brian moved to Tallahassee in '97 and ran The Leon Pub for 12 years. At 38, he is the youngest of Tallahassee's good bartender connection. If David, Jack and Doc are "old-school bartenders" — and according to each other, they all are — then Brian represents the "new school," and he carries the torch well.
I met Brian while drinking at The Lounge –– a modern speakeasy out by the Interstate 10 on Timberlane Road, where David drinks on weekends. David once worked at The Lounge for two weeks, filling in for their head bartender, Mark, who worked alongside David during his beginning days at Andrew's. It was Mark who suggested Jack Brookshaw for this story saying, "That Jack, he's really old school." But by all accounts, Mark at The Lounge is Tallahassee's quintessential old school bartender. Unfortunately, he wouldn't agree to a formal interview.
However, Mark seemed intrigued with the story, and he pours a hell of an absinthe — and a good 15 hours spent sipping that liquid wonder while chatting with a good conversationalist will yield all kinds of good knowledge; and it will also reveal holy truths.
The holy truth in the heart of this thing is the fact that good bartenders do much more than tend bars — they are the drinkers' friend, and always-agreeing psychiatrist, who creates a fantasy world separate from everything else. In this other world, in the bar, people can relax and recuperate, reorganize, get situated, have a laugh and even hide. Good bars run by good bartenders are crucial, because waves need a place to break.
On this, David says, "People need an echo board, to listen to themselves; I don't think they wanna hear what I have to say — they wanna hear it for themselves, out loud … and I always say 'Yes.'"
This is a unique service, provided by the good bartender. While openly addressing Tallahassee's drinkers, David summed it up nicely, saying, "Whatever the reason is that you came in — if everything worked out for you, then we were successful." Jack, Brian and Doc all agree. It is the good bartender's job to be there for you, and they always are.