Gourmet PB&J
This Lunchbox Staple Isn't Just for Kids Anymore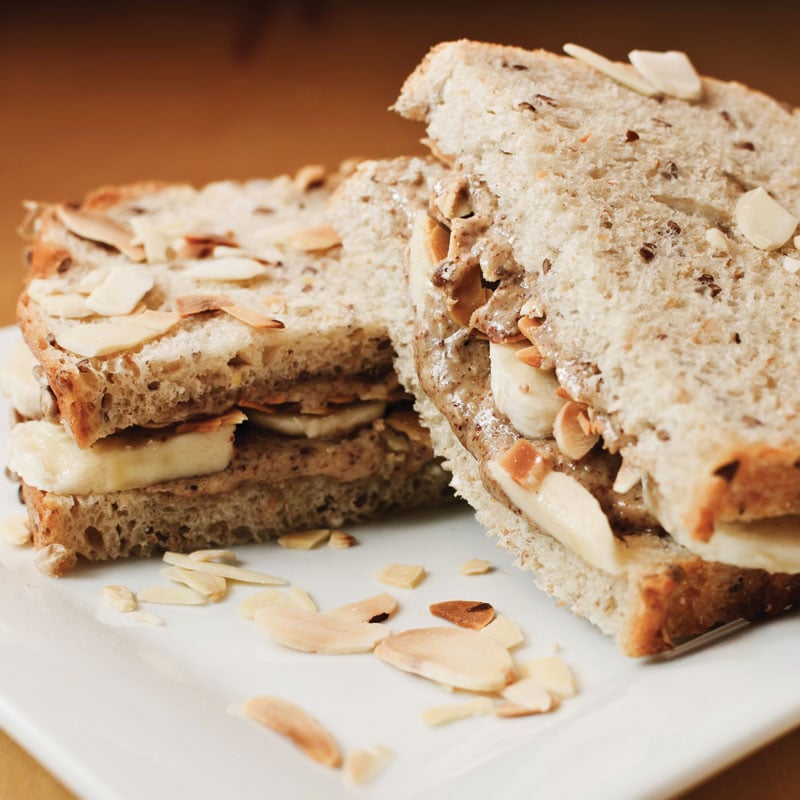 Peanut butter and jelly. Deliciously nostalgic, this simple sandwich appeals to adults who can no longer physically — or fiscally — support a fast-food lunch habit. Whether you want something healthy or indulgent, the classic sandwich is an ideal starting point for thinking outside the (lunch)box. Inventive, wholesome ingredients can open up a world of flavor and texture possibilities. 
Let's start with the butters. Amazingly enough, smooth and crunchy aren't your only options. Almond butter and hazelnut butter are increasingly popular alternatives to peanut butter. But remember, not all nut butters are healthier choices. Cashew butter, for example, is higher in saturated fat and calories. 
Almond butter has just as many calories as peanut butter but is higher in overall nutrition, according to dietitians. Some people find the taste sweeter than peanut butter which makes good for pairing with savory jams. 
Different butters give the sandwich a slightly different flavor. Sesame seed and sunflower seed butters deviate most from the familiar peanut butter taste. For the health conscious, seed butters provide a similar texture to peanut butter with added mineral content and a lower concentration of fatty acids. Not every store stocks these special options, but they can be found at most health food grocers.
You can also make your own peanut butter at home. Homemade peanut butter avoids all of the preservatives, like hydrogenated oil, that give your favorite jar a longer shelf life. Most nut and some seed butters can in fact be made with a few ingredients and a food processor.
But that's only half the sandwich. The type of jelly you use is just as important as the butter. To add some local flavor to their lunch boxes, Panhandle residents slather on mayhaw jelly. This tart delicacy is grown in the South and sold by local producers. 
Most stores have low-fat and sugar-free options, but why not skip the added sugar and go straight for fresh fruit? Blueberries, strawberries and bananas make a sweet addition to any PB&J. 
You can also change the entire taste of the sandwich by switching the bread. Though white bread is traditional, whole wheat bread is a healthier option, as are sandwich thins and even rice cakes. In my family, we layer peanut butter and honey on thick slices of fresh banana bread. Be creative! 
Peanut butter and jelly sandwiches may seem like children's fare, but fresh ingredients and a little imagination can make this a sophisticated adult lunch choice.
Health Nut 
» 2 tablespoons sesame seed butter 
» 2 rice cakes (Quaker Oats now offers gluten-free)
» 1 tablespoon sugar-free blackberry jam
Spread jam on one rice cake. Spread sesame seed butter on the other cake. Press the two cakes together.
Mess-Free PB&J Burrito 
» 1 medium tortilla
» 1 banana, whole
» 2 tablespoons peanut butter
» 2 tablespoons jelly
Spread peanut butter across the inside of the tortilla. Spread jelly on top of the peanut butter. Place banana above that and roll up the tortilla so the banana is in the middle. 
Chocolate Fluffernutter
» 2 slices whole wheat berry bread
» 2 tablespoons almond butter
» 1 tablespoon hazelnut butter
» 1 tablespoon marshmallow fluff
Spread hazelnut butter on one slice of bread. Spread almond butter on the other slice. Drop marshmallow fluff in between, and then press the two slices together.