Goose Creek Wildlife Sanctuary
Goose Creek Wildlife Sanctuary's Mission is Rescue and Rehabilitation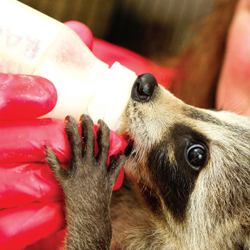 Noni Beck sits in her car, waiting. It's dark, but her eyes stay focused on three baby raccoons left behind by their mother hours earlier, when a downed tree disturbed their nest.
Under the cover of darkness, the mother raccoon gingerly approaches her young. She gently picks up one and carries it away. Then she cautiously creeps back for a second baby. Minutes pass. Beck waits for an hour in hopes that mama will come back a third time. No luck.
"Unfortunately, that's kinda normal," says Beck, the wildlife rehabilitator at Tallahassee's Goose Creek Wildlife Sanctuary, which was founded in 1988 by a small group of environmentalists and wildlife advocates. "When we brought this baby in, she had a broken leg from when she was little. It was healed, but it was crooked. That may be why she didn't get picked up. Maybe mama was just making sure that somebody survived."
As she talks, Beck cradles the three-week-old that is hungrily sucking on a bottle filled with a special formula for raccoons. She stands next to a cage holding a four-and-a-half month old raccoon that is busily pawing her to get attention. Songbirds chirp in nearby cages. A black bird decides to take a bath and water sprays in all directions. And a week-old baby deer, found lying in the middle of a dirt road, shakily gets to her feet and starts on her inspection tour of the room.
"We get a little bit of everything," Beck says with a laugh as the fawn nuzzles a purse sitting on the floor.
Squirrels, raccoons and songbirds always fill the sanctuary. Other animals come in spurts. One year there were 12 baby foxes to care for. Another year there were 14 fawns. A few types of animals come just for emergency treatment before they are shipped to another rescue group.
"We don't do otters because we don't have the caging for them. But that doesn't mean I'm not going to triage a baby otter that comes, get him stable and then transport him to someone else," Beck explains. "We can do baby bobcats, but then I need to transport them to a bigger facility. We've had several bobcats. People just come across them."
A lot of animals arrive severely dehydrated and in shock. They're put in crates with heating pads, given fluids and put in a dark, quiet place to begin their recovery.
Injured birds stay for up to six months, giving them time to heal and then time to spend in a flight cage to rebuild their strength. Raccoons stay until they're about eight months old, a time when Beck says they naturally seem to "get smart — they hear a noise and go into hiding."
Goose Creek tries to release adults back into the area where they were found, particularly birds of prey that mate for long periods and Canada Geese, which mate for life.
Click "Next" below to continue reading.
A Growing Enterprise
In the past few years, the number of animals and birds needing help at Goose Creek has grown by a couple of hundred each year. The increases are due mostly to a growing awareness that there is a place close at hand where the injured critters can get help.
"Years ago, people didn't know there was anything they could do, but now they realize there is something they can do, someone they can call," says Susan May, the longtime treasurer for Goose Creek.
For example, one day Beck got a frantic call from someone who said a hawk had been lying in the back yard all day. On arrival, she said it was evident the hawk was "freaking out." As she picked him up, she saw what appeared to be a rope that had gotten twisted around his body, pinning his wings. Then she realized it wasn't a rope — it was a snake.
"Apparently, he went after the snake and they were in a Mexican standoff," Beck remembers. "The snake's not letting go and the hawk isn't doing anything."
She unwrapped the snake, a non-venomous black racer, then treated the hawk for shock. He was soon released back into the wild.
While most animals are released, a few become permanent residents at Goose Creek or are found permanent homes. One of those is Perky, the death-defying Canadian ring neck duck that brought international fame and attention to Goose Creek — and probably a contributing factor to the growing number of rescues brought in each year.
Perky survived three brushes with death. She survived being shot and then lived two days in a refrigerator, where she was discovered by a hunter's wife. Dr. David Hale of Cross Creek Animal Hospital performed surgery to repair gunshot damage to her wing — and had to perform CPR on her when she stopped breathing during the operation. Now Perky is a happy resident at the Tallahasee Museum.
Housing and feeding all these extra mouths isn't cheap. May says the food bill runs up to $21,000 a year — and fundraising is the biggest challenge the organization faces.
"These are not the cute, cuddly pets like puppy dogs or kittens that people can come in and play with," she says. "We don't have adoption fees to help cover the costs. And we legally can't be open to the public.
We're trying to get these animals back into the wild, and they have to be skittish of people."
Traditionally, the group depended on its annual fall Wild Thing Auction to raise dollars. But that isn't being planned this year. "People have to put more of their time into work and they need to focus on family first," says May. "Plus we lost a couple of our hands-on people."
A Long Day
Beck, who comes home from her day job at noon for feedings, has been a licensed wildlife rehabilitator since 1993. She was running a day care center, a job she had for 17 years, but was admittedly starting to get burned out on that when she turned to rescuing injured wildlife. First she helped at the St. Francis Wildlife Association in northern Gadsden County, then she shifted her attention closer to her home, at Goose Creek. Beck's day starts at 5:30 a.m. She gives bottles, cleans cages, starts hand-feeding the songbirds and then leaves a note for the volunteers that will start arriving about 8 a.m. There are about 10 core volunteers that come in during the day to help feed. The most labor-intensive group is the songbirds, which get fed "pretty much sunup to sundown."
When Beck comes home from her day job with the state, she starts again on the bottle-feeding and keeps up with the songbirds until about 7:30 p.m., when she covers their cage "so they'll think it's night."
Several volunteers in the area take care of specific types of animals or birds in their own homes. And one volunteer does all the shopping — plus the cooking of chicken for some of the animals. Biology students at Florida State University can also earn individual study credit for volunteering.
The extra help takes some of the burden off Beck's shoulders — and more volunteers are always welcome. If you are interested, contact Noni Beck at (850) 508-7587.
Good Stuff, Sold 'Cheep'
In the past, Goose Creek Wildlife Sanctuary's operating costs came in at around $50,000 annually, with food as the biggest single expense at about $20,000. But halfway through 2012, the group had already taken as many animals as they did in the entire year of 2011.
The Cheeps Boutique is an annual thrift sale held in late August to help defray some of those costs. Organizers target college move-outs in the Help Green the Streets drive to try and keep still useable items from being dumped on the curbs or into dumpsters. "We are a new alternative for those who may not know where or how to donate unwanted items," said Cheeps Boutique event coordinator Shelby Bush.
In 2010, Cheeps Boutique (formerly called The Resale Event) brought in $729 and in 2011 it raised $1,039.32.
To donate items or office/retail space for next year's event, or to arrange for pickup, contact Bush at (850) 574-0852.
Goose Creek Wildlife Sanctuary is on a pace to reach another record-breaking year for animal rescues.
2010 – 408 Rescues
2011 – 607 Rescues
2012 – (as of June) 417 Rescues
If you find an injured animal, call Goose Creek's Animal Hotline at (850) 545-3491.
Did You Know?
» A bald eagle's eyesight is almost five times sharper than a human's.
» Opossums have more teeth than any other North American mammal.
» Deer can live up to 11 years in the wild.
» Rabbits pant when overheated.
» A woodpecker's tongue is five times longer than its beak.
» Bobcat kittens start learning to hunt around five months of age.
» Bats are the only mammals capable of true flight.
Source: Goose Creek Wildlife Sanctuary