Good Manners
John Kenny respects himself and others by dressing well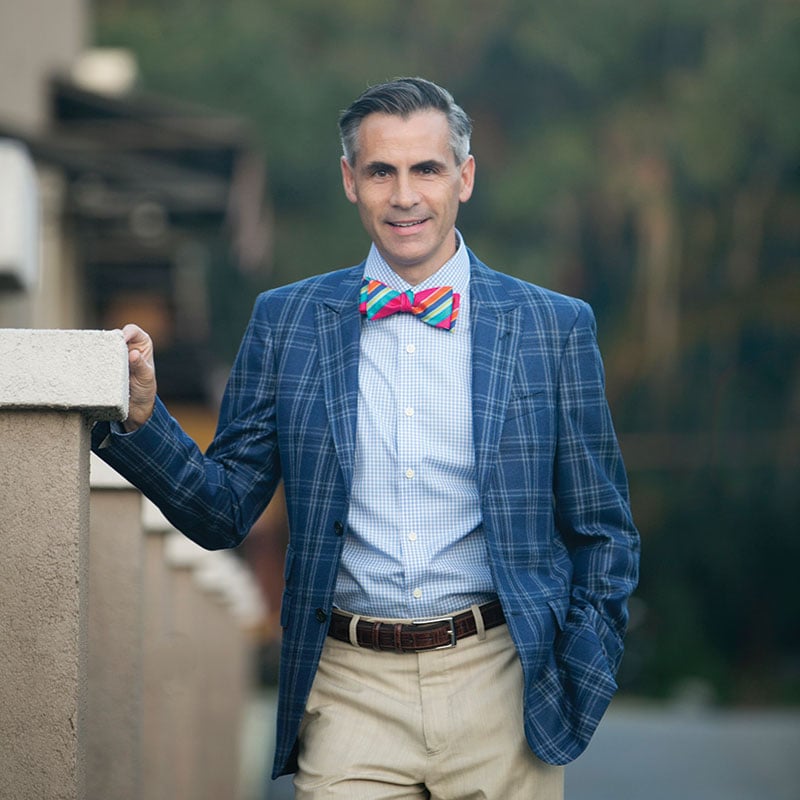 John Kenny was born in Cleveland, but after spending most of his life in Florida, he's reached this conclusion: "I do look at myself now as a Southern gentleman."
And a dapper one at that.
"When you dress well, it just makes people smile," said a congenial Kenny, 48. And when you own a law firm specializing in divorce cases, that's a good trait to have.
You might see Kenny wearing custom suits brightened by a bow tie or fashionable bike togs, depending on whether he's in court or cycling along a country road.
"I like the Tom Ford quote 'Dressing well is a form of good manners,'" said Kenny, who grew up in Tampa but came to Florida State University on a swimming scholarship and never left. He earned both his undergraduate and law degrees from FSU.
Aside from practicing family law, Kenny owns, manages and develops commercial property and runs a consulting firm for small businesses. He owns several properties in Midtown and is one of five founding members of the Midtown Merchants Association.
Professionally and personally, Kenny isn't afraid to have a little fun with his wardrobe. Take his trademark bow ties.
"I love bow ties," he said. "They don't get in the way. They're sharp. But they're not intimidating. It's a happier look. "
Kenny wears custom suits and dress shirts made by Jacksonville-based tailor Alan Vinson of JT Vinson Clothiers. He buys casual shirts, shorts, slacks, sport coats and ties from Nic's Toggery in downtown Tallahassee.
Among his favorite accessories are heirloom cuff links, usually found by his wife, Stacey.
"Older cuff links are so much cooler," said Kenny, who proudly wears links that belonged to his grandfather. "They're chunkier and they have so much character."
For a guy building a wardrobe, Kenny advises "quality over quantity."
"The beautiful thing about men's dress pieces is that they are interchangeable," he said. "One suit can create multiple outfits with different shirts and ties."
He suggests men build a style "you are comfortable with that projects the image you want others to see. And that is in everything you wear, not just suits."
Kenny prefers people see him looking well — you won't find him in a T-shirt or scruffy pants even on family outings with Stacey and their two teens. And you won't ever catch him in flip-flops. "They're too sloppy," he said.
When he cycles, usually with a group of other bike enthusiasts, Kenny wears a fashionable Danny Shane jersey with back pockets and black Lycra Castelli shorts.
"If you're in public, it's better if you just put yourself together," said Kenny, who cycles 250 to 300 miles a week.
"There's no doubt that your dress projects to people what you want them to think about you," Kenny said. "It's important that people look at you and respect you and you treat them the same way."