Golf Gear Galore
Exploring 'Stuff' is Fun, But the Sport Must Evolve to Survive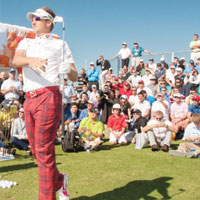 Photo by Montana Pritchard, PGA GOLF SHOWS
Ian Poulter shoots at the Puma Cobra Golf tent during Demo Day at the PGA Merchandise Show.
If you're into golf — and I am — the 60th PGA Merchandise Golf Show was pretty close to heaven on Earth. I was overwhelmed by the sheer number of companies and brands showcasing their newest merchandise and services to help golfers enjoy the game.
On Day One, I attended Demo Day held at the Orange County National Golf Center. The venue featured a 42-acre teaching range with myriad tiered tees, over 200 hitting bays, practice greens and a vendor village. Naturally, every vendor promised to cure, diagnose, improve and enhance my golf game. The biggest names in golf equipment such as Nike, TaylorMade, Callaway and Titleist were front-and-center on the range while the "also-rans," aspirees and hopefuls filled the less dramatic locations.
Days Two, Three and Four were held at the Orange County Convention Center, one of the only venues large enough to accommodate the invitation-only crowd of 40,000 PGA professionals and golf industry leaders from 75 countries. They were there to meet and greet over 1,000 companies in more than 1 million square feet of floor space. There were 10 miles of aisles to explore and test the latest and greatest golf products and technologies while also networking with colleagues throughout the industry.
Granted, I expected to see clubs, balls, shoes … everything golf. But I had never heard of or seen such fancy divot tool/groove cleaners. And there were more than a half dozen golf tee manufacturers on hand to explain why theirs were the better mousetrap.
Plus, there were 20 caddy and other uniform designers, 51 different ball marker suppliers, 28 providers of sunglasses, 20 collectible and art dealers, all the golf cart manufacturers and 55 companies devoted to putters.
Not to be undone by gadgets, equipment, services and even how to acquire the mental approach to golf, there was fashion galore. Fashion both for men and women. Fashion that addressed rainy days, sunny days and days off.
Products aside, my primary reason for attending the show was to learn about the future of golf.
Our country, like much of the affluent world, suffered a severe economic downturn — and nowhere is this more evident than in the golf course industry. The sport's growth is expected to continue to trend downward or stay flat at best.
Today, country clubs are challenged to serve multiple generations with distinctly different perspectives and lifestyles. Fitness and family-oriented programs are emerging as critical components to a club's success, along with childcare, sports camps and programs designed specifically for women.
Locally, Capital City Country Club recently added a complete fitness facility, generating new memberships and increased use by its existing membership. Dining is emerging as a major membership incentive — as long as clubs change their menus to accommodate healthier diets and provide restrictive food preferences. Technology, the use of cell phones and the Internet, is changing the communication role. Clubs are reassessing their rules regarding cell phone use while members are becoming more comfortable with paperless billing, announcements and other means of communication. Gone are the days when you're required to sport a suit and tie in order to gain access to a club. Casual dress is now the uniform of the day.
Finally, the golfing industry is adjusting membership definitions and their corresponding fees to reach a wider market and increase the usage of its facilities. These adjustments may affect the mix of the membership, require nonresidential or public play, arrange for reciprocity with other clubs and require more focused usage fees. And who's to say that massage services, hair salons and barbers, concierge services, vacation planning and specially arranged golf trips won't encourage the longevity of the sport?
The one thing the golf industry needs to stress above all else is growing the game. And that means establishing programs for women, kids and non-golfing men. In order to do that, the industry needs to encourage a four-hour game, make golf more affordable, and emphasize "how to play" rather than "what to buy."