Going Home Again
German village embraces a 'naked' runner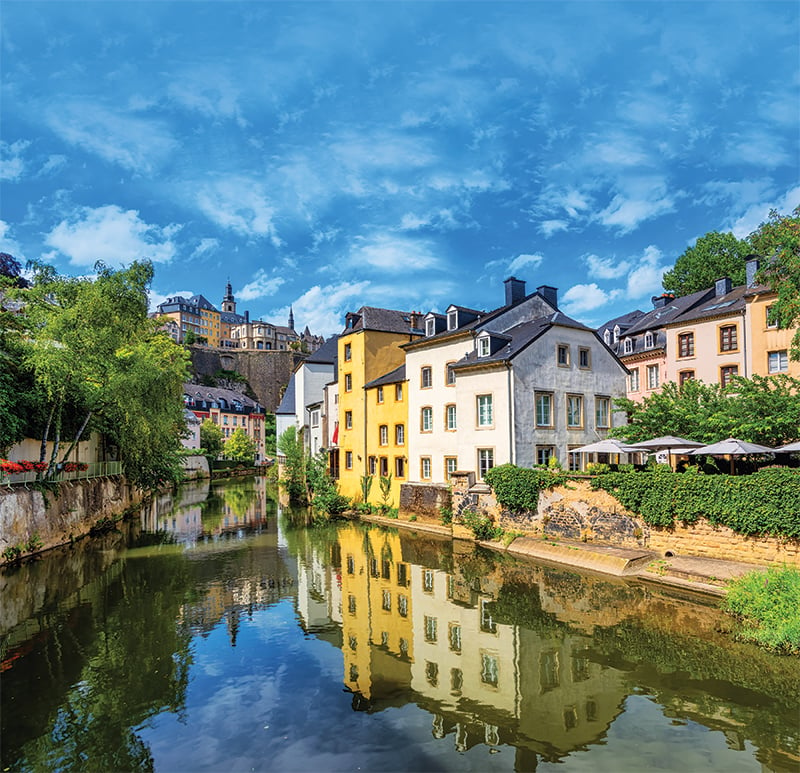 The rolling green hills seem to stretch into forever, and there's something enchanted about the farming village where I lived the first five years of my life.
Set in the Rhineland-Pfalz, Eifel region of Germany, Peffingen is pastoral — and tiny. I'd estimate that less than 200 people live there, a fraction of the number of cows, chickens, sheep and horses in the town. Given the bovine influence, there is a certain acrid odor in the fresh country air, but it's one that I got used to as a child and have missed for most of my life.
Decades had elapsed since I last visited Germany. When I booked my flight to Luxembourg, I was staring down the barrel of a 25-year reunion with people who had once been as close as blood relatives. The Webers — husband and wife Friedbert and Friedburg, along with their daughter Carmen and son Axel — had been our landlords from 1982 until 1988. We rented the upstairs apartment in their duplex on Im Kreuzfeld. They'd been there when I was born and when I was baptized. Carmen and Axel had essentially been my brother and sister.
But time and distance had separated us, in more ways than one.
Stepping off the plane, I was nervous at seeing all of them. We had grown older and lived entire lives apart. Carmen, now a mother of two, had married, divorced, and remarried and was living down the street from her parents. Axel had moved into the apartment we'd once called home and was raising a teenage daughter as a single father. Friedbert and Friedburg had aged and retired from the work they'd been doing when we'd seen them last — he, in the local dairy; she, at a cosmetics factory in Luxembourg.
The nervousness I felt at reuniting after so long, combined with my lack of fluency in German, dissipated almost instantly and was replaced by an almost overwhelming feeling that I hadn't expected.
I was home.
That weeklong trip in September was filled with adventures: a scenic and breathtakingly beautiful hike on the Mullerthal Trail in Luxembourg; a 33-mile e-bike ride through the countryside; a day trip to Bernkastel and the ruins of Burg Landshut, the Roman fortress that once stood guarding the Mosel River; afternoon runs through the hilly village that tested every muscle in my legs; and countless hours of sitting around the table for coffee or a meal, just talking and reconnecting.
When it was time to leave, I thought seriously about extending my stay. In the end, I got on the plane promising that I would be back.
Six months later, I returned for two weeks.
In September, I had worn shorts and short-sleeved shirts for the entire week, but March was cold and gray on many days. Even so, when I got to the house after more than 14 hours of traveling, I laced up my running shoes and ran through the village that I'd been dreaming of since my last trip.
The familiar smell of the fields, the quietude of the village and the sound of the Prüm River all welcomed me home. Over the next two weeks, I ran 6 to 10 miles from Peffingen to Bettingen and back by way of training for an upcoming half-marathon in Washington, D.C.
I braved insane hills and the 30-something temperatures in nothing more than a tank top and running shorts and gained a reputation as "the crazy girl who runs naked through the village." Not that I was actually without clothing, but to all the people who saw me run by scantily clad while they were wearing heavy coats, gloves and hats, it was close enough.
In that two-week trip, I was introduced to one of Carmen and her husband's favorite haunts in the nearby village of Mettendorf. Owned by a Turkish expat named Mammet, Bistro Enjoy was a local hot spot for watching football (soccer) and post-work drinking. Its cast of characters was also something to behold, Mammet being chief among them.
Rumored to have ties to the Turkish mafia, Mammet owns many of the businesses up and down the main commercial street in Mettendorf. Then there was Karlheinz, who worked in the school system and had apparently, at 60-odd years old, never had a girlfriend.
Pöppel (given name Thomas Pöppelreiter) works in mechanical engineering, wears the kind of hat that Crocodile Dundee favors and has piercings that run the length of his ears, silver skull rings on most of his fingers and leather cords wrapped multiple times around each wrist.
Add to that a black tracksuit with a full-length skeleton emblazoned on the front, and you've got a clear picture of the man who often sits on a stool at the bar nursing a short glass of Bitburger pilsner.
Short in stature and big on personality, Eddie is from Portugal and has lived in Germany for more than a decade. I also met a crematorium/cemetery worker, a gardener and a few other people who added to the unique atmosphere.
By the end of my two weeks, I'd made new friends, had interesting conversations and raised more than a few glasses of beer, wine and cocktails whose ingredients I can't recall. Being an American and a woman, I raised eyebrows sky-high when I slammed back shots of schnapps. This, like the "naked" running, gained me notoriety and fans at the bar.
Despite apprehensions, I had successfully gone home again. I had reunited with a beautiful land that provided me with a sense of belonging.
---