Tarpon Springs Has Us Wanting To Go Greek
This quaint area of Florida has made name for itself as the nation's largest Greek community.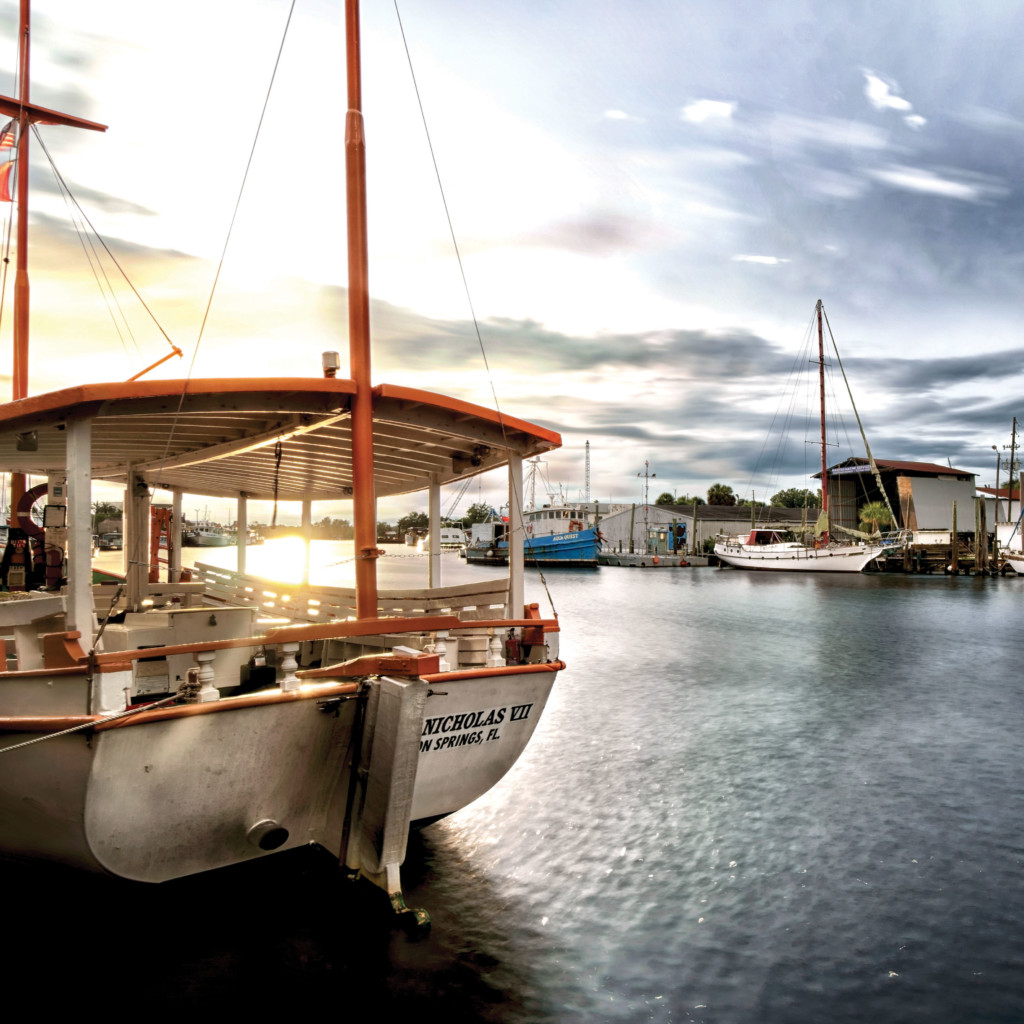 Growing up an hour north of Tarpon Springs, it was an easy thing to do. The culture and the town's ongoing festivals called to me like the rotating gyro displays called to my now-husband. Years ago, we rendezvoused near the city's sponge docks for our first date (a Mini Cooper rally) so I should make it clear that my ties to the small fishing community are stronger than most.
But seriously, who wouldn't want to be Greek? Food, history, beaches, architecture, philosophy, the Olympics — whatever you're thing is, the Greeks likely did it first, and can make a strong argument that they did it best.
My culture envy had never been so strong though, as it was after I spent an afternoon with Tarpon Springs' own Michael John Targakis, of Native Tours.
"It's a village, not a city," his booming voice corrected me as we began our walk through the village's two distinct districts.
Tarpon Springs is the kind of place where it wouldn't take long to memorize everyone's face — and Targakis is the kind of man who never forgets a name.
During our hybrid walking and driving tour, he often gave me directions and other commentary mid-intersection.
"This is Tarpon Springs," he shrugged, "what's that kid in such a hurry for?"
An hour later, as we were walking through Mama's Greek Cuisine, Targakis called out to one of the busboys.
"Yo Nico, was that you driving your dad's white truck like a maniac?"
"No sir, must've been my brother. I've been here."
"Well, tell him he can't drive."
"Yeah, he can't see over the steering wheel either."
"Listen to you!"
A noogie didn't follow — but it easily could have.
Tarpon Springs, the northernmost city in Pinellas County along Florida's Gulf Coast, was established in 1876 by farmers who quickly realized the region's swampy bayou-fed marshlands didn't suit their business model well. By the 1890s, focus shifted to the area's waterways as others with more knowledge of coastal living migrated to the tropical climate.
Once the Greeks arrived, hailing largely from the Dodecanese Islands, everything changed.
"From 1900 to 1943, we were the sponge capital of the world," said Targakis.
A series of unfortunate events, namely red tide, cut Tarpon Spring's fortunes short — but the inhabitants never forgot how their beloved village got its start.
"Tarpon Springs was the first place in the country to be placed on the National Historic Registry not only based on architecture, but based on existing working culture — the sponge docks. The structures from the 1930s and '40s are gone, but the government has sanctioned the history and industry as something truly unique. Now other areas, much like the Polish or Germans in Pittsburg or wherever, can get funding to keep their culture and history going as well."
Today, Tarpon Springs is a mix of old families and new, quirky tourists. Nearly every weekend city streets are closed for festivals and art shows.
Of the two districts — the sponge docks and downtown — the docks are where things start to feel truly Greek.
On one side, the winding waterfront road is lined by shrimp boats and commemorative statues paying homage to the first spongers, who dove wearing suits weighing upwards of 170 pounds. Opposite, charmingly flashy Greek restaurants and sponge shops flow one into the next.
If you like Greek food, all of the dining options will impress, though Dimitri's On The Water and Hella's Restaurant and Bakery often get the most fanfare. A few Cuban cigar establishments have also set up shop along Dodecanese Boulevard, a happy accident due to high rents in nearby Ybor City.
"This is just a great vacation spot," said Targakis. "It's like Europe without the Euro."
With no high rises competing for sunset views, Tarpon Springs varies wildly from neighboring communities, including Clearwater and St. Pete Beach.
If visitors arrive expecting the extravagance of The Don CeSar, located 30 miles south, they'll be disappointed. But, if Old Florida meets My Big Fat Greek Wedding entices, then please — pack your things.
Perhaps Tarpons Springs' biggest allure is that it's a destination that locals adore, too. Even leaders for other cities can't deny its pulls.
"Tarpon Springs is my home town," said Clearwater Mayor George Cretekos. "It's that kind of place that you can always come back to and feel like you're at home.
"It's just a unique village. It gives you something you cannot and will not experience anywhere else in the country."
When In Tarpon Springs
Anclote Key Lighthouse
82°50'44"W, 28°10'4"N
(727) 469-5942
Clearwater Jolly Trolley
Mutiple Pick-up Sites
(727) 445-1200
Court of Two Sisters Antiques and Collectibles
Facebook.com/CourtofTwoSistersandTheUpperCourt
153 E. Tarpon Ave
(727) 934-9255
Dimitri's On The Water
698 Dodecanese Blvd.
(727) 945-9400
GETAGURU
777 Dodecanese Blvd.
(727) 937-8193
Hellas Restaurant
785 Dodecanese Blvd.
(727) 943-2400
Spongeorama Cruise Lines
510 Dodecanse Blvd.
(727) 943-2164
Native Tours of Tarpon Springs
(727) 485-3539