Glass Powered
Community of artists favors delicate medium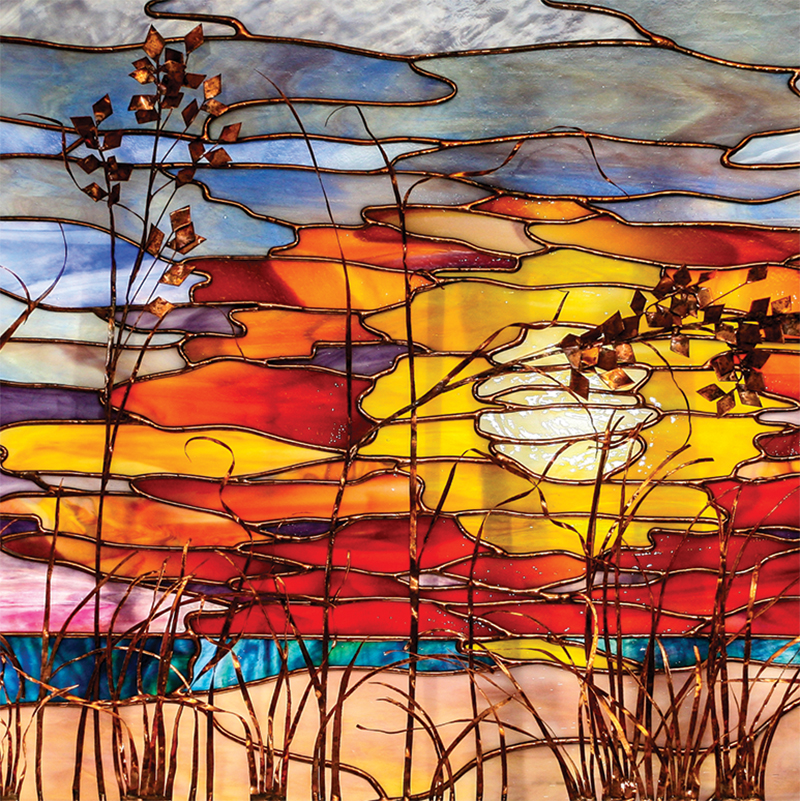 When you think of glass art, what comes to mind? Is it colorful, Tiffany-style lamps and elaborate church windows? How about lacewing flies, torch flames and roses the size of dinner plates? If you thought of all of those things, then you may be acquainted with the variety of work created by Tallahassee's community of glass artists.
The walls of Jaye Houle's workshop are covered in insects, but don't call the exterminator. Dragonfly Glass Studio specializes in creepy crawlies of the stained glass variety. 
Houle first caught the glass-making bug more than 30 years ago, when she and a friend took a class on stained glass art. Since that time, Houle has experimented in other glass art techniques, including Pâte de Verre, a process that involves the fusing of powdered and crushed glass (called frit) to create works that are smooth on one side and rough, like granulated sugar, on the other. 
"With fused glass, I feel like there are more opportunities for me to influence the outcome of each piece than there are when I work with traditional stained glass — and that's exciting," Houle says. "Recently, I've even been adding felted wool to my fused glass pieces. The textures are really fun."
Houle credits one of her mentors, Karen Pritzl, for helping her to master some of the trickier aspects of glasswork. Pritzl owns and operates her own glass business (karenpritzl.com) and also works at Tallahassee's Master Craftsman Studio (MCS), which is an auxiliary program associated with Florida State University. 
"Our relationship with FSU allows us access to tools that aren't often found in smaller studios," says Sarah Coakley, another of the seven artists who work at MCS. The state-of-the-art tools and the open design of the studio result in amazing collaborative artwork, such as the stained glass windows found in FSU's Heritage Museum, which depict the history of the university and pay tribute to individuals and programs that have contributed to FSU's status as a top-tier educational institution. 
"The university is one of our biggest clients," Coakley says, "but we work with private homeowners, businesses and other educational institutions, too."
So if it's that gigantic glass rose you're interested in, or a stained glass feature window for your living room, the artists at MCS — and many of their fellow glass artists throughout the community — can make it.
---
From the Glass Archives… 
Archaeologists have unearthed colorful glass amulets and beads that were created more than 4,000 years ago by the Mesopotamians, who were some of the first glass artists. In the 8th century AD, a Persian chemist wrote about coloring glass using metal oxides — a process that is still in use today. For example, red glass can be made using small amounts of solid gold. Many churches that were built in the Middle Ages had stained glass windows that depicted scenes from Christian holy text. Because most people were illiterate at that time, priests used these images to teach Christian doctrine.