Giving the Gift of Health
Local Doctors and Dentists Volunteer Services Worth Millions to the Uninsured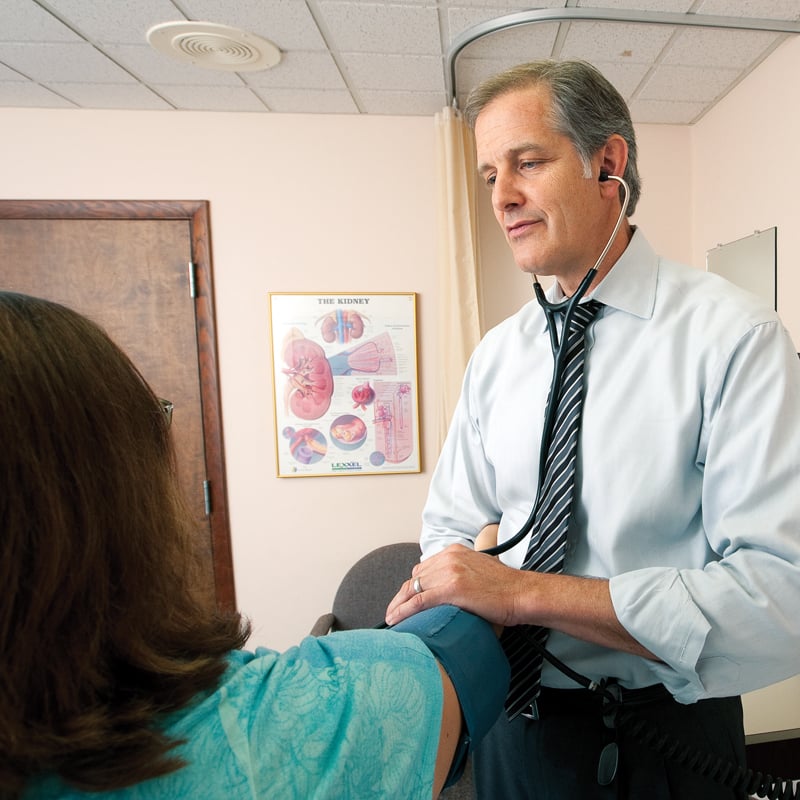 Larry Kelley had been out of a job — and without insurance — for two years, suffering daily with diabetes, severe lung disease, insomnia and back problems, with no way to pay for the treatment and medical equipment his conditions required.
Then he found what he still refers to as "a godsend." Through Bond Community Health Center, Kelley was referred to the We Care Network, a local organization that enables people with low incomes or no health insurance to receive the specialized medical care they need but can't necessarily pay for.
For the past two years, Kelley has been given treatments and services for his lung disease, insomnia and pneumonia. He has received X-rays and CT scans and regularly sees a pulmonary lung specialist. Kelley also has been given medications, bus passes and gas cards — all arranged for by We Care.
"These people are something else," Kelley said, referring to the doctor he sees and his case manager, Ashley Crowley. "Whatever I need, whenever, I call and Ashley helps," he said. Kelley has medical professionals he can count on, and he has full confidence that he's getting the best care available.
Kelley was able to get the treatment he needed because of the 325 doctors, Tallahassee Memorial Hospital, Capital Regional Medical Center and other medical partners in town that donate specialty care through the We Care Network.
"We do not pay for care; it's all donated at no cost," said Rosemary Evans, the program coordinator of We Care.
In 2009, the equivalent of $3.2 million in medical services was donated to patients in need — and an estimated $35 million worth since the program's inception in 1992. That level of service is made possible primarily because 95 percent of local medical specialists donate their services.
"It's amazing that most doctors in town volunteer," said Dr. Avon Doll of North Florida Nephrology Associates. "It says a lot for the medical community. Without We Care, many would not get the care they need."
Like many doctors, Doll started volunteering for We Care at its inception because he believed in its mission. When the program was started in Leon County by the Capital Medical Society Foundation, 43 specialists were on board. Since then, it has expanded to serve Jefferson, Wakulla and Gadsden counties as well and now involves 315 specialists.
Because of the We Care Network's service and success, the program was honored with the Sapphire Award of Distinction in 2008. The award is given by the Blue Foundation for a Healthy Florida — part of Blue Cross and Blue Shield of Florida — to recognize nonprofit organizations that are improving the quality of health services for Floridians. We Care was honored along with five other organizations and was awarded $75,000 to help its cause.
Patients usually hear about the network through their primary care physician; if they lack one, they can visit a local primary care center working with We Care, such as the Bond Community Health Center or Neighborhood Health Services.
If the primary physician believes specialized care is required, the patient is referred to We Care, where he or she is assigned a case manager who oversees the entire course of treatment. To qualify for treatment through We Care, the patient's income must be less than 150 percent of the federal poverty threshold and the patient cannot be covered by insurance, Medicare or Medicaid. If a prospective patient doesn't qualify using these guidelines but still cannot pay for treatment, We Care makes efforts to find other programs that will care for him or her. Once accepted into the We Care program, patients remain under its supervision for as long as needed or until they find insurance.
The program operates under the Capital Medical Society Foundation and is a 501(c)(3) nonprofit organization.
Although We Care doesn't pay for actual medical treatment, it does provide bus passes, gas cards, medication and dentures for patients — totaling about $12,000 per year in aid. This funding comes from grants from about 20 sources, including pharmaceutical organizations.
In addition to the medical program, there is a We Care Dental Network, which started in 2003 because many patients could not get needed medical treatments due to unresolved dental issues. Unlike We Care, only patients with serious issues are referred to the dental network. The program, which encompasses both general and specialized dentistry, started with 13 dentists and now has 52 volunteering.
Dr. Charles Williams gets much of the credit for the growth in volunteer dentists, according to Shannon Dent, communications coordinator for We Care. The gastroenterologist would go and sit in dentists' offices and stay there until he had recruited a new volunteer, she said.
Like its predecessor, We Care Dental also has received a Sapphire Award. In 2009, the program received an Honorable Mention and a $25,000 contribution.
All specialists in the network choose their level of volunteerism — whether they agree to take a new patient weekly, monthly or yearly, or whether they'd like to take on as many cases as possible. But many, like Doll, believe in We Care's mission and want to help to the best of their abilities.
"I believe most doctors practice medicine to touch people," he said. "We Care allows doctors to do that in a way that they often can't."