Giving Feral Cats A Good Home
Rural Retreat Provides a Home to Unwanted Felines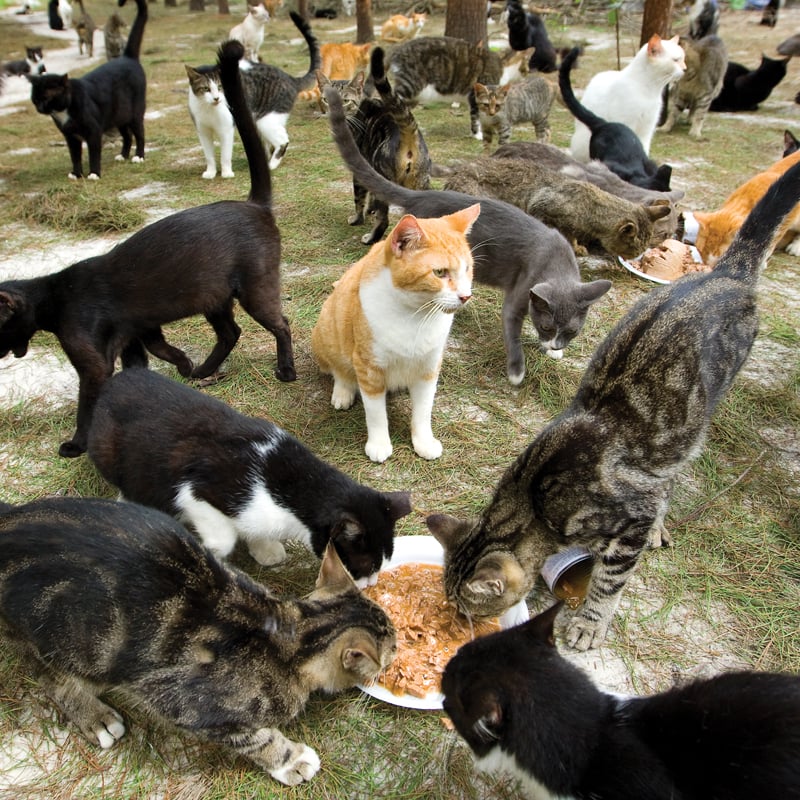 In a Madison County town named Lee, you'll find a ranch.
Unsurprising, since the town is pretty much in nowheresville, just off Interstate 10 a good hour's drive east of Tallahassee in the middle of Big Bend farm country.
As soon as you pull up to the entrance, you realize there is something decidedly different about Caboodle Ranch. For starters, the guardhouse is thigh-high. And although Craig Grant dresses the part of Southern rancher in boots and a cowboy hat, his roots are betrayed when he speaks with the distinctive accent of his native Rhode Island.
But prepare to be stupefied when he hollers up his herd at feeding time with shouts of "Come! Come! C'mon, I need my babies!"
From between the sand pines planted in neat rows they come – not cows, or horses, or pigs or even goats. It's cats. Dozens and dozens of cats. Cats in all colors and sizes. Fraidy cats and friendly cats. Too many cats to accurately count, but a good guess would be 500.
Caboodle Ranch is Grant's one-man effort to provide a haven for cats without a home: shelter cats that had an appointment with death, stray cats, antisocial feral cats, housecats with bad habits, or cats with owners unable to care for them anymore.
From Zero to Hundreds in Five Years
In 2003, Grant was divorced and living with his son in a rented beach condominium near Jacksonville when his son decided to move out, leaving his cat, Pepper, behind. After doing what comes naturally, Pepper ended up pregnant and had five kittens. Grant reluctantly agreed to keep the kittens until they were weaned, but ended up enjoying their antics and unique personalities and kept them all.
His condo neighbors? Not so thrilled. Grant built a shed on his son's property and moved himself and his feline charges in. Doing property maintenance and construction work, he often came across stray cats on his job sites. He would scoop them up and bring them home. Deciding his growing colony needed room to roam, he traveled down Interstate 10 and bought a five-acre parcel, part of what used to be a tree farm.
It was unimproved – no electric service, no water, no sewer – so Grant, still living in Jacksonville, for two years made a daily 280-mile round trip to deliver food and water in 5-gallon bottles.
"Build it and they will come," he says, paraphrasing the oft-quoted line from the movie "Field of Dreams." "I started bringing them home from job sites and eventually I had a hundred."
Caboodle really took off after stories about Grant and the ranch appeared in the news media, most notably an August 2006 article in Jacksonville's Florida Times-Union newspaper. The donations – and the cats – came pouring in. Grant requires Caboodle cats to be altered and up to date on their shots and asks those who want to drop off a cat to pay $150 (although there is a multi-cat discount). It sounds like a lot, but not when you consider the cost of a lifetime of food, litter and veterinary care. Within a year after the Times-Union story, Grant had enough money to make the property habitable for him to live on the ranch with his charges full time.
Over the years, Grant has purchased more five-acre parcels and Caboodle Ranch now covers 30 acres.
"I bought enough property so that the cats would never be a nuisance to anyone," he says. While he's not exactly sure how many cats roam the piney woods, Grant says it's well under the 3,000 cats he's allowed – and he has just about maxed out caring for the cats he does have.
"There's no end to it," he says of his 14-hour workdays, seven days a week. "You don't just give 'em food and water." Grant says he has taught himself to treat common cat ailments such as colds and eye infections, saving precious dollars for vet visits for his charges that are seriously ill or injured. But even a cold can be deadly, since cats stop eating when they're stuffy. On this day, Grant walked around with a jar of baby food and a syringe, squirting food into the mouths of cats that seem sick.
"I work so hard to keep these cats healthy," he says.
Grant does not adopt out any of the cats at Caboodle. Instead, he urges people who want a feline in their life to go to their local animal shelter.
NBC's "Today Show" has filmed a segment about his ranch, and Grant is counting on the publicity to propel Caboodle to the next level of success.
"I can't do much more myself," he says. "We're hoping when the 'Today Show' hits I'll get enough donations to where I can hire somebody part time, because I do need a little help."
Feeding Time
There are several feeders Grant keeps filled with dry food – about 70 pounds' worth per day – as well as watering stations. But Caboodle Ranch's most amazing sight, what Grant calls "a bit of a phenomenon," comes once every two or three days, when he loads a wheelbarrow with 100 large cans of cat food to feed his herd.
That's when the cats, previously lazing about or hidden in the trees, come out en masse to enjoy a wet food treat. Over and over, Grant plops a can of food on a Styrofoam plate and six or seven cats array themselves like spokes on a wheel to eat. Some eat on the ground; others prefer the top of a picnic table or the steps for their meal.
The feeding serves a dual purpose – to give the cats needed moisture and to allow Grant to lay eyes on most of the cats at the same time, so he can see if any are in need of medical attention – or if anybody is missing.
As they wander up for chow time, Grant points out, pats or picks up some of his favorite feline friends, sharing their stories and their names – Mr. Brewster and Bear, Squeaky and Gingersnaps, Klingon and Stars and Itchy. Many of their names relate to the cat's looks or personality. There's Butch ("My bully," says Grant), Marbles (whose coloration "looks like marble"), and the appropriately named Misty.
"He's my son's cat," Grant explains. "He used to spray in the house, so I brought him out here." And Crackers – short for Cracker Barrel – because he had a big belly as a kitten. And Fuzzy Nuts – no explanation needed.
At one point Grant scoops up Bitchy, who immediately commences to making a noise somewhere between a bleat and a yowl.
"Listen to him. Bitchy was adopted from the Jacksonville Humane Society; the people couldn't put up with him and returned him," Grant says. Apparently, Bitchy's nonstop grousing makes him his own worst
enemy. "Bitchy complains every day, and he doesn't like anybody."
Even the cats that haven't yet earned a name have a story. Grant reaches down to tear a paper collar with numbers on it off of a small tabby cat in his receiving area. It, along with about nine others, had recently been delivered from a date with death at a downstate animal shelter.
"There needs to be more places like this," Grant says. "I don't want to sound like an extremist, but isn't it like a holocaust? These lives need to be saved; they need to be preserved."
A Place of Charm – and Danger
Visitors are often surprised that the large number of felines gets along most of the time. Cats fight "very rarely," says Grant, and when they do, "cats will try to break it up, others stand around and root, and some others take off and start running."
A builder by trade, Grant has fashioned a multitude of whimsical buildings that are both charming and serviceable. The site's well empties into Shaky Jake Lake, which features a working water wheel and is ringed by a collection of tiny cabins he has dubbed the Cat Nap Inn.
"This is their resort. They can take the boat out if they want too," he says with a chuckle. While cute, the cabins serve a purpose. In the winter, they're lined with straw and have small heat lamps installed to ward off the cold.
Grant also has constructed a chalet, outhouse, some awesome tree forts and "Gingerbread Lane," a winding avenue of buildings that include just about every type of building found in a respectable small town – a chapel, a school, City Hall, a Christmas house and more. There also is a cemetery, the final resting place of his charges that die at the ranch.
He also has three trailers on the property. One serves as a receiving center, one is his office and the other is his home. All feature ladders and kitty doors to allow the cats to come and go at will, and they are equipped with shelving that allows the maximum number of felines to perch in air-conditioned comfort during the hot months.
In addition, Grant has put his expertise building carports and screen rooms to good use, creating large outdoor enclosures to house cats when they first come to the ranch. When a cat is dropped off, it spends about a month in one of these corrals so it can get acclimated to the new location. The cats tend to congregate in the developed areas of the ranch and the vast majority will stay on after becoming accustomed to the Caboodle property, even though it is not fenced.
Predators such as coyotes do pose a danger, as well as snakes. Both have already killed cats who live at Caboodle. Grant's long-term plans call for installing a fence around the property to keep his charges safer. And a climate-controlled barn "for the cats and me," he says. "I'm going to live in the loft."
As he takes visitors on a tour, Grant ticks off some of his monthly expenses: $3,000 for food, $500 for medicine, $800 in vet bills, $400 for flea preventative.
"It takes a helluva lot of money to run this place; well over $6,000 a month," he says. "I just keep writing checks and hope the donations keep coming in."
Grant has big plans for the ranch. He wants to create a picnic grove on the property so that visitors can bring the family and visit with the felines. He also envisions a Web "cat cam" that would allow people who dropped off a cat to see how it's getting along. And he hopes to franchise the Caboodle operation in other locations.
He is supposed to earn a monthly salary of $1,000, but doesn't always take it.
"I don't spend much on myself," he says. "The only piece of furniture I have is a recliner that I bought five years ago at Wal-Mart. I sleep in that." A bed, he explains, would just be soiled by the cats.
Most days, Grant will leave Caboodle long enough to go pick up a take-out box of food from a local dinner buffet, which he then eats, standing, surrounded by cats begging him to share. Ditto for morning coffee and doughnuts. He does make occasional runs to Jacksonville to visit his son. His daughter is in charge of maintaining the
caboodleranch.com Web site, which includes information about the ranch, photos and Grant's blog, which relates tales of the cats who live there and the challenges faced by all of its denizens.
Despite the relentless work and deprivations, Grant describes his life as "perfect.
In the past, "I had the biggest house on the street when I was raising my family," he says. "All show. I had a Corvette. My wife drove a Volvo. I had a new truck for the business. I had everything, but I was miserable. Now I've got nothing, and I'm happier than I've ever been. Isn't it amazing?
"I think I was too busy trying to make it perfect with money, thinking I could buy my happiness – and all of a sudden it showed up." On little cat feet.