Giving Disc Golf A Spin
A first-timer experiences the fun and, yes, the frustration,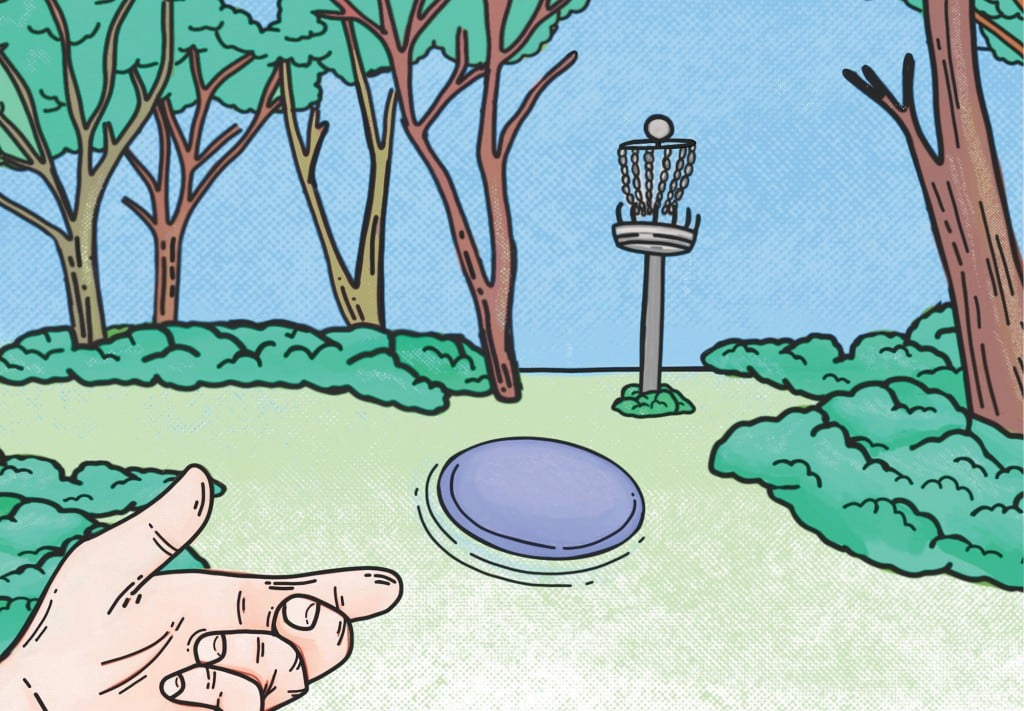 Mike Paulette had game. He stepped onto the concrete platform, coiled his body so that his back turned slightly to his target, and let it zip.
His disc breezed gradually upward in a straight line, as though it had a pilot inside, and floated gently to the ground about 275 feet away.
I wanted to be like Mike. I stepped onto the concrete platform, cocked my wrist, and let it blip. My disc started left, shifted dramatically right, as though it had a nutty pilot inside, and slammed to the ground about 75 feet away.
"By the time you play a few holes," Paulette promised after my first tee shot, "you'll be better."
I'd heard about disc golf in the '90s. A colleague told me how it cool it was, especially if I liked golf or stunk at golf. I told him I stunk at golf. He thought that was cool, too, but we never got around to playing.
Disc golf supposedly has been around in some form, usually in the shape of a disc, since before Scotch tape. Some accounts trace its birth to 1926 when students at a Canadian elementary school threw tin plates at whatever they felt made good targets.
The popularity of disc golf took off in the 1970s, when proponents knew it as Frisbee golf.
Clubs and associations would form, and so would a professional league, the Professional Disc Golf Association.
The Tallahassee Disc Golf Association's website boasts about 100 members, including professional players such as Paulette, who claims the course record — 19-under par — at Tom Brown Park.
Paulette, 55, a resident of Crawfordville, met me at Tom Brown Park to give me an introduction to disc golf.
I spotted two things that distinguish a disc golf course: concrete tee platforms, at least at Tom Brown Park, and not flags on holes but holes on poles. The poles support baskets that catch your final shot.
Some holes reminded me of a regular golf course, with hilly, tree-lined fairways that eventually wind their way to a pin.
Other holes reminded me of a hazardous hike.
Consider Tom Brown Park's fourth hole, which looks like the Apalachicola National Forest.
I hadn't had much luck tossing a disc the traditional way — a backhanded  snap — so I had switched to my forehand. I felt I was getting better, and I felt confident about my tee.
I hit a tree. My disc scooted to the right and landed about 15 feet from my toes.
"You're hooking your fingers," Paulette said. "That's why you keep snapping it left."
My second shot hit a tree and went about 50 feet.
"There you go," Paulette said. "You made some progress."
I eventually made it to the hole, but my disc rolled down a steep drop-off, a frustration that I recalled from golf and a frustration that inspired you — admit it — to once snap a golf club over an innocent oak.
My next shot fell short of the hole and rolled back down the hill.
On that par 3, 190-foot hole, I scored an 8.
Disc golf courses measure holes in feet instead of yards, perhaps because it wouldn't sound very interesting to say you birdied a 63-yard hole. It also wouldn't be encouraging to know you quadruple-bogeyed a 63-yard hole.
But disc golf accentuates fun. Just as in golf, the rules say you must take your next shot from where you lie. Your angle and trouble dictate your type of throw, including forehand, backhand, overhead, hyzer and anhyzer.
Some tournaments feature funky rules that require a shot to go between specified trees or underneath an exposed root, for example.
"Just for the fun of it," Paulette said.
Paulette says he started playing disc golf in 2006 when he took his kids to a park and saw those distinctive baskets. He thought he'd give it a shot, and he kept playing.
"I like competition," he said. "I'd played every sport except for football, but this … I just love it."
He became a professional player and says he topped $1,000 in two recent tournaments.
The Professional Disc Golf Association credits him, as of early February, with 43 career victories and $33,901.42 in earnings.
Paulette says he prefers playing with his daughter on road trips or with folks who want to have fun and not take it too seriously.
"I play with my own age group," he said. "We're not worried about 'foot faults' or anything like that. We just play the game. In a tournament, we'll play by the rules. But it's just a game. It's fun."
Paulette carries in his disc bag more than 20 discs of different colors, sizes and rim thickness.
Each offers options depending on whether he's looking for distance, control or another advantage. A "putter" won't fly far but will tend to travel straight, for example.
"You can conceivably play with one disc," he said.
You can get a set of three for less than $20.
"Actually, a lot of golfers are switching to disc golf," Paulette said. "This is a pretty cheap game. We get a lot of kids doing this."
They also get a lot of older men trying it for the first time.
On the platform for my final hole, Paulette gave me a pep talk and a lesson on my backhanded tee shot.
"Hold the disc flat," he said. "Turn your back toward the target a little bit. Go straight back" with the disc. "Pull it right by your chest, straight through."
My tee shot went perhaps 125 feet, well short of the 400 feet that Paulette manages but my best toss of the day.
"The thing about beginners, they throw like you did — bam, bam," Paulette said, making the sound of a disc hitting a tree. "Now you're throwing twice as far."