Giving Critters A Second Chance at Living the Wild Life
Channeling St. Francis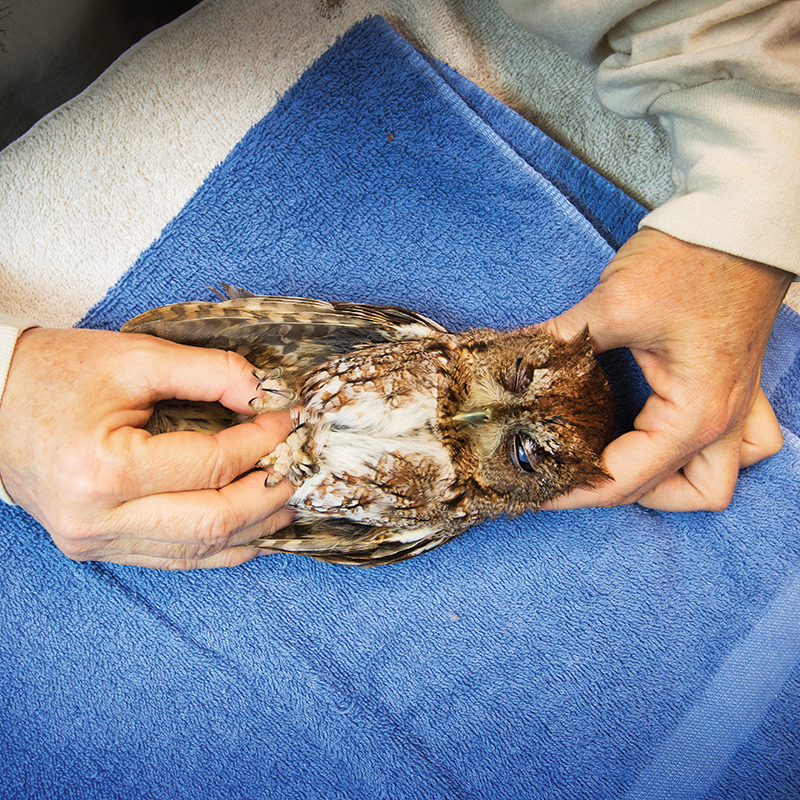 It is late morning, but Ann Lewis still is having a hard time shaking off the effects of a dream she had the night before.
"It was horrible, a nightmare," she tells her boss, Teresa Stevenson, the executive director and rehabilitator at the St. Francis Wildlife Association hospital, located near Havana in Gadsden County.
Lewis had accepted a job in the business world and was forced to buy a professional wardrobe, join in office politics and take her place in a corporate hierarchy.
"I was sooo relieved when I woke up and found that it wasn't true," she exhales.
It's true of administrative assistant Lewis and of her St. Francis co-workers that wild horses — and Dory the squirrel, Squirt the fish crow and the ark's worth of other critters on the mend at the association's rehab facilities — could not drag them away from their jobs.
This, despite the fact that St. Francis team members unquestioningly perform duties that you would have a hard time paying most people to do. Instead, you have to find the kind of person whose heart is such that she gladly does them for free. (Ask yourself: Would you be willing to routinely bathe Pepe Le Pew the possum, whose neurological damage has separated him from the instinct to keep himself clean?)
St. Francis treats some 3,000 animals a year with the aim of returning them to the wild — carnivores, herbivores, omnivores. Fur-bearing, feathered and scaly. Some arrive as mere babies who have become separated from parents. Others will have confused a reflection in a window for a territorial rival. Automobiles, cats and fishing line account for many of the injuries sustained by animals brought to the hospital.
"Fishing line is everywhere," Stevenson fumed. "Birds innocently use it as nesting material and hatchlings become entangled in it. We received a call about a great blue heron that was ensnared in line on an island in a lake. We called the Florida Wildlife Commission and, fortunately, when an officer got to it by boat and set it free, it flew off.
"One of the things we all can do to help is keep the environment free of materials that do animals harm."
Asked to recite an especially memorable success story, Stevenson paused, then began, "Well, there was the time a woman delicately removed a butterfly from the grill of her car.
"I wasn't sure what we were going to do with it at first, but we found an old bird cage and put the butterfly in it along with a flower, water and a small piece of watermelon. Surprisingly, in a few days, the butterfly appeared restored, we opened the cage and away it went."
The patient census varies throughout the year at St. Francis. Spring, when animals of all sorts are on the move seeking hook-ups, and summer, after the babies are born, are the busy seasons. It's then that people are most likely to encounter injured or orphaned wildlife.
Frequently, lay people, overcome by the cuteness factor, will attempt to rear or repair animals, themselves.
"If they go about it in the right way, they can be successful," Stevenson said, "but in the majority of cases, the animals would be better off if they were brought here right away. Animals may be okay when first found and then, three or four days later, they are emaciated when people decide they need to deliver them to us."
Stabilized animals that are not candidates for release are often adopted out or they may be used as part of the educational outreach effort at St. Francis. At this writing, a Mississippi kite, a red-tailed hawk, a red-shouldered hawk and four owls comprise the traveling squad.
"In truth, most of our animals are memorable cases," Stevenson said. "It's memorable that a little cardinal survives a cat attack and weeks of rehabilitation and then flies away. It's memorable that a fox gets hit by a car, is found by a good Sarmaritan, has surgery to fix its broken bones, survives the stress of being handled and medicated for weeks and then just runs back home.
"All of our patients, if they survive or not, touch us along the way."
Stevenson takes off on her rounds, pauses at a small glass tank and peers in.
"Oh, he is so cute," she enthuses.
The tank contains not a bunny, not a duckling, but a snapping turtle.
To Stevenson, it is a reptilian beauty.
You Found a Wild Animal. Now What?
Before you pick up or rescue a wild animal, call the St. Francis Wildlife Association or another licensed wildlife rehabilitator.
Animals need to be rescued if:
The parent is dead and the baby is too young to survive on its own.

The animal is weak, thin, cold or appears sick.

The animal is injured.

A cat caught the animal or a dog injured it.

Flies or other insects are on or around it.

The animal is in obvious danger.
Baby animals always need an external source of heat.
Warm up a plastic bottle of water in a microwave oven. Wrap an old T-shirt or pillowcase around the bottle and place it in the box.

Alternative heat sources include heating pads set on low, heated rice or bean bags or hand-warmers.
If it is determined that an animal is in need of rescue:
Get a cardboard box or plastic container, punch air holes in the top and place an old T-shirt (not a towel) on the bottom.

Wear gloves when placing the animal in the box.

Keep the animal warm and in a quiet, dark place.

Don't stare at it or handle it. Wild animals can literally be scared to death.
No-no's:
Do not give water or food to an injured or orphaned animal.

Do not handle bats, raccoons, foxes or skunks. They are common rabies vector animals.

During transport to a rehab facility or veterinary office, do not turn on your car radio or blast your air conditioning.
Source: St. Francis Wildlife Association
Want to Help?
The St. Francis Wildlife Association gratefully accepts monetary contributions and donations of supplies and currently is in desperate need of a laptop computer. Contact the association at 850.627.4151 or stfranciswildlife.org.