Give a Book. Take a Book. Share a Story.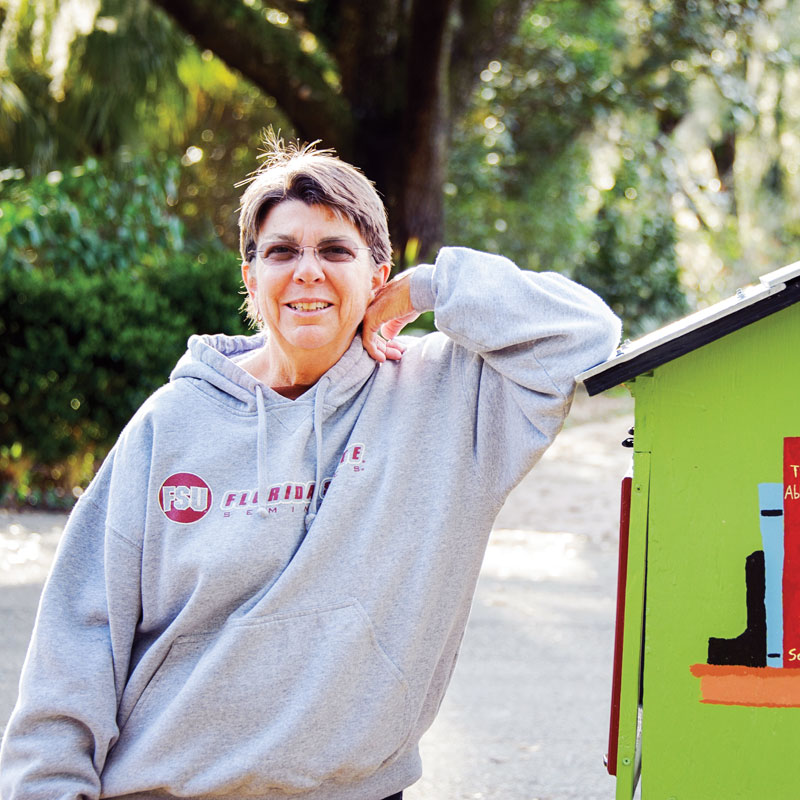 Kay Meyer
Pam Flynn leans up against the "library" she and her father created so residents of the Waverly community could share books.
Some stories are too good to keep to yourself. Which is exactly what Pam Flynn thought when she came across the concept of the Little Free Library while traveling in the Midwest. Inspired by the idea, Flynn and her father installed one of these libraries — actually a wooden box on a post — in their Waverly neighborhood. "This neighborhood was named for the famous Sir Walter Scott Waverley novels," said Flynn. "At least five of the novels in this series have the names of five of our streets, and the other street names can be found within the novels. So it is only fitting that books receive a spotlight in our beautiful neighborhood."
Free to everyone in the neighborhood, the library has one side devoted to children's books another for adult books, usually an eclectic mix of titles and genres. The box itself is about 20 inches wide, 13 inches deep, 18 inches high and made from "found wood." Little free libraries like Waverly's invite people to "take or leave a book," using the honor system.
The idea came from one man's desire to inspire community involvement and encourage people to enjoy reading. The foundation for Little Free Libraries began in 2009 when Tod Bol made a box shaped like a schoolhouse to honor his mother, who had been a teacher and loved to read. Bol put the box on a post, filled it with books and placed it in his front yard. His neighbors' reaction was so enthusiastic that he built more and gave them away. He later teamed up with Rick Brooks to start the Little Free Library "system"
and bring the love of reading to communities.