Gifting Gardners
Choices Abound When Searching for the Perfect Present for Plant Lovers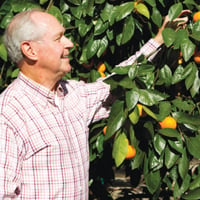 When it comes to gift giving, gardeners are really easy to please. Whether you're saying "thank you" to your Thanksgiving host/hostess or playing Santa to loved ones who love to toil in the soil, you have plenty of options in a variety of price ranges.
I can say with near certainty that gift certificates from nurseries are always appreciated, and they're available in most any amount you want to give. But if you still hear your grandmother's cry of dismay at even the thought of a gift certificate — "It's so impersonal, honey; it's almost as tacky as giving money" — then take heart. You can select a gift that would make Grandma proud and definitely make the recipient happy.
You can't go wrong with books about gardening. Local garden shops stock a nice selection of how-to books that are specific to our region, USDA Zone 8b. Aspiring and seasoned vegetable gardeners alike will enjoy the updated second edition of "Down to Earth Vegetable Gardening Down South" by Lacy F. Bullard and the late Art Cheek. Bullard, a former garden writer for the Tallahassee Democrat, collaborated with Cheek on the first edition back in 1974, when he hosted a gardening show on WFSU-TV. Copies were so hard to come by that friends prevailed upon Bullard to re-release it, with updates, several years ago.
Local naturalist, writer and field botanist Gil Nelson has written more than a dozen gardening books and botanical field guides. One of my favorites is "Best Native Plants for Southern Gardens," published in 2010 by the University Press of Florida. "Daffodils in Florida: A Field Guide to the Coastal South" was the culmination of years of research by John Van Beck. His widow, Linda Van Beck, and daughter Sara took the data and compiled the authoritative work on daffodils for North Florida and South Georgia.
"Gardening for Florida's Butterflies" by Pamela F. Traas identifies our butterflies as well as the larval and nectar plants they need for a complete life cycle. It breaks the information down by region — North, Central or South Florida — to create a handy primer for creating and maintaining a butterfly garden.
Most locally owned nurseries, including Tallahassee Nurseries, Esposito Garden Center & Nursery, Native Nurseries, Purple Martin Nurseries and Just Fruit and Exotics, have gift shops brimming with garden-related gifts and artwork this time of year. A gift basket containing a few packets of seeds, a pair of garden gloves and a hand trowel is a project ready to be launched. On the relatively inexpensive end of the spectrum, you'll find hand-held pruners, garden clogs and garden- or nature-themed jewelry. On the higher end, you'll find elaborate raised-bed kits, rain barrels and garden sculpture. Rain gauges and thermometers that give the current temperature, as well as the high and low, can be both functional and decorative.
Does your current economic situation preclude spending much, if any, money for gifts? Time and talent will carry you where treasure can't. You can divide perennials such as daylilies and agapanthus and make gifts of the extras, weave a wreath from sturdy vines, or dig up and pot the crepe myrtles that have sprouted up a couple of feet from the mother tree. These truly are gifts from the heart.
Wishing you a garden of peace and joy this holiday season.
© 2012 Postscript Publishing, all rights reserved. Audrey Post is a certified Advanced Master Gardener volunteer with the University of Florida IFAS Extension in Leon County. Email her at Questions@MsGrowItAll.com or visit her website at msgrowitall.com. Ms. Grow-It-All® is a registered trademark of Postscript Publishing.
November/December Garden Events
» Nov. 2: First Friday Brown Bag Lecture Series presents Bill Finch, executive director of the Mobile (Ala.) Botanical Garden, who will discuss the longleaf pine and its contribution to garden history and urban and suburban life in the South, noon to 1 p.m., Jubilee Cottage at Goodwood Museum & Gardens, 1600 Miccosukee Road. Free, no reservations required. Attendees may bring lunch.
» Nov. 7: Tallahassee Garden Club's Caladium Bulb Sale begins. Go to the TGC's website at tallahasseegardenclub.com for more information.
» Nov. 10: Tallahassee Nurseries presents Artisans in the Garden, 9 a.m. to 5 p.m. Local artists display their work for sale, local musicians perform and local food vendors will have a variety of tasty treats available for purchase.
» Nov. 13: Wendy Adams and Kathy Carmichael of Gardening Friends of the Big Bend will present a program on the Public Gardens in Maine at the University of Florida's North Florida Research and Education Center in Quincy. Visit thegfbb.com for program time and details.
» Nov. 15: Tallahassee Garden Club's Horticulture Program and Plant exchange, 9:30 to 11 a.m. The Garden Center, 507 N. Calhoun St. Visit tallahasseegardenclub.com for details.
» Dec. 7: First Friday Brown Bag Lecture Series presents florist Mimi Livingston, owner of Mimi's Garden Gate Flowers, who will share new and different ways to decorate with flowers and greenery during the holiday season. Noon to 1 p.m. in Jubilee Cottage at Goodwood Museum & Gardens, 1600 Miccosukee Road. Free, no reservations required. Attendees may bring lunch.
» Dec 7: 24th Annual Camellia Christmas at Alfred B. Maclay Gardens State Park, 6 to 9 p.m. View camellias in bloom, tour the Maclay House, view fresh arrangements created by local Garden Club Flower Show judges, and bid on festive wreaths and decorations donated by local merchants. Proceeds benefit the park. Enjoy refreshments and a visit with Santa. Half a mile north of I-10 off Thomasville Road on Maclay Road. Free admission, although donations are accepted.
» Dec. 13: Tallahassee Garden Club's Christmas Tea & Flower Show, 4 to 7 p.m. The Garden Center, 507 N. Calhoun St. Visit tallahasseegardenclub.com for details.
Garden Tasks for November and December
• Bring potted Christmas cacti indoors if temperatures are forecast to drop below 40 degrees F to protect flower buds.
• Prune fig trees.
• Plant spring bulbs, preferably in early to mid-November.
• Plant cool-weather vegetable crops such as lettuce, spinach, beets, broccoli, cauliflower and kohlrabi; be prepared to cover them if temperatures drop below freezing.
• Plant collards, turnip greens and kale. They can take a little frost.
• Plant cool-weather annuals such as pansies, violas and snapdragons.