Getting It Right
Tallahassee Cancer Center was developed from the patient's perspective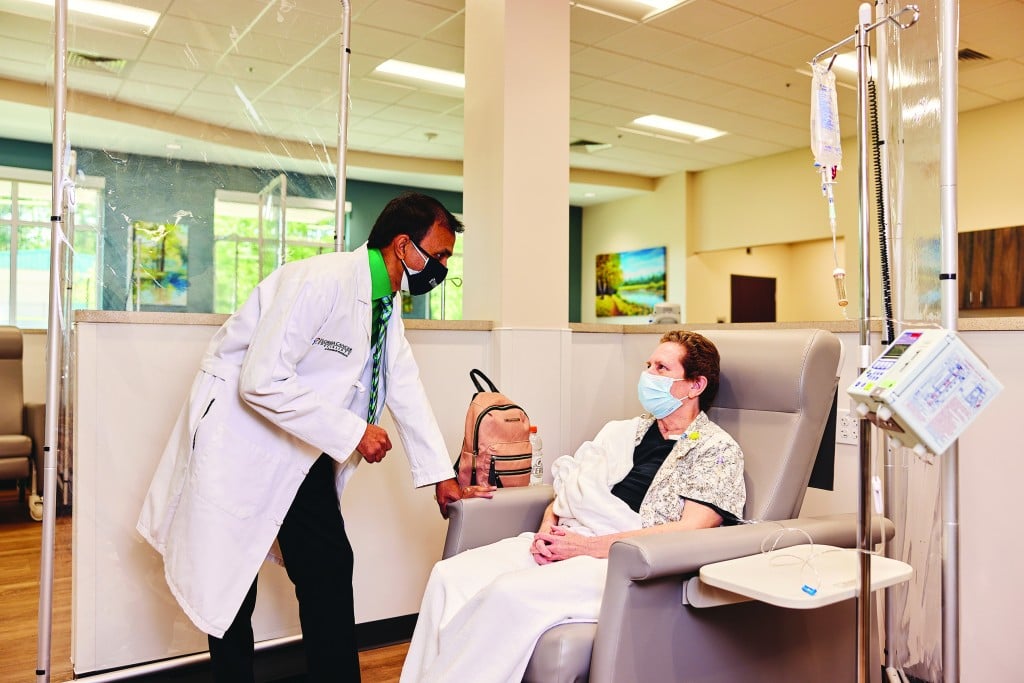 In undertaking the creation of a cancer center in Tallahassee, Dr. Scott Tetreault's first impulse was to use a local architect, engineers and contractor. But no one knows better than he that there are circumstances that call for a specialist, and the further he got into the project, the more people steered him toward Optimal Outcomes in St. Petersburg.
"Even people in Tallahassee told me that was the right thing to do," Tetreault said.
Optimal Outcomes, a planning, design and development firm, has been in Florida for 20 years, according to principal Andy Boggini, and for 15 years has developed cancer centers as a sub-specialty. Of the more than 20 such centers it has built to date, the majority have been for Florida Cancer Specialists.
"You start by making sure you cover all the functional areas," said Boggini, who has more than 25 years of real estate investment, development and valuation experience. "Form has to follow function, so you have to make sure that the flow of a building works for a specific practice."
Tetreault sees the Tallahassee Cancer Center as comprising three businesses, making flow a complicated consideration.
"It's not the kind of doctor's office where you walk in and bang on the glass and you go into an exam room," Tetreault said. "One, you may see me in an exam room. Secondly, we have a lab, and there is a lot of traffic there. And thirdly, we have an infusion room where treatments take place. All three of those businesses have to operate simultaneously, and any one patient coming in may access one, two or all three on the same day. The building design has to provide flow."
In addition, the center contains highly sophisticated equipment, including a state-of-the-art PET-CT scanner.
"We know that cancer practices rely on technology, and we accommodate the latest and greatest imaging equipment in the building," Boggini said. "That's part of getting the functionality right."
Optimal Outcomes also firmly believes getting interior finishes, colors and materials right is essential.
"We strive to create a certain type of environment, a healing and soothing atmosphere that complements the care these doctors are providing," Boggini said. "Dealing with cancer is a stressful time in anyone's life. Our infusion room, where people sit for hours at a time to receive their therapy, needs to be clinical, yes, but it has high ceilings and ceiling features and a ton of windows to admit natural light."
Boggini credits FCS with working to ensure that every aspect of a building is optimal for patients.
"Budgets and costs matter," Boggini said, "but getting it right is more important than trying to save a nickel on a project. Dr. Tetreault gets that. A lot of times, we get pressure to make facilities smaller, but he wanted to allow for growth."
At the Tallahassee Cancer Center, every exam room is on an outside wall with a window.
"That's very atypical, and it can be a little inefficient," Boggini said. "Generally, you will cluster the exam rooms together and they will not have windows. A lot of times, doctors want their offices on the outside. But Dr. Tetreault said, 'I put patients in rooms and sometimes they have to wait for me, and I want them to have natural light.'"
On that point, Tetreault would not bend.
"It was a challenge and we basically threw our first set of plans in the trash, but we came back with a plan with all 16 exam rooms with windows," Boggini said.
Optimal Outcomes is a development firm, not a contractor.
"You give a contractor a set of plans and they know how to bid it and build it," Boggini explained. "The architect can draw the plans. The electrician works with the contractor. But a developer is like the clerk of the works, the quarterback. We see all of it, and we bring it all together and we make sure that, from the outset, the client's needs are communicated all the way through.
"A practice hires us to build a facility. We are a single source to them. The architects, the contractors, the engineers, they all fall under our umbrella."
Boggini and Optimal Outcomes has learned that no two medical office projects are the same.
"All cancer groups, and medical groups in general, have their little nuances; they each do things a little differently," Boggini said. "You got to have thick skin. You have to be prepared to make changes. Sometimes a standard in place at the beginning of a project will change in the middle of the project."
Cancer centers are special office buildings, Tetreault said. He noted the checkout area at the Tallahassee Cancer Center in making that point.
"You go to your primary care doctor and check out — 'Your next appointment is April 12. How's 3 o'clock?' That's not our checkout. Our checkout is 'OK, the doctor has ordered three referrals: pulmonary, have a port put in and go to the GI doctor. He also ordered five scans: MRI brain, CT chest, abdomen and pelvis and a bone scan.' Our checkout area has nice marble-top desks. It's not in the waiting area; it's in the back of the entryway. It affords patients and employees privacy."
Prior to the opening of the Tallahassee Cancer Center, Tetreault took his nurse practitioner on a tour of the facility.
"She was excited, and I had to curb her enthusiasm a little," Tetreault said.
He told her that her desk in the new facility is the same size that she was used to. The exam rooms are the same size.
"Her corner of the world, where she spends all of her time, hasn't changed," Tetreault said. "But the quality of work-life for our pharmacists, nurses, our lab people and front-desk people is much better. The experience of our patients is much better. That was the goal of our cancer center. That's the reason we did it."