Getting Into Character the 'Cosplay' Way
Fans bring their favorite characters to life in the geeky — and sometimes life-changing — pursuit.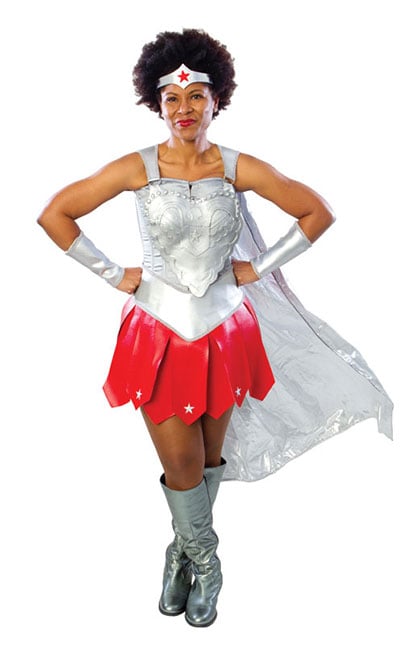 Lying facedown on an ottoman, I'm trying to stay still as a friend stands above me and laces me into a breathing-optional corset.
Actually, "laces" is too delicate a term because she's using an awful lot of upper body strength to get me into this thing. My husband has been dispatched to a CVS near our hotel to buy safety pins so that my silver breastplate-and-cape combo will hang properly.
Did I mention that I, a responsible 40-something mother of two, am about to walk down one of Atlanta's busiest streets in a short, red Roman-style skirt, knee-high silver boots and a Wonder Woman tiara and bracelets in broad daylight?
And it's not Halloween.
Rather, it's Dragoncon, the huge sci-fi/fantasy/gaming/comics convention that draws 40,000-plus people to downtown Atlanta every Labor Day weekend. As a lifelong comic book enthusiast, I'm taking my first step into the colorful, flamboyant world of cosplay, which is short for "costume play." For at least the next several hours, I'll be just one of thousands of people from across the country who are playing hero (or villain) for a day, with gusto.
This isn't as unusual or exotic as you might think. Thanks to the increasing mainstreaming of geek culture, cosplay is finding its way into the larger public consciousness and is even the subject of a TV docu-series: Syfy's "Heroes of Cosplay," has an element of "Project Runway" as cast members construct elaborate, sometimes headache-inducing costumes in order to compete at fan conventions.
Cosplay is more than glorified dress-up for adults. It's a culture that gives participants an outlet to express their love of comic books, science fiction, anime and other geek-skewing pursuits in a creative, highly visible way, usually at conventions such as Dragoncon or Comic-Con in San Diego. For ardent fans of Xena, Thor and their ilk, cosplay provides an opportunity not only to dress like their favorite characters but also to be those characters. It's all about transformation with a strong theatrical element. If you're going to cosplay as Wonder Woman — or in my case, her Amazon sister, Nubia — you've got to own the part.
And you can't simply grab a Batman suit off the shelf at Party City. Whether a cosplayer has made his or her own costume or had it commissioned, chances are a great deal of time, effort, painstaking attention to detail and, in many cases, a considerable amount of money, have been invested in the result.
'A bucket list kind of thing'
Just ask Vanessa Gabriel, who by day is membership services manager at a Florida trade association. After attending her first Dragoncon in 2010 and seeing countless cosplayers in their festive element, Gabriel vowed to join them the following year.
Her cosplay alter ego is DC Comics character Black Canary, a martial artist with a sonic scream who wears a black bodysuit, fishnets and knee-high boots. In the last two years, Gabriel has portrayed Black Canary twice at Dragoncon and once at Megacon in Orlando. The character has been around since the 1940s, and Gabriel threw herself into becoming a specific version based on stories by comic book writer Gail Simone and artist Ed Benes.
"The love of the character was already firmly in place, so once I saw people cosplaying in real time, I couldn't not do it," she said. "It became a bucket list kind of thing."
That meant deciding whether she was going to wear a wig or have her hair dyed blonde (she opted for the salon), spending "copious amounts of time on eBay" to find just the right pieces: from gloves to motorcycle jacket to tights to boots, getting contact lenses, perfecting the makeup and even practicing various martial arts poses so that she could be in character on the convention floor. Gabriel hand-painted yellow embellishments on her black boots to make the look as close to the comic book version of Black Canary as possible.
"I think the real disconnect for people who aren't involved in cosplay or conventions is they don't understand the commitment, so they're sort of surprised by it — that I would spend three months planning every tiny detail of a costume," said Gabriel, who blogs about comic books at Girls-Gone-Geek.com (In the interest of full disclosure, so do I.) "One of my co-workers who was very involved with the theater when she was younger totally gets it."
Cosplay is not to be confused with costuming, which is the art form that makes cosplay possible. When I decided to go to Dragoncon as Nubia, a DC Comics character created in the 1970s as Wonder Woman's black sister, I reached out to Jacksonville-based costume designer Candy Keane, a nationally known cosplayer who was featured in "Entertainment Weekly" this year. Armed only with my measurements, one in-person fitting and a picture of a Nubia doll, Keane created a one-of-a-kind outfit that made me a caped celebrity for a day.
That's another thing. Wearing a costume at a fan convention can be like walking into a spotlight of your own making, and that means being prepared to pose for photos over and over again. As a textbook introvert, I initially found this idea terrifying. However, it's incredibly flattering to have a complete stranger say, "You look stunning," and then ask if they can take a picture.
That never happens to me at Publix.
"It's almost like you create your own mini-stage in the corner of the hotel lobby, and then people come to watch you perform," Gabriel said.
Jennie Carpenter, an administrative assistant at Florida State University and instructor at the Women's Bellydance Center, is a costumer who has transformed herself into anime character Eternal Sailor Moon and 1980s cartoon character Jem by making her own creations. Most recently, she was a striking "steampunk" Catwoman at the first GLI-Expo Steampunk Convention at the Donald L. Tucker Civic Center in November. (Steampunk is generally defined as a science fiction sub-genre that features steam-powered machinery instead of modern technology.)
"Mostly, I just love creating the costumes and the feeling I get when I see the whole thing completed," said Carpenter. "It is fun to pretend to be someone else for a little while. I'll be totally honest with you; it's really nice to hear people's reactions to the costumes when you've done a good job. I also really enjoy the creative process of it when you have to try to come up with new ways to create things, even if it's only new to you."
Carpenter created the steampunk Catwoman look using her crafting skills and impressive ingenuity. Claws made from thimbles, vinyl ears, customized pants that began as a $5 pair of Danskin capris from Goodwill, goggles modified with China Glaze silver crackle nail polish and a whip fashioned out of braided, jersey-like fabric and wrapped in silver wire were just a few of the elements involved. She makes the vast majority of her costumes "because I want it to look perfect, and you just cannot achieve that with a store-bought costume."
These endeavors don't have to cost a lot of money. But go to a major fan convention, and you won't have a hard time finding someone who spent hundreds, maybe even thousands of dollars putting a look together or having a costume designer do it for them. Aside from the cost of the costumes themselves, the finishing touches of footwear, accessories, makeup and such can add up quickly. My cosplay preparation also involved a drive to Jacksonville so that Keane could tailor my costume as much as possible. I didn't want to leave anything to chance.
"I definitely set money aside for this, kind of like a home renovation project," Gabriel said.
Costume therapy
Aside from the obvious fun factor, what is the allure of wearing a costume in public?
Brian Coghill, a former costumer who founded and created the GLI-Expo Steampunk Convention, put it succinctly.
"Therapy," he said.
A person might be painfully shy and reclusive in his or her day-to-day life, but once he or she dons the accouterments of, say, a "Star Wars" character in a community of like-minded people, the fear goes away.
"They can be who they want to be, and it allows them to have fun and interact" without fear of ridicule, Coghill said. "It's not John speaking. It's Han Solo speaking. They can say things they've never said before."
However, Coghill makes a clear distinction between cosplay and costuming, as well as their respective cultures.
"Costuming is exactly what it sounds like. Cosplay is almost like you're on stage," said Coghill, who along with his wife, Verity, owns Hangar 18 Props and puts on fan conventions through their company, Camelot Productions. "You take on the accent and the mannerisms of the character. It's more of an immersion kind of thing."
Where costumers dress up just to have fun, hardcore cosplayers can be competitive, judgmental and very uptight about the details, Coghill said. "It becomes a lifestyle for them."
I was lucky. My experience at Dragoncon was overwhelmingly positive, and I had nothing but pleasant interactions with my fellow cosplayers. Though Nubia isn't a well-known character even among comic book readers, there were plenty of people who knew exactly who I was portraying and were even excited about it. One Wonder Woman cosplayer, a fellow journalist, no less, greeted me like an old friend at a photo shoot for cosplayers dressed as DC Comics characters.
At the same time, I was aware of the dark side. In recent years, cosplayers have begun to speak out against blatantly sexist behavior some women have to endure at cons — the assumption being that if someone is in a form-fitting or revealing costume, it's OK to make unwanted advances and rude comments, or openly judge their bodies. Hint: It isn't.
Writing for the site xojane.com, several female cosplayers have told their personal stories of being treated like pieces of meat on the convention floor or mocked online for daring to cosplay while being plus-sized. Chaka Cumberbatch, a black cosplayer, wrote about the virulently racist reactions of some online commenters when they saw pictures of her dressed as non-black characters like Sailor Moon.
In some Internet circles, the "fake" geek girl meme gained traction, in part, by claiming that there are many women who cosplay merely for attention, and not to pay tribute to characters they love or even necessarily know anything about. This kind of suspicion and assumption of ignorance doesn't dog men who cosplay or male geeks in general. It's impossible to tell what anybody knows about Supergirl until you talk to him or her and, from my perspective, it doesn't matter as long as everyone is having fun and being treated with respect.
Carpenter finds it troubling that some women experience such negativity since conventions are ostensibly about acceptance and celebration of shared interests.
"I am very fortunate not to have experienced that kind of behavior. I do know of people who have, though," Carpenter said. "It's really a shame that women in particular are often put in such a bad position in a place where they should be allowed to feel free and have fun."
Though Gabriel is actually covered from head to toe in her Black Canary costume, there were the gawkers who homed in on the illusion of it being revealing. She never felt threatened or afraid at Dragoncon; however, "there is a certain perception that has come along with (the costume); a certain 'Hey, how are you doing?' " Gabriel sought to buck the stereotypical, eye-candy depiction of female comic book characters by making Black Canary's martial artistry a major part of her role-playing.
And she's not done with cosplay by any means. Gabriel plans to continue getting into character at conventions and eventually wants to become involved in the process of designing and making her own costumes. In fact, she's the person whose cosplay adventures inspired me to put on a cape for the first time — and she's the friend who cinched me into that corset at Dragoncon. She's come a long way from jittery newbie to seasoned veteran.
"The first time I cosplayed, I was freaking out. I was very nervous, and then once I got out there and got into it, I was totally OK," she said. "It's so rewarding once you get your finished product and you put it all on and it's amazing. Now, I could probably come to work in my Canary costume, and I'd be fine."
Watch the behind-the-scenes video of out features cosplayers in the studio: