Get Your Gaming On
The Best Bets, Perks and Celebrity Dish of Three Drive-to Casinos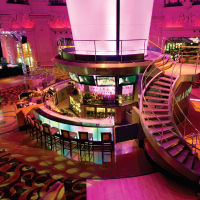 Photos courtesy Wind Creek Casino & Hotel
Somebody's shouting "jackpot" at Jimmy Buffet's Margaritaville Casino slot machines every 30 minutes.
Sorry, we can't predict a winning hand, but it's easy to hit the jackpot when it comes to a casino getaway, with easy access to gaming in Alabama, Mississippi and Louisiana. Here are some possibilities to help you decide which casino offers you the chance for a winning weekend.
Wind Creek Casino Offers an Entertaining Escape
A three-and-a-half-hour drive from Tallahassee puts relaxation seekers in Atmore, Ala., where the 17-story Wind Creek Casino & Hotel rises from the ground like a monument. Opened in January 2009 on the Poarch Creek Indian reservation, Wind Creek Casino & Hotel is an oasis of relaxation, healthy living and entertainment. The 57,000-square-foot casino features 1,600 electronic games. The large gaming floor allows smoking, and there is a small non-smoking room of electronic games near the elevators. Friendly waitresses come around to take drink orders while guests spin with the hopes of winning the next jackpot.
Hedge your bet with Wind Creek "Escape" packages. Escape at Wind Creek is a world-class facility boasting a spa, fitness center and culinary studio. The weekend "Escape" inspires a healthy lifestyle along with serenity, relaxation and wellness. A variety of packages and programs allow guests to mix and match services, ranging from spa treatments and yoga classes to hands-on cooking classes and private chef dining.
The AAA Four Diamond hotel features 236 well-appointed rooms with ultra-plush beds and fine linens. The 15th floor has been upgraded specifically for the Escape package and features spa-like decor, flooring and scents.
Beautiful earthen, stone tiles frame amenities within the spa, including the sauna, steam room and Jacuzzi. The floating meditation deck outside serves as the serene location for wellness classes, including yoga and Pilates. The culinary studio, located adjacent to the spa, features six individual cooking stations with state-of-the-art Wolf appliances. Each class features a highly skilled chef instructor, custom menu and friendly mix of participants. Students pair up at each mini-kitchen for a hands-on lesson that teaches a variety of techniques.
"My goal is for you to learn something while you're here," said Master Chef Louis Chatham, who helped open the school. "I want the class to know why we do it one way. There are 100 ways to do something, and you can use the recipe as a roadmap to select your own path."
The result is an evening of hands-on education, camaraderie, a three-course meal and libations. Themed classes range from Asian to Mediterranean to Middle Eastern to Turkish cuisine. Menus continuously change to feature new dishes and techniques. The property also features multiple restaurants, including Fire Steakhouse, Taste Buffet and the Grill Café, which are ready to satisfy any craving.
Since opening, Wind Creek has hosted live performances from a broad spectrum of musical talents. Reba McEntire, Trace Adkins, Travis Tritt, Kool & the Gang, Huey Lewis & the News, ZZ Top, Lynyrd Skynyrd, Boyz II Men, Blake Shelton and the Commodores are among a long list who boast performances at the outdoor amphitheater.
Tribal traditions and handcrafted items are subtly located throughout the resort. Near the elevators, a handmade canoe by tribal member William "Bubba" Bailey showcases the tribe's traditional mode of transportation. In the gift shop, tribal member Carolyn Parker Peterson's handcrafted woven baskets and jewelry are beautifully displayed next to a framed summary of her story and techniques.
Jimmy Buffet Rocks at Margaritaville Casino & Restaurant
Calling all Parrot Heads! Jimmy Buffet's Margaritavilla Casino & Restaurant has brought the island vibe to gaming. The smallest casino in Mississippi, Margaritavilla is not short on fun. Unlike most casinos, Margaritaville features floor-to-ceiling windows, welcoming natural light and scenic views of Biloxi's Back Bay.
The casino has table games and 820 slot machines. Margaritaville appeals to slot players and boasts a $1,000 jackpot every 30 minutes. Coastal-themed games such as Big Fish Record, Goldfish, Mermaid's Gold and Turtle Treasure complement the tropical decor while cocktail waitresses happily serve boat drinks and signature margaritas. Three restaurants, including the Margaritaville Restaurant, Feeding Frenzy Buffet and Landshark Landing keep gamers hydrated, nourished and entertained. Throughout the day volcano eruptions are followed by an attractive female staff member who slides into a giant margarita. The 5 O'Clock Somewhere bar offers bar-side electronic games, and the entertainment venue accommodates up to 900 guests for concerts and events.
When it's time to cash in the chips, guests head outside to the marina for live music by a variety of local, regional and national acts every Thursday through Sunday. The expansive multi-level dining decks and marina make it an ideal place to come by boat, and complimentary boat parking is an added perk.
"One of the exciting parts of coming here is a chance sighting of Jimmy Buffet," said Margaritaville Greeter Cody Wilson. "He has been known to come in unannounced and start playing slots in the corner or give an impromptu concert."
Since Margaritaville does not include accommodations, there are ample nearby casinos to choose from for an overnight stay. The Grand Casino is close, as is The Beau Rivage Resort & Casino and Hard Rock Casino. A 20-minute scenic drive along the coast to the Island View Casino Resort in Gulfport offers a comfortable and entertaining spot to rest up for round two.
Big Fun in the Big Easy at Harrah's New Orleans
For those who love gaming as much as they love the Big Easy, the place to be is Harrah's New Orleans. Opened in 1999, Harrah's New Orleans Casino features more than 2,100 of the hottest slots and more than 100 fast-paced table games, including blackjack, roulette, baccarat and more. Beyond the tables, Harrah's features John Besh, an award-winning steakhouse that has received the James Beard Foundation award for Best Chef. The centerpiece of the casino is Masquerade, a hip club at night and quiet bar by day. The impressive 42-foot media tower is complemented by an Ice Bar at the base. A variety of musical entertainment is featured from DJs to jazz bands. The Theater at Harrah's is a multi-million dollar venue hosting casino shows, including musical acts, comedy performances and special events.
"Harrah's New Orleans is unique because it keeps the New Orleans theme alive," said Harrah's greeter Reuben Washington. "You have a chance to catch the mini-Mardi Gras parade with jazz band playing the trumpet, tuba, drums; you feel the city."
Opened in 2006, Harrah's Hotel is located across Poydras Street from the casino and connected by an underground walkway to keep gaming enthusiasts close to the action. The hotel features 450 generously sized rooms and infuses Mardi Gras colors into the upscale decor. Rooms include 24-hour in-room dining, refrigerator and coffee maker as welcome amenities, especially after a night on the town. Butler service is available for all suites. Harrah's concierge team is full service with no request too big or small, from tickets and transportation to area attractions to replacing a bridesmaid dress.
Harrah's is centrally located and within five blocks of many activities, restaurants and attractions. Nearby Iberville Street is loaded with dining options; Julia Street offers ghost tours; Royal Street is renowned for antiques. For breakfast, head one block north on Poydras to Mother's, which opened in 1938 and boasts the "world's best baked ham." Harrah's is also within walking distance of Bourbon Street, giving guests access to bars, live music and local restaurants such as Arnaud's, which dates back to 1918 and is rich with ghost stories, celebrity sightings, culinary excellence and live jazz.
Across the street from Harrah's, a streetcar stop ferries passengers up and down the rails from the Farmer's Market to the north to the Audubon Zoo in the south. The Audubon Aquarium of the Americas is located directly across Canal Street from the casino and immerses visitors in an underwater world. Sharks, tarpon and rays are impressive in the 400,000-gallon Gulf of Mexico Exhibit, and interactive exhibits such as the stingray touch tank and parakeet feeding area are fun for all ages.
A Harrah's New Orleans Casino offers an active, exciting gaming getaway. Laissez les bon temps rouler!
Wind Creek Casino
Atmore, Ala.
(866) WIND360
windcreekcasino.com
The Perk: Getting away from it all
Best Bet: Culinary Classes
Lodging rates starting at $109
Margaritaville Casino
Biloxi, Miss.
(228) 267-7777
margaritavillebiloxi.com
The Perk: A chance encounter with Jimmy Buffet
Best Bet: Live music each weekend at the Marina
No lodging available
Harrah's New Orleans
New Orleans, La.
(504) 533-6000 / (800) 847-5299
harrahsneworleans.com
The Perk: Located in the heart of New Orleans near attractions, dining and nightlife
Best Bet: Complimentary parking with 30 minutes of play
Lodging rates starting at $129 weekday/$199 weekends