Get the Heat Out of the Kitchen
Check It Out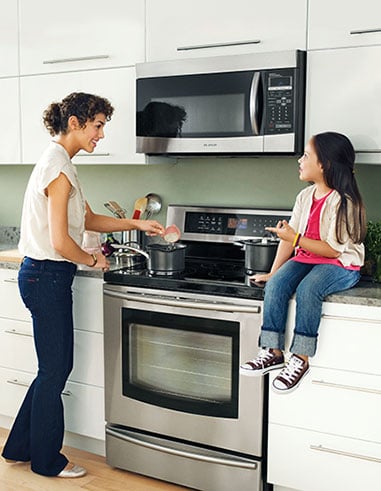 Home appliance manufacturers are now offering a new, energy-efficient technology for kitchens: induction stovetops. This innovative equipment uses electromagnetic energy to heat pots and pans directly, instead of heating a burner that would then heat the container. This allows for faster and more even cooking than gas or electric stoves.
Under the surface of an induction cooker is a powerful electromagnet that generates an electromagnetic field. When a sizable piece of magnetic material is placed on the surface, the electromagnetic field transfers energy to the metal and heats it. However, this only works with pots and pans made from magnetic materials, such as cast-iron or stainless steel. Aluminum or glass won't work.
Induction cooking has a number of benefits. Cooking temperatures can be adjusted instantly and precisely, as opposed to electric stoves that respond gradually. Also, very little heat escapes in the process — meaning the kitchen stays cooler and the stovetop warms only from heat generated by the cooking container itself. Perhaps most importantly, induction cooktops are significantly safer in that they heat only the magnetic material placed on them, thereby eliminating the risk of burning hands or accidentally heating cooking utensils. In addition, cleaning is considerably easier, since food will not bake or burn onto the flat stovetop.
Most major appliance manufacturers now offer induction ranges. Samsung's new induction range, shown here, is priced at $1,999 and includes touch controls, a true convection oven and a built-in warming drawer.