Get PotLucky!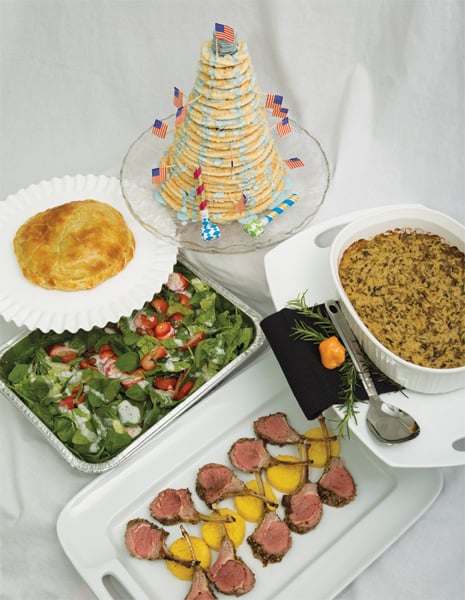 Four local women offer recipes to help you organize outstanding potluck partiesGet PotLuckyPotluck Parties Provide Maximum Enjoyment With Minimal Effort During the Holidays – and All Year Long 
By Ashley Kahn
    Click for larger image with description.
 
There was a time when mention of a potluck dinner evoked images of myriad casserole dishes laden with repeat recipes, paper plates and plastic forks galore. But the day of the duplicate artichoke dip has passed, and in its place stands a new take on the classic model with an objective that goes beyond feeding the masses.
Today's potluck is designed to inspire the unequivocal sense of community brought about by sharing delicious food. Whether gathering with family this holiday season or hosting a get-together on any given Tuesday, potluck meals are an excellent way to save time and money while indulging in a feast and some fine conversation.
There are four types of people who show up at potluck parties: those who come to eat, those who come to greet, those who come with treats … and he who brings the paper goods.
Whatever your flavor, read on for advice and recipes from some of Tallahassee's MVPs – Most Valuable Potluckers, of course – and start planning your own.
Preparation Makes Perfect
When hosting a potluck party, you can be as organized or unsystematic as you choose. After all, luck is at the heart of this type of gathering, which was originally named for "whatever food one was lucky enough to find in the pot." But according to our potluck experts, preparation is key.
"I always make a list," said Jaimi Wacksman, communications director of NewspaperClips.com and a member of Springtime Tallahassee's Spanish Krewe, a group well versed in potluck procedure. "I start out with what the event is called, how many guests, and the supplies I need … I delegate."
Springtime Tallahassee has five krewes composed of 50 couples each, and each krewe has a monthly potluck. The parties are themed, and the hosts are given a budget to cover the expense of the main course. Guests supply appetizers, desserts and drinks. (There even is a Libation Chair, solely responsible for alcohol.)
"This krewe knows how to party, and we've done it so many times that people just fall into the groove," Wacksman said. "There's not really an Excel sign-up sheet; you just check people off as you need certain things."
Others are less apt to make specific requests of their guests when hosting a potluck.
"I usually take care of the main dishes and they'll bring the 'accessory dishes,' as I call them – the breads and the salads and dips," said Lori Newman, a contract and finance manager with the state Agency for Workforce Innovation. "I don't want to tell somebody what to make unless I get a last-minute call and I need something."
An advocate of themed events such as Cinco de Mayo, St. Patrick's Day and football season, the one-time caterer and mother of three prepares surprisingly vast spreads from her 10-by-4-foot kitchen.
"We're always feeding everybody," Newman said. "Although it is a very small space and only one person can be in there at a time, we crank out a lot."
Mary Madsen also is used to cooking in large quantities. In addition to having an extensive family to feed, she has prepared food for bridge and dinner clubs, and currently participates in "rota" (short for rotation) meals for her Wednesday-night church service. This form of potluck designates one member to provide an entire meal each time a group meets.
Madsen doesn't believe in making potluck assignments.
"I've seen in larger churches where you have to sign up, but it's a funny sort of thing," she said. "Somehow or other, it's a miracle. Not everybody brings desserts or entrées or starches or anything."
According to Ellen Cole, director of marketing and public relations for Capital Regional Medical Center, potluck parties are perfect for any occasion.
"There are functions at work and special events, potlucks for the kids in school and others for family and friends," she said. "Food pretty much envelops every part of your life."
Dishes That Delight, Time After Time
Most potluck participants are aware of the inherent pride in preparing a well-liked item. Once your creation has become a fan favorite, it is unlikely you ever will be allowed to bring anything else.
Newman has gained fame in potluck circles with her Wild Rice and Sausage Casserole, a dish whose wide appeal may stem from its simplicity.
"It's only four ingredients, but no matter where I take it, everybody wants the recipe and it's always the first thing gone," she said. "I also make my own pepper jelly, and people go nuts over that." (So nuts, in fact, that on one occasion her jelly jar was stolen.)
The competitive nature of potlucks never should go beyond aiming to please.
"I think people just want to eat," Newman said. "I don't think they're worried about someone else's dish being better."
Madsen just wants to bring a dish people will like.
"You don't mind the effort when people appreciate it," she said. Many of her signature dishes are old family recipes she now shares with her children and grandchildren, who often help prepare German beef roulades, Brunswick stew, seafood bouillabaisse … and a special dessert called Kransekage.
To make the traditional Danish wedding cake, almond-flavored rings with a macaroon-like consistency are assembled around a bottle of cherry wine called Kijafa. The towering treat is perfect for themed potlucks because it can be decorated for any occasion. This holiday season, green icing and a candy star could make for a miniature Christmas tree.
"It's very festive, but it takes quite a bit of effort," Madsen said. "After you've made one, you don't want it to fall apart."
Wacksman always is asked to bring one of her acclaimed cocktails: sangria, margaritas or chocolate martinis. But when it comes to food, she prefers to make appetizers, because they lend themselves to attractive arrangement.
"I love presentation," she said. "It takes me forever to throw a dinner party because I like everything to be bite-sized and pretty." To that end, she often prepares baked Brie with a braided pastry crust or lollipop lamb chops over perfectly round servings of polenta.
Cole is known for her quick and beautiful Red and Green Strawberry Salad. It takes just a quick toss to create a dish that is both aesthetically and palatably pleasing.
"This is the easiest salad ever," she said. "Every time we go to a family event, inevitably that is what I'm asked to bring."
Share the Luck
The benefits of potluck entertaining are numerous, and they all have to do with sharing. Not only is there a more even distribution of cost and preparation, but hosts and guests alike can acquire new additions to their arsenals of recipes.
"If people find a dish they love, they want to know how to make it so they can take it to their next potluck," Cole said. "If you're getting people together who don't know each other, it brings out conversation."
It's not unusual for groups who put on regular potlucks to draft their own cookbooks, as is the case for Springtime Tallahassee and various other organizations formed around games and sports, work, school or worship.
"When I was in a bunko group, we all had to bring a recipe in addition to our dish," Newman said. "We just started building a book." (One word of advice from the cook, who has been known to invent meals as she goes along and forget them as soon as they're eaten: Write your recipes down.)
No matter how delicious the recipe, quantity can become an issue when cooking for large groups of people.
"You just multiply it many times over and hope for the best," Madsen said. "Naturally it's more effort, more supply, more expense, but it's distributed better when everybody brings something."
It may not be wise to bring something you've never cooked before, however.
"Experiment on your husband or your friends," Wacksman said. Seconds Cole: "My poor husband has been the recipient of some really bad attempts. If you're going to try something different on a larger scale, testing it out ahead of time is essential."
Don't Stress to Impress
With so many other things to worry about, potluck parties shouldn't contribute to your stress. But no matter how busy, forgetful or inexperienced in the kitchen you may be, there is no excuse for signing up for the paper goods every time.
"There are ways to provide food that are inexpensive, quick and still tasty, and make people happy," Newman said. "Don't be afraid to cook something and take it."
And there is nothing taboo about prefabricated veggie trays or desserts.
"Just don't try to pass them off as your own," said Wacksman. People will be pleased you brought something other than napkins and soda, and it may even get a good laugh.
"We have a girlfriend who always forgets, never has enough time, and she always brings a dessert from the grocery store," Cole said. "We joke about how she 'slaved away in the kitchen.'"
A true cooking veteran, Madsen is a proponent of good old-fashioned research.
"I treat a cookbook like some people read a novel," she said. "A lot of them feature quick meals that are very, very good."
Potluck parties should take the stress out of entertaining, but the host has to be prepared to relax.
"The last thing you want to do as a hostess is be worried about the food and the setup," Wacksman said. "It's your job to make sure everybody has a good time, and if you're running around filling ice, that's not going to happen."
One more thing: "Have fun," said Cole. "Just understand you're there to enjoy each other no matter what."
Lori Newman's
Sausage and Wild Rice Casserole
1 package Uncle Ben's Original Wild Rice
1 pound pork sausage – mild, medium or hot
1 10-ounce can cream of mushroom soup
1 8-ounce container sour cream
salt and pepper to taste
Cook wild rice according to package directions. Brown sausage and drain. Mix sausage, wild rice, cream of mushroom soup and sour cream together. Season with salt and pepper, and place in baking dish. Bake at 350 degrees for 30 minutes or until bubbly brown.
Ellen Cole's Red and Green Strawberry Salad
2 bags prepared salad (spinach and Italian blends work best for color)
1 pint fresh strawberries washed and sliced OR one bag frozen, sliced strawberries, thawed and drained
1 can honey-roasted salted almonds
1 bottle of your favorite poppy seed dressing
Prepare at potluck site just before serving. In a large mixing bowl or covered rectangular cake pan, place the prepared salad. Add all sliced strawberries and desired amount of almonds. Toss. Drizzle poppy seed dressing on top to taste and keep the bottle close at hand for those who would like additional dressing.
Jaimi Wacksman's Seasoned Lamb Chops Over Polenta
Basic Polenta:
9 cups water
1 teaspoon salt
3 cups coarse-grain cornmeal
oil
Bring water to a boil. Add salt and reduce heat until water is simmering. Take cornmeal by the handful and add to water very slowly. To avoid lumps, stir quickly with a long-handled wooden spoon while adding cornmeal. Cook, stirring constantly, 20 to 30 minutes. Polenta will become very thick while cooking; it is done when it comes away cleanly from the sides of the pot. Remove from heat and spread out one-half inch thick onto a baking sheet using a spatula. Chill in a refrigerator for at least an hour, or overnight. Cut into square or circular shapes. (You can use a cookie cutter for perfect shapes.) Place oil in skillet and fry the polenta pieces. (Tip: Buy pre-made polenta in the produce section of your grocery store.)
Rack of Lamb:
1 rack of lamb
Montreal Steak Seasoning
lemon zest
Season the lamb with Montreal Steak Seasoning. Grate lemon zest over entire rack of lamb. Broil for 10 minutes on each side or to desired temperature. Let stand for 10 minutes before cutting.
Arrange polenta on a platter and top with lamb.
Jaimi Wacksman's
Baked Brie en Croute
2 sheets puff pastry
1 wheel Brie cheese
chutney or preserves (she uses Major Grey's Chutney)
walnuts or pecans
Defrost the puff pastry sheets by leaving them on your counter for one hour. Lay one defrosted puff pastry sheet on the counter. (You may want to sprinkle some flour so it doesn't stick.) In the center, put a good portion of chutney or preserves. Sprinkle on nuts. Place Brie on top of all. Fold the corners of the puff pastry over the Brie wheel and bring the sides around to completely cover. Turn the puff pastry over so the seams are down. With the second puff pastry sheet, cut three long pieces and braid them together. Place the braid on the bottom outer part of the puff pastry with the Brie. Glaze with egg if you wish. Bake at 425 degrees for 20 minutes. Let cool for at least 20 minutes so the Brie has a chance to firm up. Serve with crackers, bread or all by itself.
Mary Madsen's Kransekage (pictured with her grandson, Nic) Cake:
1½ pounds almond paste
  (she uses three cans of Solo Pure Almond Paste)
1½ cups sugar
3 egg whites, slightly beaten
Mix ingredients together thoroughly using an electric mixer. Press through a cookie press fitted with a star attachment into each ring. (To make a uniformly tiered cake, it is best to bake in special Kransekage rings.) Bake at 325 degrees for about 20 minutes until surface is crusty and beginning to brown. Remove from rings when cooled completely; use point of paring knife to loosen outer edge of cake rings, then inner edge. It will loosen immediately if baked thoroughly. Care must be exercised in handling large rings, as they are tender.
Frosting:
1 egg white
3 or 4 drops white vinegar
enough powdered sugar to make thin icing
a bit of food coloring to achieve desired color
Beat ingredients together. Use a tiny spoon (she uses a baby spoon) to drizzle this lightly at various points on top of rings, starting with the largest ring on the platter, then each smaller one until cake is 18 rings high. After several rings are in place, put the bottle of Kijafa in the middle and continue to build up the rings. (Caution: Use frosting sparingly, or cake will be difficult to break into pieces for serving.)
Decorate for any occasion. When served, the top tiers are lifted off so the wine may be served. Cake is broken into pieces until all guests are served, and wine is served in tiny cordial glasses.