Get Out and Play
Free play vs. supervised games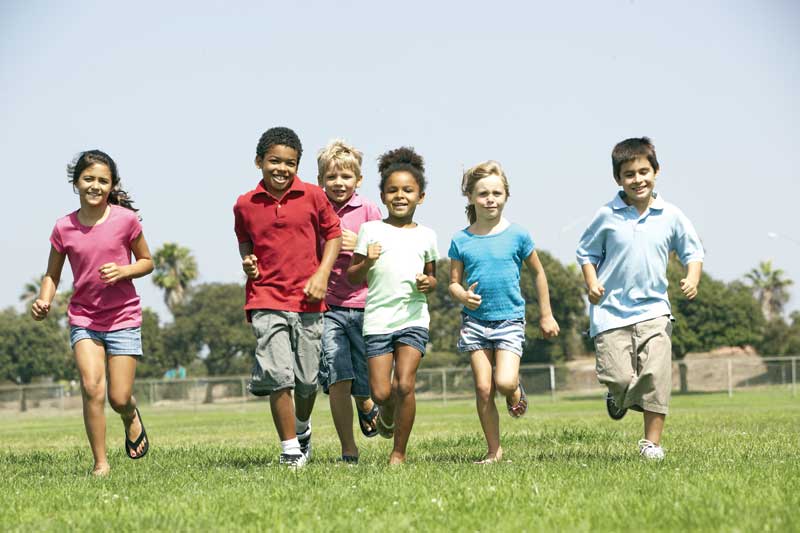 Throughout time, kids have looked forward to after-lunch recess, the time of day when they're able to unwind and run free. Adults might recall carefree times kicking a ball around, swinging or trying out the monkey bars. Nowadays, it's become more likely that a "recess coach" will stop the romping and encourage youngsters to play four-square or another required game of the day.
In efforts to tone down rowdiness, bullying and unruly behavior on the playground, many school systems have turned recess into more structured play. Recess coaches now oversee playground activities in many schools and get children involved in structured games.
Nationwide, Playworks, a California-based nonprofit organization, trains recess coaches for low-income area schools. It provides structured recess programs geared toward moving kids off the sidelines and onto the field of play with fun, interactive games.
Scheduling recess before lunch is another change that school boards nationwide are considering. A report from the Montana Team Nutrition Program noted that children who played before lunch wasted less food, drank more milk and asked for more water. The group also reported a much more relaxed atmosphere in the lunchroom, with kids not rushing through their meal to get outside.
Although Sandra Poole, assistant principal of Tallahassee's DeSoto Trail Elementary School, agrees with the study, she still prefers lunch before recess. Children have a snack time in the mornings, giving them another opportunity to get nutrition.
"I would prefer the older kids (third through fifth grade) to have lunch and then recess because when the focus is broken from the classroom, sometimes it can be hard to redirect them and bring their attention back to their studies," Poole said. "However, the younger kids — pre-kindergarten through second grade — need to have breaks in between their activities because their attention span is limited."
An article in the Journal of the American Academy of Pediatrics says 8- and 9-year-olds who were given a daily recess of 15 minutes or more were rated by teachers to have better classroom behavior. It recommends that schoolchildren in this age group be provided with daily play.
Leon County schools are now required to provide children with 150 minutes of physical activity weekly, with each school deciding how to divvy up the allotted time. Most split the time between the structured play of physical education programs and a teacher-monitored, 15-minute recess during which students are encouraged to play games designed by the teachers.
"We have a good mix here (in Leon County), because a P.E. time provides the students with the skills that they need, while recess provides students with a chance to socialize and mingle with one another," said Peggy Youngblood, divisional director of Leon County elementary schools.
---
Reaching for the Stars, Falling in the Clouds
Most kids today expect to earn a college degree; however, not achieving this goal is not as devastating as we might think. John R. Reynolds, a sociology professor at Florida State University, and Chardie L. Baird, a sociology assistant professor at Kansas State University, found no long-term emotional harm from aiming high and falling short when it comes to educational aspirations. They believe young adults can adapt to the unexpected, and focus on the positive aspects of adulthood, while seeing failed plans as achievements still to come.
Surround Sound in the Womb
The Ritmo Advanced Pregnancy Sound System has made playing Mozart or Grandma's voice to a child in the womb easier. The state-of-the-art fabric belt hugs the pregnant belly, and its built-in speakers allow the mother-to-be to share music with her baby via iPod or iPhone. Since it's hands-free, Mom is free to enjoy her active lifestyle — whether it's practicing yoga, walking the dog or working in the office. Buy it online at nuvo-group.com for $129.99.
Adult Sound Quality, Built for Kids
Even after birth, babies and older children can enjoy mind-stimulating music, or the hilarious antics of SpongeBob. Wired and wireless headphones manufactured by Kidz Gear eliminate the worry of adult headphone damage on their children's ears. The unique headphones fit comfortably on children's ears while delivering high-quality stereo sound. They work with a variety of audio content, including game players, TVs and car systems. Prices range from $16.99 to $29.99; the headphones can be purchased online at gearforkidz.com.
---