Get Needles, Get Yarn, Go!
Learning to Knit Can Be a 'Teach Thyself' Experience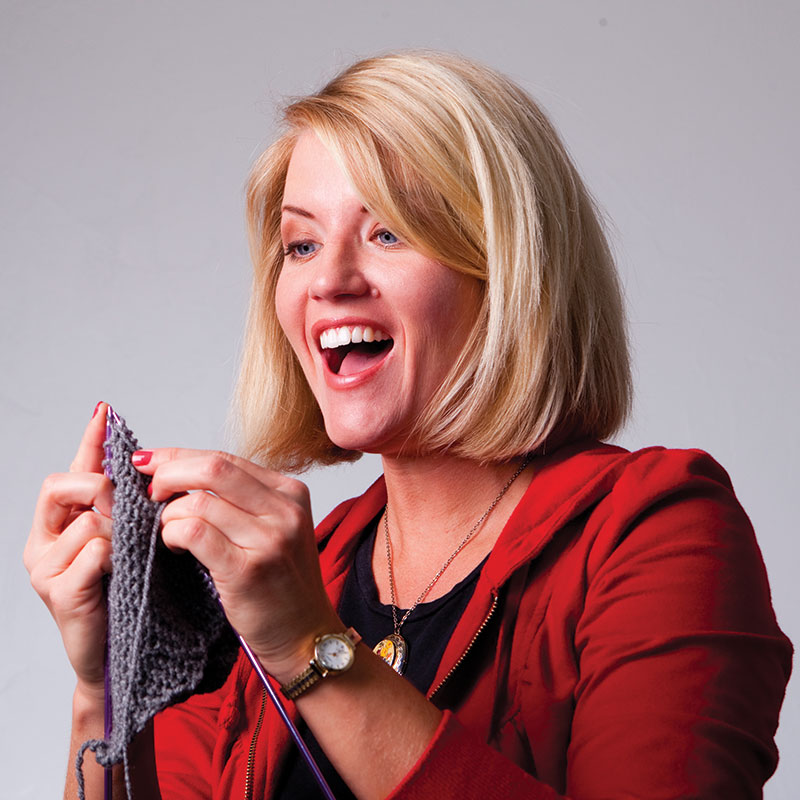 I've always been apprehensive about knitting — due to my fear of needles.
Did that little joke have you in stitches?
Jessica Goff
Scott holstein
In all seriousness, my first thoughts on knitting are images of little old ladies in rocking chairs or a cartoonish housewife smiling and humming a lullaby as she stitches a tiny bootie, indicating that the stork is on its way. But the craft that has adorned us with soft sweaters and cozy slippers now is a hip way to express yourself and make a bold fashion statement.
How to get started? I turned to the how-to gods living inside Google for answers. After spending hours on YouTube entering the keywords "knitting," "beginners" and "how to," I realized something. You can learn to do anything on YouTube! I'll bet if you search the keywords "intro to" and "gallbladder removal" you'll find a tutorial for DIY surgery.
Surgery for beginners is off-topic; however, it does return us to the subject of needles. Knitting needles, that is.
Hannah Readdick owns Wooly Bully Natural Fibers, a local yarn shop located at 1223 E. Lafayette St. She recommends purchasing 7-millimeter-size straight needles to start your first knitting project. I needed just two items to begin my first stitch — a pair of needles and a bundle or "hank" of yarn. Readdick suggests using a basic worsted weight yarn. According to her, "worsted" basically means yarn that is "not too skinny and not too fat."
The tricky part is getting started. The first thing I learned online was how to tie a slipknot. A slipknot is a loose and adjustable knot that will fasten your yarn onto the needle. Be sure to keep the knot loose and flexible so it can easily slide along the needle.
Step 2 is "casting on." For this, I turned to a "How to Cast On" YouTube tutorial, and after approximately 20 views, I got it! Casting on is the foundation for your project; then you can start your knitting.
A bit of advice for cat owners: Remove all felines from the crafting vicinity. From personal experience, I've decided house cats may just be knitting's only natural-born enemy.Once you get the basic techniques of knitting and purling down, you can begin to flex your creative side. As of now, I have what appears to be half of a disheveled potholder, but it's a start. Scarves, washcloths and potholders are recommended projects for beginners because of their flat, two-dimensional design. For inspiration, walk into a yarn boutique or shop and enjoy the rainbow of yarn colors, textures and sizes.
Many shops, including Wooly Bully, have finished projects on display. Beginner classes are available all around town, and they are a great opportunity to meet new friends. Unfortunately, I made no friends during my YouTube tutorial and will still need some help completing my project. But I've discovered that knitting is a relaxing craft that keeps you busy and can easily be put down and picked up again. I look forward to further exploring the art of stitchery, and by next Christmas I plan to be a knittin' fool.
(However, I do foresee Mom sitting me down and politely saying, "Honey, I love you, but please, no more potholders." Perhaps my cat could use a sweater vest.)
For more information about Wooly Bully, call (850) 284-2855 or visit woolybullyshop.com. Really Knit Stuff (reallyknitstuff.com) in the Railroad Square Art Park also sells knitting supplies and offers lessons as well as "knit-togethers." To learn about the knitting community at large, visit ravelry.com. For video tutorials, visit youtube.com.