Gavalas Brothers Carry On Their Father's Vision at Nic's Toggery
A family business with a passion for fashion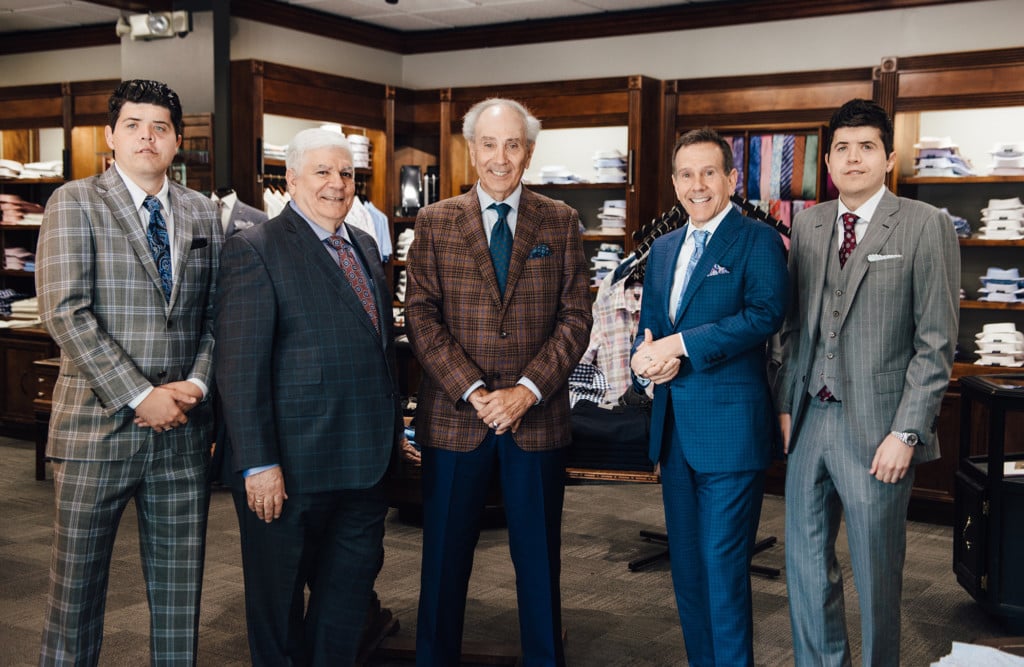 Inside Nic's Toggery on Market Street, George Gavalas appears clothed in his element.
Dressed in a cool-tone suit and shiny Oxford shoes, Gavalas matches his specialty menswear store: cool, clean and stylish.
To '70s music, he converses with customers, most of whom he considers friends, while he carefully sifts through racks for jackets, treating each one with care. He already knows which trousers, shirts and belts would match.
As customers model jackets in the mirror, Gavalas stands beside them. He watches their face and knows when they conclude they've come to the right place: They're beaming.
"When you look good, you feel good, and that's what I'm here for, to make people feel special when they come in," he said. "That's what it's all about."
For three decades, Gavalas has dressed Tallahassee men at the company his father passed down to him and two of his older brothers, Victor and Mike. Through formalwear, George fulfills his father's dreams while fulfilling his own, including making others feel good.
He knows he has succeeded when someone comes back to the store to tell him they've turned heads in their new threads.
"That makes them feel like a million bucks," he said. "That makes me feel like 10 million bucks."
Though Nic's Toggery bears his father's name, George Gavalas earned his place in the business like many would. He worked his way up.
He sold suits on the floor of the downtown location in 1979, right after graduating from Florida State University.
"The next day, I went to work," he said.
He started running a store at the Tallahassee Mall a year later. He opened the Market Street location in 1983, after closing the mall store.
Nic retired in the late '80s, handing the company to George and his brothers. They run locations on North Main Street downtown and on Market Street, plus a Nic's Big & Tall on Market Street.
George says he spent much of his childhood with his father at the store. As Nic interacted with customers, George thought, "Wow, everybody knows Dad," he remembers thinking.
"He liked everybody and everybody liked him," Gavalas said. "That's what made him what he was. He was so personable to everybody — no matter your status in life. He was always the same to you, no matter what."
He loves to hear stories from original customers about his dad, who started the business in 1950 with a small shop downtown.
People tell him that Nic Gavalas gave them their first charge account or that they would pay only 50 cents a day for a suit if they couldn't afford it.
Nic wanted to make great style accessible to everyone, he said.
"They needed help and he helped them, and they remember that," Gavalas said. "That's pretty special. I don't think you find that today or anywhere."
He says he hopes that one day people can come back and say the same thing to his sons, Alexander and Gus, who work alongside him.
Of the business, he said, "I hope it continues so the next generation of our family can come in and run it properly and succeed like we have. That would be the biggest gift to me."
In the meantime, he travels to clothing shows in cities such as Chicago and New York to bring the latest in fashion to Tallahassee, just like his dad did.
Each suit's style comes down to the detail, including the color of the linings, he says. He prefers Samuelsohn, a brand known for its craftmanship and sophistication, but quickly will recommend others.
"A brand like Trands allows a guy to express his personality as much as he wants to," he said. "He can get every button hole a different color and all that jazz."
If a customer doesn't want to go bold in a suit or coat, Gavalas says, he can have a little fun with the socks.
Anything to help, he says. He loves it.
"If you don't," he said, "then you're in the wrong business."