Garden to Table
Savor the magic of spring salad season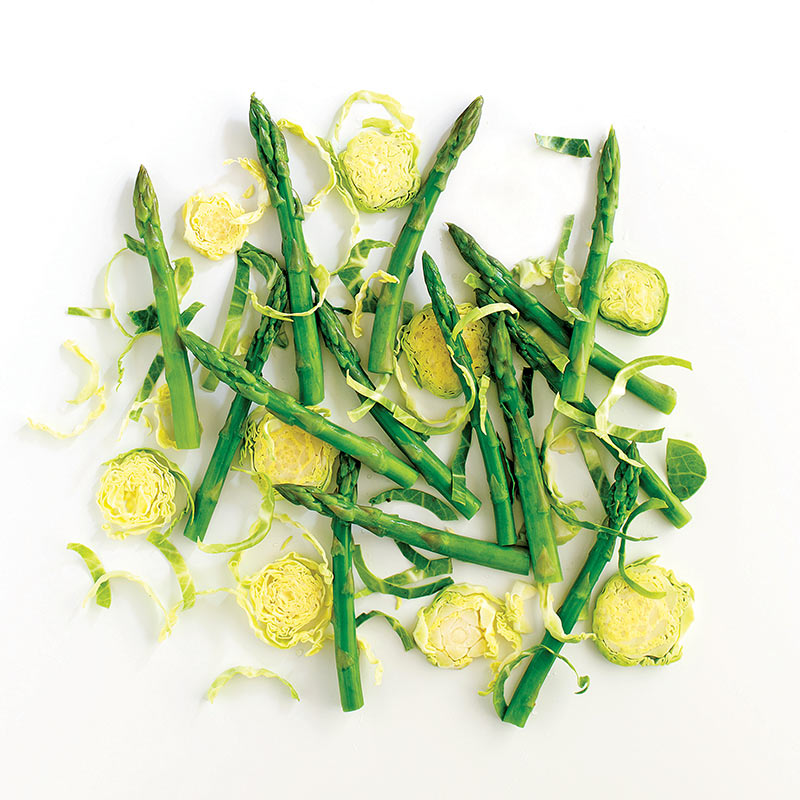 We are fortunate to live in an area where fresh, locally grown vegetables are available year-round. Farmers' and growers' outdoor markets provide beautiful, bountiful displays of produce. The number of specialty grocers and food co-ops in the region continues to grow, and mainstream grocery stores have responded to customer demand with more organic produce and locally grown food. Certainly, foods that come out of nearby ground will be fresher and tastier when they land on your plate.
In addition, there are plenty among us who maintain a little patch of vegetables in the back yard — or in my case, the side yard, which faces south. In the summer, it is home to those vegetables that can take the North Florida heat and afternoon downpours: sweet and hot peppers, eggplants and a few cherry tomatoes. But from fall to spring, it's my salad garden. Lettuces, ranging in color from pale green to dark green to red-fringed bronze; arugula and Asian salad greens in a variety of leaf textures and colors; spinach, kale, and cabbage; radishes, carrots and green onions. It's a gorgeous palette that can sometimes seem almost too pretty to disturb — almost. Snip a few leaves for your dinner and new ones will grow in their place, providing a steady supply of salad ingredients until the heat of late spring causes these cool-weather stalwarts to set seed and the leaves become bitter.
Before that happens, though, there's an almost magical window when traditional spring vegetables ripen. Fresh green peas, which my grandparents called "English peas," snow peas, asparagus and kohlrabi are wonderful additions to the spring salad bowl.  My mom used to make a salad with iceberg lettuce, asparagus, peas and sliced boiled eggs. A creamy dressing loaded with fresh dill, an herb that does better in cool weather than warm, is a great complement.
Broccoli, cauliflower and Brussels sprouts, particularly if sliced or shaved thinly, offer both color and texture variety. Throw in some cool-weather edible blossoms, such as nasturtiums or violas, and you have a salad fit for the pages of a glossy cooking magazine. A word of caution: Make sure your flowers are edible, because not all flowers are, and that they haven't been sprayed with pesticides.
Most restaurants offer seasonal salads, and eateries that emphasize a "farm to fork" or "farm to table" menu particularly appreciate Spring Salad Season. The menu is determined by what's available, and creativity reigns. Just like the chefs, you don't have to limit yourself strictly to what is seasonal; a cucumber, tomato or sweet red pepper can enhance a spring salad. The point is to let the spring crop take center stage and use the freshest ingredients you can find. If your idea of green peas comes from the "push-around peas" of a rubber-chicken banquet, prepare to be amazed and delighted when you use fresh ones.
---
Tuna Over Arugula
Susan Steuby Gray is chef and manager at Indigo Bistro, which specializes in salads, soups and sandwiches using local, seasonal and organic ingredients. Her recipe for Blackened Wild-Caught Ahi Tuna over Arugula Salad is flexible enough for cooks to adapt to their own taste preferences.
ingredients 
wild-caught Ahi tuna
organic arugula (she gets it from Strawberry Moon Farm in Monticello)
bacon crumbles
avocado
cucumber
red onion
tomato
sunflower seeds
feta cheese crumbles
Directions
Assemble the salad, using the ingredients listed in the proportion you like. Chop or slice the vegetables, your preference. You can also add other seasonal vegetables. Sear the tuna over high heat quickly to seal in the juices; let it rest a few minutes before slicing and placing over the salad. Dress with a red wine vinaigrette that you have infused with lemon.
Located at 1690 Raymond Diehl Road, near Blue Abaco, Indigo Bistro is open for lunch Monday-Friday and for breakfast and lunch on Saturday.