Game Over
Figuring out when it's time to for your kids to quit sports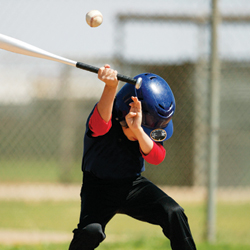 Fourteen-year-old Patrick Baker grew up on baseball. He started playing ball as a first-grader and progressed until he made the All Star Team at Tallahassee's Winthrop Park, where he's listed among the baseball elite on a plaque over the concession stand.
But for the last year of Patrick's young baseball career, he harbored a secret. He desperately wanted to quit. Adding to the stress — Patrick's coach at the time was his father, Alan Baker, a well-known and respected baseball enthusiast who has coached more than 16 local Little League teams.
"I had a really hard time telling my dad, because he always coached me and I was afraid he would take it personally," explained Patrick while ducking his head. "I know he was disappointed.
He didn't want me to quit and regret it." Patrick raised his eyes and smiled. "But I knew baseball wasn't the sport for me. I wanted to play soccer."
Patrick and his admittedly disappointed father came to an agreement. Although Patrick asked to quit during the season, father and son determined it best to finish out the commitment. Soon after, Patrick moved on to a successful soccer experience. Alan continues to enjoy coaching at Winthrop and plays with an adult league. And, they still play catch together at home.
"I could tell he was miserable," said Alan. "And when practice becomes a chore to a player, it's time to quit. I want Patrick to be happy, but I just hate to see someone walk away from the game." Alan speaks from experience, having quit a successful youth baseball career after he hit a growth spurt and struggled to catch up with his increased height. "Everything came
undone for me. So I quit, but really wish now I hadn't."
In the world of organized activities for children, deciding just when to push a player and when to let him quit is a tough decision for parents. A child can obviously benefit from participation in organized sports. Child athletes can gain confidence, physical fitness, problem-solving skills, sportsmanship, social status and much more. And when adults organize the activities, the benefits of coaching and supervision, safety rules and proper equipment for children are available. So why not stick with it or push to the next level?
Throwing In the Towel
There is unhappy and bored, and then there is true suffering. When a child begs to quit an activity or begins to express significant anxiety before games, it may be time to throw in the towel.
But there are no hard and fast rules. "The key is to take time to really listen to your child," advised John Paschal, a local licensed clinical social worker who specializes in child and family therapy.
Signs a player is suffering may include excessive procrastination before practices, remarks like, "I hope coach doesn't put me in centerfield tonight," stomachaches before games and obvious anxiety. "At this point, a parent needs to start asking questions and assess the situation," said Paschal, who treats a number of children with anxiety and low self esteem. For whatever reason, if the child is suffering, the answer may be to pull the child from the activity.
The spontaneous kid play of yesterday has given way to structured activities supervised by coaches and parents with vested interests. An adult's involvement changes the dynamic of play, and today's adult-organized sports can create demands and expectations that exceed the readiness and capabilities of young participants. When that happens, the positive aspects of participation can be dashed. Feelings of failure and frustration build and, soon after, a child's self-esteem, confidence and even physical wellbeing can suffer.
Some children are emotionally ill-equipped to handle the pressure that comes with demanding competitive play, and the effects can be damaging. Players are hard on themselves and sometimes teammates and spectators are unkind. Coaches may put winning over an athlete's personal development. Even well-meaning parents can put pressure on players by yelling during games. Then parents talk about the game the whole ride home and recap the child's mistakes at the dinner table. The stress can pack an emotional wallop.
And then there's physical safety. Players with an inferior skill set or who are disengaged run a higher risk of injury. "Sometimes kids are forced by parents, but don't want to play. They'll probably get hurt and end up quitting," explained Mac Craig, longtime coach of the Winthrop Park Sheriffs. On occasion Craig has supported a child's decision to quit. "I like to give kids a chance to pitch," said Craig. "But if they can't protect themselves on the mound, I've got to pull them. It's important that the players are paying attention and want to be in the game."
Sticking With It
A child who simply complains about practice, or wants to quit because his best friend got drafted to another team, may benefit from a push. Unless a child is experiencing great stress or his safety is compromised, experts advise sticking with the activity until completion, while emphasizing learning and personal improvement over winning. The tough life lessons of commitment, getting along with others, giving your best in difficult times and dignity can be gleaned when a child sticks out a challenging situation. And hard-earned success is gold.
"I've seen players have tough seasons but stick it out," said Craig. "We had one last year with just one hit, but who this year leads the league in hits and runs batted in. Encouragement is the key."
Tips for sticking with it include strategizing with your child's coach if your player is overwhelmed with lots of new skills. Keep your child's attitude positive by praising, cheering for the team and being early for practice. Make practice a parent-free zone. And, remind your child there are lots of different sports and opportunities out there for him or her to try and potentially succeed at.
Private lessons in hitting or another essential skill can add confidence and player satisfaction by enhancing the player's performance. "You can't build an athlete," said Pascal. "But if you have a child with some ability and the desire to be better, this can be appropriate for overcoming certain challenges and improving."
Discouraged players may also benefit from a venue change. The very nature of an organization can determine if it has a positive or negative influence on a young player, according to the American Association of Pediatrics. Switching from a competitive league to a recreational or instructional league can take pressure off a player and make way for enjoyment, allowing a player to continue in the activity and reap the benefits.
The Next Level
A child who shows a passion and natural talent for a sport may benefit from a different type of push — increased challenge.
Running off the court after a successful drill and lay-up, 12-year-old Craig Mitchell asked, "Did you see me, Dad?" His father, Willie Mitchell, beamed with satisfaction. Craig participates in the Tallahassee Amateur Basketball (TAB) program, a competitive basketball league. "After several years of YMCA and city basketball, I wanted Craig to have the opportunity to play with some advanced-skill players," said Mitchell.
The push, along with Craig's positive attitude and drive, has paid off. "Craig knows he's not the best ball handler," said Chariya Davis, head coach of the 12U TAB Spurs and the Rickards High School women's basketball team. Davis, who was a standout college and professional basketball player, is also wrapping up her Masters degree in education. "But he's getting there. He's competing against players with more experience. At this age, when you work with and challenge a hard-working player like Craig, his progress increases and builds real confidence."
"Some kids actually ask me to push them," explained Davis. "They ask me to make them the best player, even through difficult times."
Game Plan
A good game plan can produce a season full of positive experiences. Paschal recommends first speaking to your child's pediatrician to determine their readiness for any sport activity.
Next, determine goals with your child. It can be as general as increased physical activity or as specific as improved rebounding.
"Most kids will never play on the college or professional level," advised Paschal. "Be realistic about your child's ability and their desires. Kids really just want to run around and have fun. That should be our goal for them, too." Be sure to revisit the goals throughout the season. If increased activity was your goal, then making all the practices is a personal victory.
Choose your venue — developmental, recreational or competitive. If possible, observe practices, gyms and coaches in advance or get parent recommendations. Patrick Baker recommends trying a new sport at a summer camp before committing to a season. "You're not actually on a team. Camps are about learning or just getting better," he explained. "There's less pressure, more fun, and it usually lasts just a week."
Next, set participation expectations with your child and give yourself a stopping point. "Sign up for six weeks of tennis or violin lessons and agree to reassess at that time," suggests Paschal.
Talk about the value of commitment and how you'll handle discouragement in advance.
Wrap Up
Davis advocates that there is a sport or activity for every child to excel in. And equally, that every child has an important role to play on their team. She encourages the player and the parent to recognize and praise that role.
At the end of young Craig's practice, Coach Davis sits on the floor with her players and talks about each child's skills and how to best use their talents in their team strategy. Players lean forward eagerly, waiting for their own praise and bolstering their teammates with knuckle bumps and backslaps. "You need to go hard even if you only get five minutes in the game," Davis wraps up while sweaty, young heads nod in agreement. "No team is perfect, no player is perfect. But each one of you will have a great moment, this I know."
Finding your child's great moment may take exploring multiple activities through challenging seasons and tough decisions. Through the thrill of victory and the agony of defeat. After all, perseverance is what winners are made of.