FYI: Air Travel and Your Pets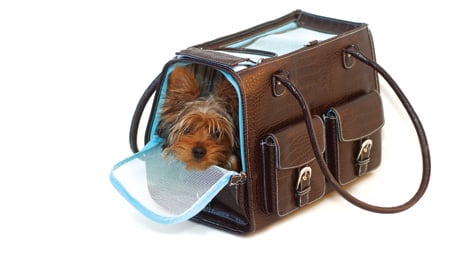 Carry-on, check or ship? The do's and don'ts of air travel with pets
Come Fly with MeSummer Air Travel Gets a Lot More Complicated When Fido or Fluff Tags Along
By Bonnie Haldane Lewis
Because vacation time is limited, planning a trip often involves finding the fastest route for the lowest price. When flying is the most practical transportation for a given destination, bringing a pet can make the process more complicated.
You can take pets as carry-on, check them as baggage or ship them. However, there are a wide range of requirements and limitations. Your pet will need a recent health certificate from your veterinarian. Airlines may refuse to transport an animal for reasons such as illness, poor kennel condition, or extreme temperatures at origin or destination airports. They also will refuse any animal that exhibits aggressive or violent behavior.
To carry on a pet in the cabin, the kennel must be small enough to fit under the seat in front of the owner and the pet must stay in the kennel throughout the flight. Space under the seats differs between aircraft styles, so contact the airline to determine the size you will need. Only one pet per kennel is allowed, and there must be room for the animal to stand up, lie down and turn around. There usually is a fee of about $50 to $100 per animal. Call the airline well in advance, since the number of pets allowed in the cabin is limited.
Larger pets need to be checked as baggage. Animals must be in comfortable kennels and are taken at the check-in counter and retrieved at baggage claim. They are placed under the plane in a pressurized and heated compartment. The cost is about $200 one way.
One of the most important factors in transporting a pet is the temperature in the baggage compartment. Some airlines will not transport any pet in the baggage compartment between mid-May and mid-September, and they will not transport if temperatures are predicted to be too high during other times of the year.
When transporting a pet by air, safety is the top priority. Local veterinarian Dr. Angela Coleman-Wiebe of Novey Animal Hospital advises pet owners to be proactive.
"Call the airline to confirm your flight will have a climate-controlled environment," she says. "And take the most direct flight possible to reduce the stress to the animal and reduce the chances of loss or injury."
Speak to your vet about your particular animal. Certain breeds such as bulldogs, pugs and Himalayan cats are prone to respiratory difficulties and should not fly. Some airlines have lists of breeds they will not transport.
"Air travel can be a stressful experience for pets," Coleman-Wiebe says. "For their comfort and safety, pets should be accustomed to their kennel before they travel. Walk dogs just before boarding, and use puppy pads to keep the pet and kennel dry."
Choose early-morning and late-evening flights to avoid the worst heat of the day. Label the kennel with the pet's name, your name, address and phone number. In large lettering on the sides and top of the kennel, print the words "LIVE ANIMAL."
Make sure the kennel is sturdy and in good condition. One missing bolt or loose hinge can mean escape for a frightened animal.
Provide water. Freezing the water ahead of time is a good way to cool the kennel, provide water for the pet and reduce spills.
Before you book a trip for your pet, you can find all the information on your airline's Web site. Other great resources available to help determine if your pet should fly include petflight.com, a Web site devoted to airline travel information. Besides articles and tips, you can find details on pet-related incidents reported by the airlines on the site. It's a great way to determine a specific airline's safety record.
Siteseeing: Web Sites You Might Like 
whichbook.net – At a loss for what to read? This site asks you to determine what makes "your kind" of book by making choices on different continuums – from happy to sad, easy to demanding, funny to serious, sex to no sex and so forth – and then makes suggestions from titles printed in English since 1995. It's fun to see what you want to read – even if you don't know what it is yet!
joshhosler.biz/numberoneinhistory/selectmonth.htm – Ever wanted to know what song was No. 1 on the charts on your birthday? This site, compiled by Seattleite and pop music aficionado Josh Hosler, takes you there. If you're lucky, you'll be attached to a classic such as Don McLean's "American Pie" (Feb. 5, 1972) or Elvis' "Heartbreak Hotel" (May 22, 1956). But if you were born on Oct. 16, 1976, we're sorry. On that date, "Disco Duck" was the hottest tune on the airwaves.
postsecret.com – It started as a community art project and has become a phenomenon: People anonymously write down their innermost thoughts and deepest secrets on postcards
and mail them to Frank Warren. He uploads them to his blog every Sunday for the Internet world to review. Since 1995, he has compiled four volumes of these artistic confessionals. 
Did you know?
It's not your imagination – July and August are the hottest, rainiest, most humid months of the year in Tallahassee, according to cityrating.com. The average temperature for both months is 81.3 degrees and the rainfall averages 8.8 inches in July and 7.5 inches in August.