Fursome Foursome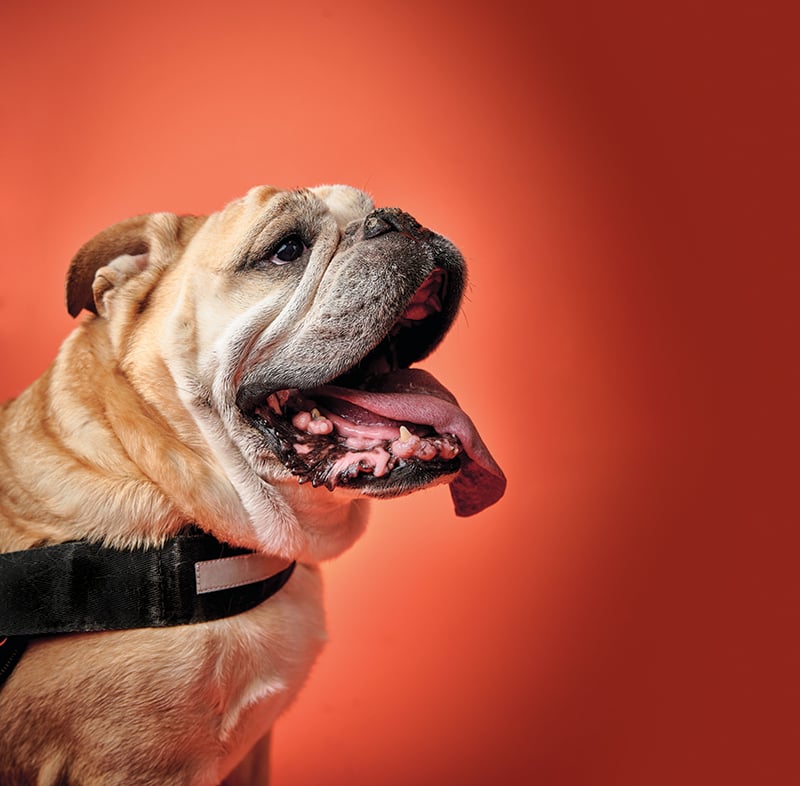 With a mighty maw and a tongue Gene Simmons would envy, our Tally Top Pet proved that it pays to be bullish, even in a beauty pageant.
With a pyrrhic victory sure to be celebrated by marsupials everywhere, Dolly Parton (the possum) qualified for the Final Fur in this year's Tally Top Pet competition, sponsored by North Florida Animal Hospital and benefitting Be The Solution. Had credit been given for hanging by your tail, she might have won, but as things were, she lost out to a lovable loaf named Big Sexy.
---
The 2023 Tally Top Pet: Gunner
"All the ladies love Big Sexy," Ashley Hand laughed.
Gunner, as he is formally known, shares his name with Hand's nephew, so Hand settled on the nickname Big Sexy years ago. The lovable English bulldog certainly lives up to his moniker, laying on the charm with a tongue so large it simply won't stay in his mouth and puppy dog eyes to end all puppy dog eyes.
Despite his formidable swagger, Gunner isn't too cool for cuddles. He spends most of his time lounging around the house and curling up with Hand whenever he gets the chance. When she's off at work as a charge nurse, Gunner spends the day with Hand's mother. He gets plenty of cuddles there, too. Just about the only exercise he wants is an excited jog to the car when his mom shouts, "Time to go see Mimi!"
Gunner gets overexerted pretty easily. He's an old boy now, somewhere between 10 and 12 years by the veterinarian's estimation. And though his quality of life is good, Hand said, he is in the advanced stages of heart failure. Gunner's early years are something of a mystery, but he came into Hand's life as a bright spot in a difficult time.
Back in 2017, Hand unexpectedly lost her English bulldog Tank, who was named in honor of her father's military service. Three days later, she got a call from a friend at Georgia English Bulldog Rescue, a nonprofit organization of which Hand is a member. A woman with Hand's middle name had picked Gunner up on the side of the road with no way to identify his owner. All he had was a tattered collar that bore his name.
Between Hand's shared name with the woman, Gunner's shared name with her nephew and the strong military tie-in of his name, Hand decided the serendipity
was too much. She had to bring him home.
"I had concert tickets to see Jon Pardi that day," Hand remembered. "As soon as they called me, I said, 'Jon Pardi is going to have to wait because I have a hot date.' I drove straight to Atlanta and picked him up."
Gunner was timid at first. It quickly became clear that wherever he had come from, he'd been abused and neglected. Hand was heartbroken over how fearful he was when she first arrived and resolved to give him the best life possible.
"When I got him home, it was the cutest thing," Hand said. "I guess the way that he consoled himself was to take my throw pillows and suckle on them almost like a pacifier. That was the way that he fell asleep. It had a calming effect on him, so I went out and bought pillows and blankets just for him."
Bulldogs, Hand said, are prone to health issues, especially when they aren't properly cared for at a young age. They can be a handful and need copious attention, but their sweet, goofy personalities far outweigh any inconvenience.
"He is super lovable," Hand said. "I only hope that I can make the years that I have had him outweigh the years that he spent before me. He deserves everything."
---
Bugsy
Whenever Bugsy's long-legged stride carries him through Cascades Park, Roger Mercer hears one of two comments again and again: "That's not a dog," they will say. "That's a pony!" or "Where is his saddle?"
But, no. Despite his massive frame and long snout, Bugsy is no horse. He's a Great Dane, or as Mercer often says, he's a "purebred attention hound." Great Danes are listed among the world's largest dog breeds, and Bugsy, when standing on his hind legs, can easily wrap his arms around Mercer's teenage daughter for a big, slobbery hug.
You would not believe it now, but Bugsy was once just a tiny, shivering pup curled up in the back of a kennel, trying not to get stomped on by his much larger littermates. Some five years ago, the Mercers lost their standard poodle and resolved to fill the big dog-shaped hole in their lives at Tallahassee's Big Dog Rescue. Needless to say, they got more than they bargained for. As Mercer and his late wife, Karen, picked out a bubbly puppy at the front of the litter, their daughter locked in on the two sickly pups at the back. Bugsy and his brother Leo were covered in fleas and racked with kennel cough, but she didn't care. Mom and Dad couldn't say no.
Bugsy had a rough start to life, but it never dimmed his shine. Mercer said he's been a big ball of affection from the moment they brought him home. Unlike Leo, Bugsy does not have an anxious bone in his body. He is known to scooch up close and lean his weight against anyone who has hands for petting, and if you are sitting down, get ready for the lankiest lap dog you have ever seen.
"We were visiting a patient in the ICU who had two family members in the room with them, and Bugs spent about 15 minutes sitting in the lap of the patient's adult daughter," Mercer said.
Bugsy puts his sociable personality to work as a Tallahassee Memorial HealthCare animal therapy dog, a program in which the hospital trains pets and their owners to provide comfort and companionship on-site and at the courthouse, sheriff's headquarters, local colleges and elsewhere. Mercer said Bugsy loves his job but believes the therapy is meant for himself. He meets new friends, gets treats, then goes home for a nap.
"The TMH program is really great," Mercer said. "They take a lot of time training the dogs and their owners. People think their dog needs to be perfectly obedient to get involved, but they don't. They just need to be comfortable and friendly with new people and in strange environments."
---
Waffles
When the American Kennel Club National Championship comes on TV, Waffles keeps her eyes fixed on the screen, dreaming of stardom. That's what her parents, Drew and Becca Piers, imagine anyway.
Thanks to her mom, Waffles has become a mainstay at the North Florida Fairgrounds' Dog Agility Trials. Drew describes the 5-year-old miniature Australian shepherd as "fierce, fast and ferocious" in her backyard training sessions with Becca. Waffles scurries through tunnels, zips around corners and soars over hurdles with excitement and ease. Aussies are natural herding dogs, after all, and Drew believes it is just as important to train Waffles' brain as it is to keep her healthy and active.
"When it comes to the actual competitions, she, candidly, does not do well," Drew chuckled. "There are so many people that she wants to go meet every single person, so she ends up actually doing quite poorly in the competitions, but the reality is that we love doing it and she loves it."
Waffles' social disposition may stand in the way of fame and fortune, but the pup's friendliness and excitability are perfect for her family. Before bringing Waffles into their home, Drew and Becca seemed to notice miniature Aussies on every corner: with friends, at the park, in commercials and online. It felt like a sign, so when the couple found a group of miniature Aussie pups for sale, they decided to bring one home.
Though she's now fully grown, Waffles is routinely mistaken for a puppy on her walks around Cascades Park. Cascades, Drew said, is one of Waffles' favorite spots because of all the attention and pets she gets from passersby.
"We do the whole mile loop and usually stop for coffee at the Power Plant Cafe so she can meet some friends," Drew said. "It probably takes us twice as long to walk around the park because she's a cute dog and everyone wants to come up and meet her."
Back at home, Waffles greets guests at the door by wagging her tail and jumping straight up into the air. The vertical hops are pretty impressive for such a petite pooch. They often surpass waist height, Drew said. When Waffles reaches midair, Drew and Becca like to scoop her out of the air for an impromptu cuddle session.
Drew keeps Waffles entertained on Saturday afternoons with a big bucket of tennis balls behind the house, chucking one after the other across the backyard for her to retrieve. That is when Waffles is really in her element. The only thing that can drag her away from the tennis balls, Drew said, is a Kong toy packed with peanut butter. That will hold her attention — until the peanut butter is gone, that is.
---
Dolly Parton
Country music legend Dolly Parton once said, "Mama used to say, 'Aw, she's just trash,' and I thought, 'That's what I want to be when I grow up. Trash.'"
Parton's love of all things trashy and beautiful planted a dream in Morgan Shanaghan's heart years ago. She wanted a pet opossum, she wanted it to be a girl and she had to name her Dolly Parton. After a few years of pleading and bargaining, her husband relented, and the pair set out to welcome a furry little marsupial into their home.
"I looked into it, and you actually have to have a permit to have an opossum in Florida, or the (Florida Fish and Wildlife Conservation Commission) will take them from you," Shanaghan said. "They don't play. So we spent a year finding a person who had pet opossums."
The first litter born was, much to Shanaghan's dismay, all boys. While the couple mulled over names like Garth Brooks, they ultimately chose to wait, and in April 2022, Dolly made her debut.
When Shanaghan brought her home, Dolly Parton was a tiny thing, no bigger than a mouse. Dolly Parton is fully grown now, but Shanaghan's son still calls her Mousy. Between her hot-pink cowboy hat, plush bed and crocheted coat of many colors, it's clear that Dolly Parton is the queen of the house and a total diva. When she isn't napping, chowing on grapes or rummaging about the house, scooping up loose laundry and paper towels with her tail, Dolly loves playing with Shanaghan's little ones, clinging to their shirts as they squeal with delight.
Dolly's personality is somewhere between a typical dog's and a cat's, Shanaghan said. She is lazy during the day, but 4 a.m. is the perfect time for zoomies. When it comes to intelligence, on the other hand, Dolly and her opossum brethren lag a bit behind their feline counterparts.
"I don't know why God made these creatures the way he did," Shanaghan said. "They are so stupid. They really are, but they are so sweet. They are very soft and super clean. She is literally like my weird stepdaughter. I love her very much, but she is very strange."
It's not lost on Shanaghan that she has an unusual pet, but she doesn't mind. It's an opportunity to educate others about these delightfully strange little critters.
"A lot of people think they are aggressive, but that's completely wrong," Shanaghan said. "They are terrified of us. They're almost like fainting goats. If you look at the way she snatches food out of her bowl compared to how she gently takes it out of my daughter's fingers, you'll see how she is the sweetest animal."
On the rare occasions that Dolly ventures out into the world, Shanaghan said, people are fascinated by her. A routine stop at the pet store can quickly turn into the red carpet, but that's the price of celebrity. Whether in person or through social media, Shanaghan said, people tend to be very curious about Dolly. Once they get to know her, they become much more compassionate about animals they might have written off in the past.
"People think, 'Oh, that's a garbage animal,'" Shanaghan said. "Do they like garbage? Sure, but she is not garbage. She is just beautifully trashy."
---