Full S.T.E.A.M. Ahead!
Curriculum combines arts and sciences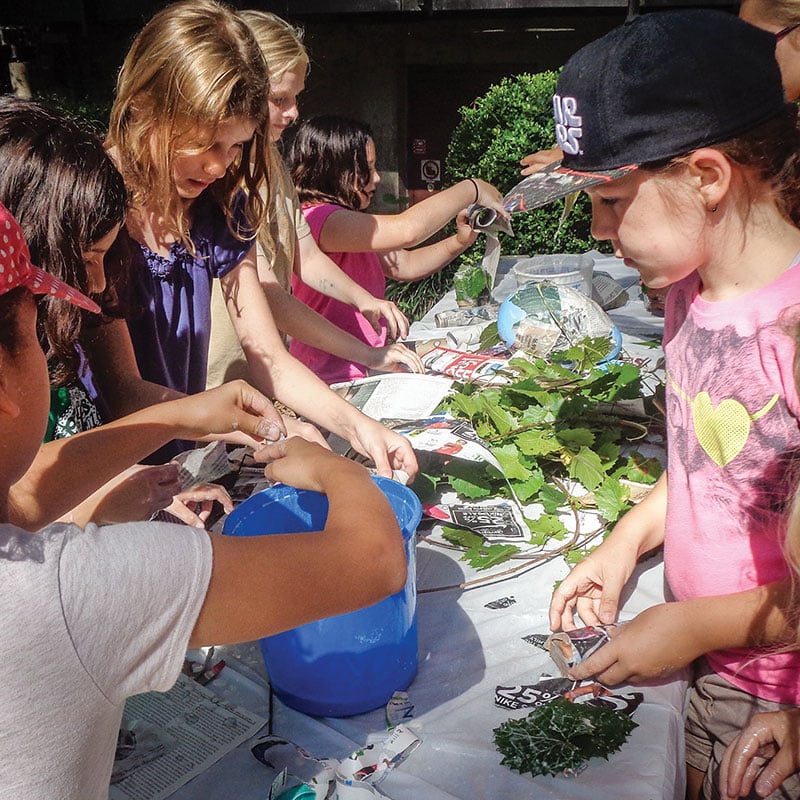 Science, technology, engineering and math. Since the 1990s, these areas of study, which are often referred to as the "STEM" subjects, have been considered by many educators to be the ideal framework for our nation's public school curriculum.
Advocates of STEM education cite a rise in STEM-related career opportunities and  high salary potential in those careers as reasons for students to focus on STEM subjects from an early age.
However, in an article for the Washington Post, Lisa Phillips wrote, "There is a significant gap between what children are told is important for their future career success and what business leaders actually want from the emerging workforce. … CEOs of some of the largest companies in the world are craving talent who can think creatively, find solutions to challenging problems, build relational capital with clients and partners, communicate effectively and adapt to a constantly changing global market."
So how do educators in Tallahassee's public school system teach children the skills they need to thrive in the 21st century? They teach the STEM subjects along with the arts, resulting in a new, expanded framework for education as well as a new, expanded acronym: STEAM.
"Art is in everything we do," says Ahmet Temel, the principal of the Tallahassee School of Math and Science. "We are trying to prepare our students for life … so we encourage hands-on learning." As examples, Temel points to the school's garden, which is a student project, and the pallet benches that were built by the school's third-graders.
Collaborative, hands-on work is also important to Karen Parsons, who has been an educator in Leon County since 1980. Parsons currently works as the gifted programs instructor at Killearn Lakes Elementary School.
"I'm always looking for activities that help students work together," she says, "and I love projects that integrate multiple areas of study, which is what STEAM is all about. It's a way of thinking — a unifying of both hemispheres of the brain."
Parsons is not alone in believing that the STEAM subjects should be taught together. Zoologist and journalist Steven Ross Pomeroy wrote, "Though many see art and science as somewhat at odds, the fact is that they have long existed and developed collaboratively. This synergy was embodied in great thinkers like the legendary Leonardo Da Vinci."
STEAM in the Community
Natasha Hartsfield, Director of Education at the Tallahassee Museum, says, "The Museum uses the arts to teach natural science and history through a variety of means. … Our STEAM programming tackles real world problems, like water pollution, and provides a platform in which students are able to design solutions through the use of technology, design, engineering and math."
Visitors to the Tallahassee Science Festival, which has been held for the past five years at Lake Ella, have the opportunity to see STEAM at work. This past September, the FSU Department of Mathematics taught Science Festival guests about fractals — repeated patterns — that are found in nature. These include pineapples, lightning, seashells and snowflakes. Nearby, Dr. Ronald Williams, a physics professor at FAMU, explained light, wavelengths and the color spectrum.
Kristin Roberts, public relations director at the National High Magnetic Field Laboratory, says, "At the MagLab, we use the arts to explain our cutting-edge science every chance we get! … We turned fruits and vegetables into pianos to demonstrate circuits, debuted a "singing" magnet, and even featured a one-of-a-kind opera performance at the world's strongest magnet in partnership the FSU Student Opera Society. … We've learned that sometimes, stories of science sound
best when played by a symphony, and other times, framing complex research with a famous portrait is
the best way to show the whole picture."