FSU's Brand New President's House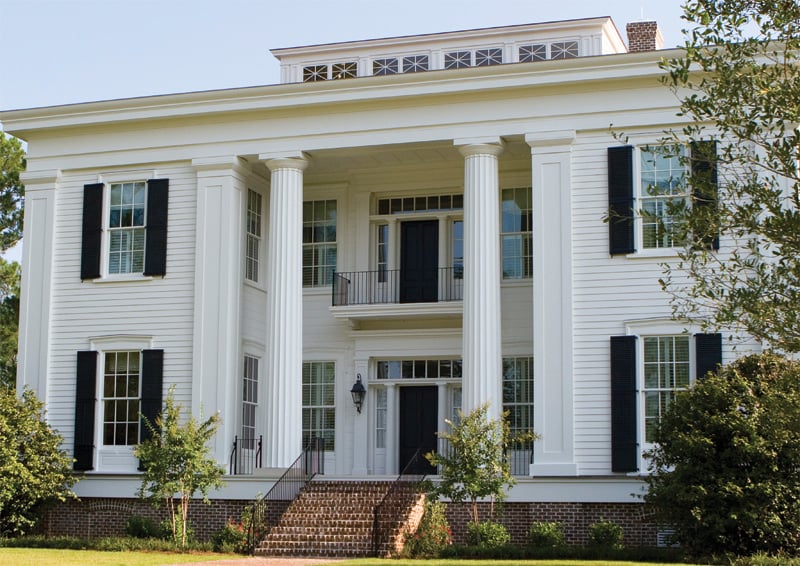 FSU's house museum may be brand new, but, nonetheless, it is comparable in authenticity to Tallahassee's stately Goodwood Museum & Gardens. Both are Antebellum structures. Both possess that Southern subliminal sense of theater and joie de vivre.
Goodwood, one of the oldest houses still standing in Florida, is the crown jewel of a collection of 19th- and early 20th century buildings located on approximately 19 acres off Miccosukee Road. Its architecture combines Gothic Revival and Federalist details with Italianate influences. The distinctive ceiling medallions and frescoes dazzle visitors.
FSU's imposing black-shuttered, white-frame Greek Revival house stands on its familiar West Tennessee Street campus site as a visual and virtual asset to the 14-acre Alumni Association complex. It is filled with antiques donated by alumni and treasures from the university's Museum of Fine Arts, as well as 17 paintings on loan from the John and Mable Ringling Museum of Art in Sarasota. It is furnished in the traditional garnet and gold school colors with subtle fabrics and hues.
You can't pay for a tour of the President's Home as you can with Goodwood Museum, although you may be fortunate enough to get an invitation to the new "house on the hill," as the previous President's Home was known for generations. Certainly, the Ice Cream Socials will continue in the spring. President T.K. Wetherell and his wife, Virginia "Ginger" Wetherell, will welcome students, faculty, staff, alumni, legislators and government officials, national and international dignitaries and scholars, as well as representatives of corporations and granting agencies and other key constituents and friends.
Elegant and refined, the new President's Home stands in classic dignity as a timeless campus landmark. A newcomer might believe it always was there. Ginger Wetherell, named project manager by the FSU Board of Trustees, planned it that way. She chose the Greek Revival architecture because it is her favorite (the couple built their own Greek Revival home 10 years ago) and found a prestigious architectural firm in Georgia that specializes in the style. There is an added historic significance. It is believed that the new President's Home repeats the architectural style of the main building of FSU forerunner West Florida Seminary. That all-male academy's structure was built around 1880 on the site where FSU's Westcott Building now stands, making it the oldest site of higher education in Florida.
"I wanted this house to feel like it has always been here, to feel like it was here before the university started, and the university grew up around it," Ginger Wetherell said.
The 13,068-square-foot structure replaces FSU's first President's Home, which was renovated to serve as a Welcome Center for the Alumni Association. The McIntosh House, built in 1895 at the corner of Duval and St. Augustine streets, was moved to the FSU campus in 1948 as the home for then-president Doak Campbell and his family. Seven additional families subsequently lived there. One can see the former residence from the library of the new President's Home.
During the transition period of renovating the McIntosh House, university presidents Sandy D'Alemberte and Wetherell lived off campus in their own homes. That not only was difficult for the presidents, it was a handicap as far as the university was concerned.
As President Campbell noted in his book, "A University in Transition," a president's house is "much more than merely a place for the president and his family to live." It also offers a gracious and unique setting for the university to extend its hospitality and celebrate its accomplishments.
D'Alemberte had a home in the nearby Woodland Drives neighborhood. The Wetherells had to drive almost 35 miles to Jefferson County after late evenings on campus. A room was transformed in Dodd Hall as an on-campus pied-à-terre for President Wetherell. It now will be used by visiting trustees and dignitaries.
John Thrasher, a former House speaker who holds baccalaureate and law degrees from Florida State and was the first chairman of the Board of Trustees when it was created in 2001, said his travels around the state as a legislator convinced him that FSU needed a new and distinguished President's Home. It was decided that no public funds would be used.
While the Wetherells have their own private residence – a 1,000-acre plantation on land adjacent to that of billionaire Ted Turner near Monticello – FSU presidents in the future might need a place to live, said Thrasher. The Wetherells announced several years ago that their wills bequeath the Jefferson County property to Florida State.
FSU presidents in the future might need a place to live, said Thrasher.
When plans for the new President's Home were announced, there was a generous outpouring of donations from alumni and supporters.
"That response," Thrasher said, "is a direct reflection of the popularity of President Wetherell and the first lady."
Ginger Wetherell was perfect for the formidable task. An Alabama native, she was the first woman elected to Florida's House of Representatives from Pensacola and the first woman to lead Florida's Department of Natural Resources and its successor agency, the Department of Environmental Protection. She now has her own consulting and lobbying firm, and she has held top positions in the private sector as well as public.
Ginger Wetherell likes to entertain, and she understands what is needed for small and large events. Knowledgeable about architecture, home furnishings and art, she devoted her time to researching and planning an outstanding home for FSU's first family – now and for the future. She developed a passion for the job, which, as she says, "consumed" her for two years.
She and President Wetherell visited presidents' homes in the Atlantic Coast Conference and many in the Southeastern Conference. Ginger Wetherell particularly admired the University of Georgia's in Athens because "it's the real thing," as well as the outstanding homes at the University of Maryland and the University of Virginia.
"We learned that the most successful homes not only were elegant and efficient for entertaining large crowds, they were comfortable and gave the family a sense of privacy and the feeling of being home," she said.
Ginger Wetherell has seen to it, for example, that if the next president's family enjoys cooking, it will have the dream kitchen for it. All appliances are by Viking – ranges, ovens, refrigerators, dishwashers and blenders – because that's what Ginger has in the family home near Monticello. The kitchen isn't huge – 14½ feet wide and 21 feet long – though it has plenty of counter space and shelves. It is bright and airy, and there is a breakfast alcove for dining in, with a glorious view of the grounds.
The Wetherells' three children are grown, but the President's Home has two guest bedrooms in case future presidents have youngsters at home. There are spaces left in each for a desk and study niche.
A small kitchen and sitting room are provided on the third floor – the family quarters – for privacy. Youngsters could hang out there, for instance, if there is a formal dinner downstairs, or if the president has guests.
"Our biggest challenge was to make it comfortable for two people and also make it accommodate 200 people," said Aaron Dailey, a partner in the Atlanta Historical Concepts firm and main architect for the President's Home. "Ginger Wetherell knew exactly what she wanted and T.K. knew that she knew what they needed."
Dailey usually was in Tallahassee every month to oversee the building's progress. Everyone, from the student craftsmen to contractor Skip Sheffield, shared Ginger Wetherell's passion before they were through, Dailey said. Those students, part of FSU's Master Craftsman Program, created most of the moldings throughout the house and the columns of the fireplace.
Sheffield had built the Wetherells' home a decade earlier and knew that only perfection satisfied his clients. Dailey and Sheffield also admired the Wetherells' willingness to pitch in and help.
"T.K.'s the president of a major university, but he's not afraid to get his hands dirty," Dailey said.
Diane Sheffield, who joined her husband on the site as the completion deadline neared, painted alongside her hostess and fell in love with the "deep pongee" paint (a rich lemony gold color) they were using. Her brother, Bill King, was superintendent for the job.
"It's the opportunity of a lifetime for our company," Skip Sheffield said. "Architecture is my passion. I'm proud of this home, and it will be handed down for generations. Who could ask for anything more?"
The Wetherells considered land off campus for the new President's Home but decided it should remain across from the main university with its downtown presence.
From West Tennessee Street, the President's Home appears to be only two stories tall with a long brick walkway and steps leading up to the second floor, the main floor. From the back, the home appears to be three stories tall with a cupola, and the first floor flows easily from the screened porch that spills onto the lawn for entertaining.
That's the utilitarian floor, but it's smashing and impressive. The catering kitchen gleams with stainless steel appliances and a dumbwaiter that goes up to the main floor and family quarters.
There is a 200-piece place setting of garnet and gold Homer Laughlin china (donated by Aramark, the food and service vendor on campus) and a 24-place setting called "Tassel," also in garnet and gold, by the Mottahedeh company. There also is a Spode pattern with an American eagle that the president selected. Shelves are lined with water glasses and various wines.
The Event Room is comfortable, with a relaxed feeling for fun – complete with an enlarged photograph of Lane Fenner's foot inside the goal line in the controversial FSU-Florida football game of 1966. FSU's president was a wide receiver on that team with other such stars as Ron Sellers and Fred Biletnikoff.
The floor in the Event Room is heart pine that came from Montgomery Gym. FSU alumnus Jerry Gluesencamp installed the flooring from the cut wood with an unusual pattern that required 20 sandings.
There is an elevator for convenience, but the stairways and random-planked floors are beautiful and crafted from heart pine salvaged from Northern industrial companies.
The main floor, designed for formal entertaining, has three fireplaces and handsome antiques mixed with good reproduction pieces found by Ginger Wetherell. Benefactor Ada Belle Winthrop-King donated the courting chair in the cypress-paneled library, the dining chairs, a 12-piece service of Gorham Buttercup silverware that is used daily, and the lyre-backed chairs in the breakfast nook. The butler's pantry also holds a 12-place setting of Havilland china contributed by FSU alumna Rebecca Hood. Bronze sculptures by Frederic Remington, donated by FSU alumnus James E. Kirk Jr. of Ocala, are accents in the library and master sitting room on the top floor.
The early 18th-century French chandelier in the dining room came from the former President's Home. Another exquisite chandelier hangs in the living room. It also is from the 1800s with crystal prisms and brass and originally was lit by gas. Ginger Wetherell found it and most of the other light fixtures at the Brass Ring in Thomasville, Ga.
"The Chess Players," by Jacques Emile Blanche, hangs over the living room mantle, and another favorite of Ginger Wetherell's, "Still Life with Fruit" by Juriaen van Streeck, hangs over the mantle in the dining room. The president's favorite artwork from the Ringling collection is "Harbor at Sunset" by Gaston Anglade. It hangs over a mahogany chest.
The Wetherells bought the two Turkish rugs for the living room while on a university-sponsored tour of the Greek Isles.
An enchanting feature of the living room is a traditional design detail of Greek Revival architecture: the windows from the floor almost to the ceiling leading onto the back porch. A 6-foot, 2-inch man can stand in the open windows.
Ginger Wetherell's goal is to leave the President's Home exactly as it appears while she and TK are living there.
"We have some personal pieces in now, but I'll replace them with gifts or university museum items as I can," she said.
With time, the Wetherells and the university's trustees hope to complete the President's Home complex with a three-car garage designed to look like a carriage house, a summer kitchen or covered terrace for outdoor entertaining, and a guest cottage. Those will be built as funds allow.
For now, one thing is certain: Ginger Wetherell has the mindset of running a proper house, even though it is for an institution.