FSU Women's Basketball Players Are Ready for Their Close-Ups
Taking Shots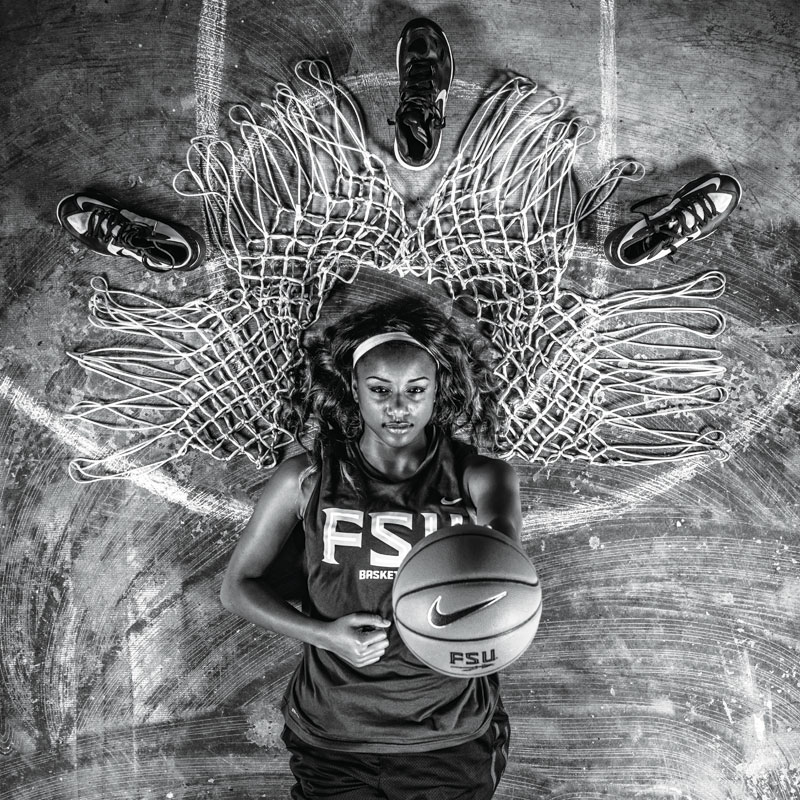 Think "team photo" and what comes to mind usually is a perfectly spaced semicircle of uniformed members. Or the team lined up on the bleachers — the front row cross-legged, with the ball and equipment representing the sport front-and-center.
But in 2009, the Florida State University women's basketball team, in conjunction with Ron Sachs' Tallahassee PR firm, blew that concept out of the water with photos of players glammed up with hair dos, makeup and satiny dresses — along with basketballs and hi-tops — posing alongside limousines.
"We don't want to just be the standard cookie cutter poster," explained John Neiser, the team's director of communications. "Our coaches are passionate about being a little bit more creative and different. Really trying to catch the eye of our fans, our recruits and other boosters."
Some blogs and stories griped that the first year's glamour shots were too sexy, and the story rocketed around the Internet. "It got mixed reviews, but it definitely got a lot of reviews … It was crazy. Our website got 11,000 hits in one day," said Erin Pace, the director of design at Sachs Media Group, who worked that original shoot and every one since then, including the 13-hour photo shoot on Aug. 31 to immortalize the 11-member 2013–14 team.
This season, the team's theme is "Be More," and Pace made plans for photo shoots at three locations throughout the day. The morning started with casual shots on the blacktop courts at the Palmer Munroe Teen Center, including a photo of the entire group with their game faces on, walking toward the camera in a flying wedge. Intimidating? Let's just say you wouldn't want to challenge this crew to a game of H.O.R.S.E.
Then it was off to the locker room at FSU's Basketball Training Center for some hair and makeup, courtesy of students from Tallahassee's Aveda Institute, in preparation for individual and "class" photos taken in the team's white game uniforms. After losing four starters from last year's team, the largest class on this season's roster are the four freshmen, who yukked it up in their photo. The Seminoles' two seniors, Natasha Howard and Cheetah Delgado, were more subdued and smiling.
"Some people don't like makeup, but I said 'Do whatever will make me look pretty,'" said Gabrielle "Gabby" Bevillard, a freshman recruit from Bishop, Ga. Senior guard Delgado, who declared, "I don't wear makeup, never," did sit down for some foundation and eye shadow.  Others weren't so open to the notion. "I draw the line at lipstick," one was overheard telling her teammates as she waited for her time in front of the camera.
Each player had her star turn, directed by Pace through a series of poses for about 15 minutes — ball under the arm, pensive profile, smiling, serious, mug shot and passing/jumping action shots. In one, the player would hold a basketball in front of her chest, elbows up, showing to perfection the results of pre-season weightlifting and conditioning — sculpted arms that would make the First Lady envious.
Photographer David Barfield of Pensacola probably got the hardest workout. He was either sitting on the floor or even lying prone on his side trying to capture a dramatic angle in the 1,500 frames he shot throughout the day.
The third location was a "concept" shoot held in an unair-conditioned warehouse off South Monroe Street. Pace created a shallow pool of water where players would bounce basketballs, drop barbells, jump around and get showered with water. The results — young women partially in shadow with water droplets captured mid-splash — were striking and powerful images.
In addition to appearing on the approximately 1,500 posters, 5,000 season schedules and game tickets that were printed up, the photos are also important for recruiting — in printed material and blown up into posters that line the hallways of the basketball center. "We'll use them all over the building. I think it's important for (potential recruits) to see themselves in these places," said Head Coach Sue Semrau. "The players that are here now saw this — and now they're part of it."
The photos aren't just for fun, and "Be More" isn't just sloganeering, according to Semrau.
"I think it gives our players a chance to show the other side of themselves. They're more than just basketball players; they're more than just athletes," she said. "When you come to Florida State, you know that is a principle of what we do. You are going to be stretched and challenged as an individual, and your character will be developed."
And the message, she says, is designed to go much further than just the team members. "I hope it reaches down to the younger generation — who these young women are role models for — and then I hope it reaches to generations above who are … getting joy from the fact that maybe these young women have an opportunity that I know I didn't have."
Wanna' go to the game? Season tickets for the 2013–14 Florida State women's basketball season are on sale now and can be purchased at seminoles.com or by calling the Seminole Ticket Office at 1 (888) FSUNole.
Season tickets are $50 for adults and $25 for youth and seniors. FSU also offers a "Family Pack" for women's hoops season tickets which includes two adults and two youth tickets for $99. Additional youth tickets can be added for $15 each.
A season ticket is good for 15 homes games being held from Nov. 8 through March 2, plus an exhibition game against Faulkner University on Nov. 3.

Team Building
When your basketball team graduates five seniors, losing four starters, things might look a little bleak for the next season.
Florida State women's basketball head Coach Sue Semrau is aware of the challenge facing her young team, but she's pleased with the makeup of her 2013–14 season roster, which includes four freshmen.
"I think we have as much or more talent than we had last year," she claimed. "Now (we've) got to hone the talent, versus relying on the experience."
Although there still is experience on the roster.
Natasha Howard is the only returning starter, but the All-ACC First Team player is expected to be a contender for All-America honors in her senior year. Semrau also name-checked transfer Morgan Jones, who has yet to play as a Seminole, but was on the Big Ten's All-Freshman team when she played for Northwestern.
"We've got a great core, we've just got to get some experience together; that's the thing we've got to work so hard to develop," the coach said.
The team was able to get a head start on practicing and playing this summer, as part of a 10-day trip to Senegal and Italy in August. They had limited practice time together before the trip, which was sponsored by Nike, and played four games while they were overseas.
NCAA rules allow teams to travel internationally every four years and, for the first time, freshmen were allowed to take the trip, said Semrau, who reported that three of the four first-year players (Gabby Bevillard sat out of the games because she was recovering from an ACL injury) tallied a double-double. "They're pretty talented, so I think it will be fun to watch them grow," she said.
And it's not just the basketball skills that were growing during the trip, which included sightseeing and a visit to an African orphanage.
Center Kai James and forward Bevillard, both freshmen, used the same words to describe the African portion of their trip — "eye opening."
"The best thing was probably going to the orphanage and doing the basketball clinic," recalled Bevillard. "It was just crazy how the kids have, like, nothing and we're so blessed, especially as college basketball players."
In addition to the huge difference in material wealth, the food and culture also took James out of her comfort zone. "But that's the place where you grow," she said, "when you step out of your comfort zone."