FSU Program Helps Less Fortunate Students Achieve Their Medical School Dreams
Bridging the Gap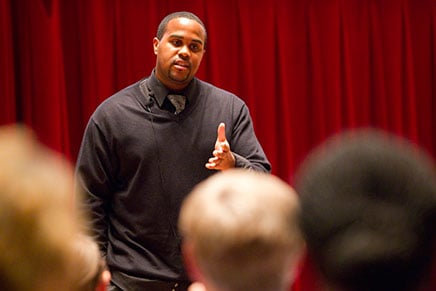 He took a deep breath before turning a knob that could open the door to a better future. His nerves were on edge. Although confident, he was used to being told "no," "can't" and "sorry." This interview could make or break his chance of getting into medical school. Only a few people had ever taken the time to see the potential in him. Why would this occasion be any different?
Rashad Sullivan, 28, recalled applying for the Florida State University Bridge to Clinical Medicine Program three years ago. Designed to give 10 disadvantaged students each year the opportunity to prepare for and be accepted into medical school, he assumed his unfortunate circumstances might have been too great to secure him a spot.
Hailing from the small town of Leesburg and raised with eight siblings by parents who were on and off drugs, the young father's early years were far from sweet. Despite the odds, he graduated from Florida A&M University with a Bachelor of Science in biology/pre-med.
Many thought his good fortune would have stopped there. Only about 4.3 percent of students attending college are African American men. Of that small number, only about 37 percent graduate. Luckily for him, Sullivan's previous hardships are what made him eligible for the program. For that, he is forever grateful.
"They're like my family. They want to see me succeed," Sullivan said of the administrators and instructors in the Bridge to Clinical Medicine program. Looking at the big picture, the family comparison is ideal. The Bridge is a part of FSU's Outreach Program Pipeline, a combination of several initiatives starting as early as middle school and continuing through college, that helps mold less-advantaged students who might not
have an interest in the sciences into star pupils.
"It's a consistent interaction with these kids. We also can attest to their character and what type of student — what type of physician — they will become," said Thesla Berne-Anderson, an assistant director of the Bridge Program who works closely with preteens and teens working their way through the earlier divisions of the Outreach pipeline.
The Bridge Program became the last piece of the pipeline when FSU's College of Medicine opened 10 years ago. Seventy percent of the students selected for it go through the feeder process. The rest are selected from the general application pool. If a student graduates from the program with a B average or higher, he or she is automatically accepted to the FSU College of Medicine. The master's degree they obtain can be taken elsewhere, but because students are guaranteed a spot in FSU's med school, they generally don't pass up that opportunity.
The Bridge Program's non-traditional mission is to train today's students to become physicians helping the under-served populations of tomorrow.
"We say non-traditional in terms of coming straight from high school to college, or [having] no mother [and] no father … not just in terms of ethnicity, but age too," said Helen Livingston, the program's director who has been nourishing it from inception.
"I know that we function better as a diverse population," Livingston said, "I have benefited from being a member of a diverse population."
She is part of the team that handpicks the students for the Bridge program each year. Her applicants' success isn't the only thing keeping her going. What drives her most are the individual's stories, part of the process she said is a humbling experience.
"Occasionally I have a chance to look at the global impact and it's almost overwhelming," Livingston said.
In almost half of Florida's 67 counties, there are fewer than 100 physicians for every 100,000 patients — and only a small percentage are minority.
Not only does the Bridge Program cater to those who have been interested in the sciences for years, it's also open to those who don't have a college major in the sciences. All applicants must have completed core science classes such as biology and chemistry, a GPA that improves from semester to semester, a service-oriented background and have taken the MCAT.
To stay true its mission, FSU's Bridge program focuses on accepting students from Florida, but also accepts people who obtained undergraduate degrees in other states. This helps fulfill the mission of supplying the Sunshine State with a varied physician pool.
"Our specific purpose is to assist this college with its diversity initiatives …We are achieving what we set out to do," Berne-Anderson said.
The rigorous courses also prepare them for academic success in medical school. The students take two med-school courses, non-medical courses such as Clinical Ethics and do a semester's worth of research in the community.
Sullivan is a prime example of a Bridge program success story. He was an assistant coordinator and taught anatomy class for the SSTRIDE program (a pre-college segment of the Outreach pipeline that prepares high school students for college-level science courses) and developed a bond with the directors through that experience. They saw his potential and thought he'd be perfect for the Bridge program.
Now, two years into the College of Medicine, he firmly believes their faith in him is a big part of what prepped him for success. Sullivan admits it was rough getting a handle on some of the coursework in his early months in the Bridge program. He failed his first anatomy test. Although the grade is a vivid memory, the professor's words to him after dismissing class were brighter: "What do I need to do to help you do better?"
That concern helped Sullivan earn an A on the next exam. He passed the class with a B.
"Our Bridge students are at the head of the class. They're helping the other students," Livingston said with a small smile.
Sullivan agreed. "I had all the help I needed … Most people hit the ground running when they start med school right after getting their bachelor's. I gently landed here."
Sullivan's graduation is only a couple years away. His dreams are becoming tangible. And he is motivating the young men that he mentors to strive for what they may think is impossible.