FSU Professor Pulls Treasure From Chianti Region of Italy
You could say Nancy de Grummond digs her work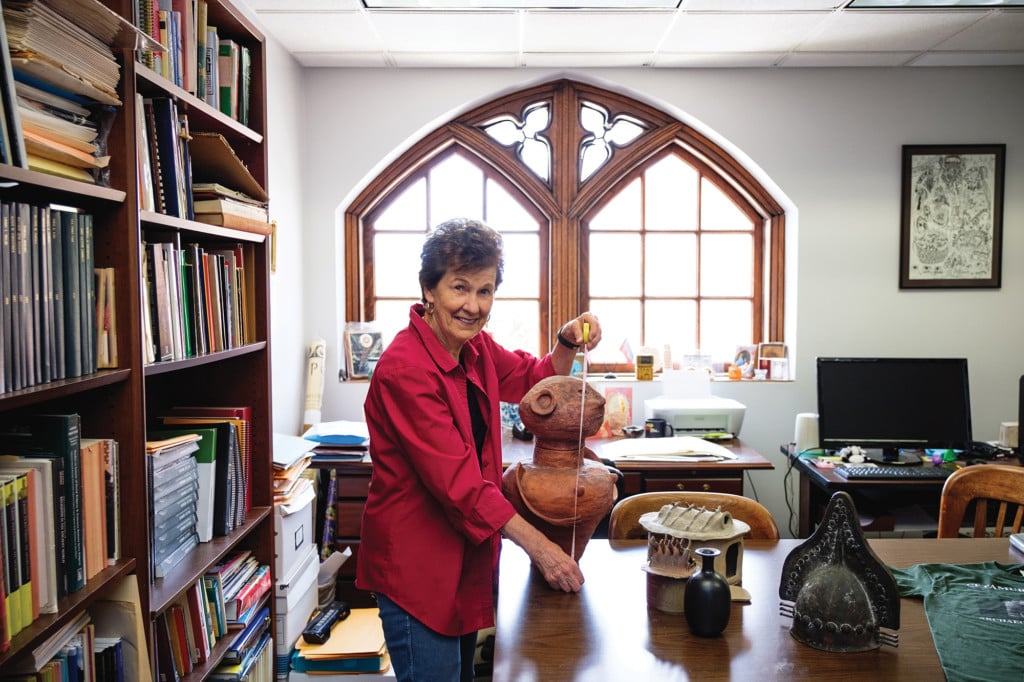 She hardly inspires comparisons to a woman Indiana Jones. She's not much more than five feet tall, and at this moment, she's smartly dressed and a bit concerned about a hairdresser's appointment.
So you wouldn't immediately assume that the grandmother hopping out of a tiny Fiat is none other than Dr. Nancy de Grummond, a Florida State University archaeologist who routinely descends by pulley into ancient Etruscan wells.
It wouldn't immediately be obvious that her resume includes editorship or authoring of 10 books and over 70 articles. She also has supervised 12 dissertations and taught more than 400 FSU students how to dig in the Italian dirt of an archaeological site that she has made her own for the last 36 years.
De Grummond is an expert in Etruscan, Hellenistic and Roman archaeology, and she's FSU's M. Lynette Thompson Professor of Classics.
In collaboration with FSU and the Italian government, de Grummond's work has produced thousands of artifacts that reflect the rise and fall of civilizations and periods of influence, from the early Etruscan civilization of ancient Italy to artisans of the Middle Ages.
About 300 of the artifacts from de Grummond's archaeological site, the Etruscan settlement of Cetamura, became an exhibit at the National Archaeological Museum in Florence in 2017.
She excitedly says many of her findings will land in a new museum in the province of Siena, near the Cetamura site.
In the small town of Gaiole in Chianti, surrounded by abbeys, crenelated castles and undulating vineyards, the Museo Civico Alle Origini del Chianti will display pitchers and pots, bronze votive figurines and offerings to the gods, plus ancient grape seeds that prove that the viticulture of the region was thriving over 2,000 years before.
Beyond the birth of her four children, she says, this museum will be her crowning achievement.
When it comes to citing other highlights and awards, including recognition for her teaching, she says with a laugh, "it's hard to choose just a few from my career and life." But she has had many.
Growing up in Lake Charles, Louisiana, de Grummond was always fascinated with people different than herself. Languages had captivated her by the time she was in high school.
As a Latin major at the University of North Carolina at Chapel Hill, she found that one interest spilled into another.
After honeymooning in Italy, she went on to earn a Ph.D. in art history. Her FSU career began in 1977 as an assistant professor in classics.
De Grummond today can handle herself in Italian, Spanish and Russian. And she acknowledges a spiritual connection to her work in quiet moments inside a tomb.
"As an archaeologist, you have to know everything — art, history, languages, literature, soil science, cartography … yet sometimes I think of myself as an anthropologist, because all of this tells the story of real human beings."
Another of de Grummond's life's highlights is helping to do just that.
Courtesy of the FSU Facility for Art Research, she now can display 3-D facsimiles of her excavated artifacts.
From shards and pieces, technicians can build entire bowls and pots from plastic filaments that, when painted, can be studied by everyone from graduate students to young children with visual disabilities at Tallahassee's Lighthouse for the Blind.
"I love bringing people together in this way," she said.
At age 78, de Grummond appears to be only hitting her stride.