FSU Football Equipment
FSU Equipment Manager Darin Kerns provides some insight into what players will wear this fall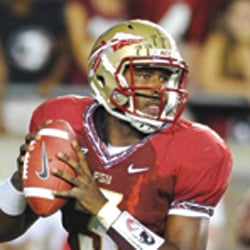 Courtesy FSU Sports Information
Florida State University quarterback EJ Manuel sports a home-game jersey and a helmet full of tomahawks earned for outstanding performances on the field
The Florida State Seminoles don garnet and gold uniforms that are as much a part of FSU football lore as the Heisman Trophy winners or the All-Americans who come through Tallahassee.
Over the decades, there have been numerous improvements to different parts that make up the uniform. From helmets to thigh pads to the type of cleats players wear, nearly every part of the uniform has been enhanced to maximize performance and limit injuries.
FSU Football Equipment Manager Darin Kerns has worked at both the collegiate and professional level and has seen firsthand the progress made by manufacturers looking to protect the athletes. From head to toe, here he provides some insight into what you will see players wearing this fall.
HELMETS  Players wear five- and four-star rated helmets by Riddell, considered the safest on the market. Linemen wear a "360" helmet, with complete padding coverage around the crown. Helmets extend past the jaw because studies show impact to the unprotected jaw region can rattle the skull. Facemask sizes and styles are determined by vision needs for each position.
PERFORMANCE COMPRESSION SHIRTS AND TIGHTS  In warm weather, designs use zoned vents that release sweat and move it away from the body while simultaneously allowing fresh air in to prevent heat exhaustion. Cold-weather designs help regulate temperature to keep the body warm and dry. Skill positions (quarterback, wide receiver, running back) are banned from wearing long sleeves in cold-weather games. They must be cut off at the elbows.
JERSEY/UNIFORM  Typically, players wear garnet tops at home and white on the road. The uniform decoration doesn't change dramatically from year to year. "The high tenacity nylon woven base material used on pants, side panels of jerseys and shoulders are super-industrial-strength Dri-FIT material that wicks at the ultimate level of keeping the athlete dry, light and fast," says Kerns. Uniforms also include Darlington stretch mesh, a small-hole mesh that aerates and alleviates the collection of water, weight and hot spots on the uniform.
TOMAHAWK STICKERS  On post-game Sundays, coaches review film and decide who earned a Tomahawk for their on-the-field performance. On Mondays, position coaches award the Tomahawks to the players. Players also get Tomahawks for academic achievements like making the Dean's List or President's List.
SHOULDER PADDING  Shoulder pads utilize new technology and materials designed to redirect the energy caused by impact, distributing it throughout the padding.
BICEP BANDS  A popular item for team members, the bands are made from a combination of materials, including Dri-FIT, polyester and nylon rubber. They don't enhance performance. "It's a fashion thing. They call it swag," says Kerns. FSU goes through hundreds of them every game with players wearing them on their legs and arms. "Coach Fisher's very understanding … as long as it's within reason," he says.
SHOES  Shoes are tested according to height, weight, torque and cutting frequency and the manufacturer provides a chart with suggested styles according to position, height and weight.